Tweet Widget
Facebook Like
Google Plus One
Our Verdict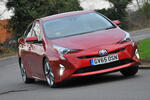 The reborn Toyota Prius may be the world's most popular hybrid, but it faces stiffening competition from Hyundai, Volkswagen and Audi
First Drive Toyota Prius Plug-in long-term review

Does running a plug-in hybrid really make sense as a 500-mile-a-week driver? Six months with a Toyota Prius Plug-in gave us a conclusive answer

First Drive Toyota Prius Plug-in Business Edition Plus 2017 UK review

Second-generation Toyota Prius Plug-in hybrid gets a bigger battery with new 39-mile electric range, more tech and styling updates, but it's expensive

Why we ran it: To gather real-world, big-miles knowledge of a variety of car, the plug-in hybrid, we'll be seeing much more in the clean-air future
Month 1 - Month 2 - Month 3 - Month 4 - Month 5 - Month 6 - Month 7 - Month 8 - Month 9 - Costs & specs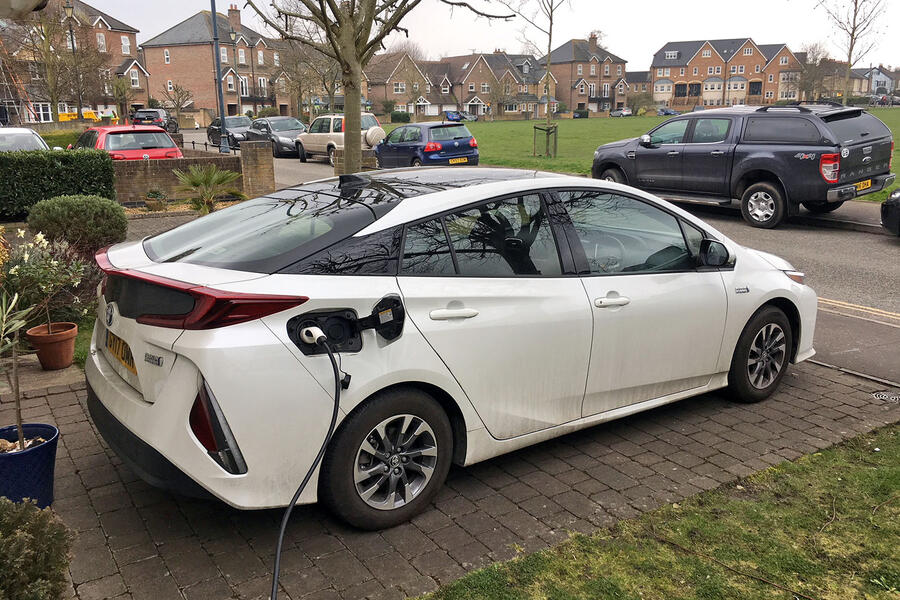 Saying goodbye to the Prius plug-in
It'll be dull, people said. Lots of them did. Not my colleagues at Autocar, who know the Toyota Prius as the most reliable and economical of Toyotas, but friends in the wider world who heard we were planning to do 10,000 miles in the plug-in version of Toyota's best-known hybrid.
These people had clearly done too many miles in old-shape Toyota hybrids, ground down by night-and-day minicab use. Certainly to some people a Toyota Prius only means one thing.
Me? I was excited by the idea. I've grown to enjoy the serenity and precision of electric cars, I've got religion (most of the time) when it comes to saving petrol, and I've always liked Toyota's way of doing things. Besides, I always felt we had a bit of unfinished business where the Prius Plug-in was concerned.
Back in early 2017 when we first tested it, we were rather lukewarm because it cost £7000 more than the lighter, shorter non-plug-in version, and that made it bad value we said. But life has changed and will change more.
Having a car that will do about 30 miles a day on electric power alone has become a much more important property than it was, and the drivers who only buy cars like these for the tax advantage but never actually plug it in are at dwindling. Oh, and Toyota cut the price of the Prius Plug-in after our initial drive.
Unlike some, I was not hampered by abiding displeasure of the way the Prius looks, either. The low nose, radically raked screen, comparatively small frontal area, bluff rear end and discreet but effective rear diffuser are all reasons for this car's frugality and I like them for that.
The drag factor is just 0.25, something you pretty soon come to realise at the pumps, where you never seem to be able to spend more than £40 in one throw.
Also important is the body's generous overall length of 4645mm that makes the lines so sleek and provides some extra space over the standard Prius for that 8.8kWh traction battery under the boot floor.
That battery deserves its own mention: it is twice as powerful as the previous model's while being only 50% heavier and only twothirds bulkier. Here's proof that we're already seeing big gains in the packaging efficiency of electrical models, although there's no avoiding the fact that this car's boot floor is a comical 11cm higher than the regular Prius, the problem of carrying holiday luggage being the joke.
The powertrain is the Prius's familiar two-electric-motors-and-one-petrol-engine, mated to a CVT transmission. The driver gets a modest 120bhp to work with, around 97 of which comes from the 1.8-litre Atkinson cycle petrol engine.
The 0-62mph time of 11.1sec seems a bit optimistic when you clog it, because you experience the so-called 'rubber band effect' which has always been a drawback of CVTs. But it's the only drawback.
The torque of the electric motors means you don't need to bury the boot to get off the mark. The CVT provides ultra-tall cruising ratios which the Prius Plug-in can tolerate because it has so little aerodynamic drag, not to mention the benefit of low rolling resistance tyres.
Which brings me to another advantage of this endearingly unusual car. It runs on 15in tyres that have a very apparent low-speed ride comfort benefit, yet whose squishy sidewalls create no practical turn-in penalty. The steering is accurate, with ideal gearing and heft. I get the feeling those who complain only do so because they think they should.
Of course, fuel efficiency is the big Prius thing, that and low emissions output, especially of CO2. The Prius's zero-emissions phase is claimed by its maker to last up to 39 miles in optimal conditions, but I can tell you straight that in London it's 32 miles on a great day, and 26-27 miles in the dead of winter.
On the motorway (where in theory a Prius Plug-in can now hit 84mph on electric power, if not for long) you'll see 20 miles from a fully charged battery. But the big deal, to me, is the fuelsipping integrity of this car even you've run out of battery charge.
For one thing, the Prius's brain never truly forgets about electric propulsion; it goes right on storing energy from braking and downhill coasting, and deploying it as you move away from the next traffic light. An electrical counter buried in the extensive records a Prius automatically keeps showed the car had run in electric mode for 40% of its 10,800-mile driving life with us.
It also averaged over 96mpg for the same distance, which was a bit of a disappointment because for the first half its time here it showed 100mpg. As it was, the car would easily turn 70mpg with an exhausted battery, and with a charged battery and a full petrol tank, it promised more than 500 miles of touring range and seemed nearly always to deliver it.
It's different, the Prius Plug-in, yet easily practical and durable enough to serve for the next decade as some wise person's daily driver. But it's also a car for non-conformists, another thing that makes it pleasant. You get to like it.
In fact, if you drive one of these for 10,000 miles, you start wishing more cars were like it.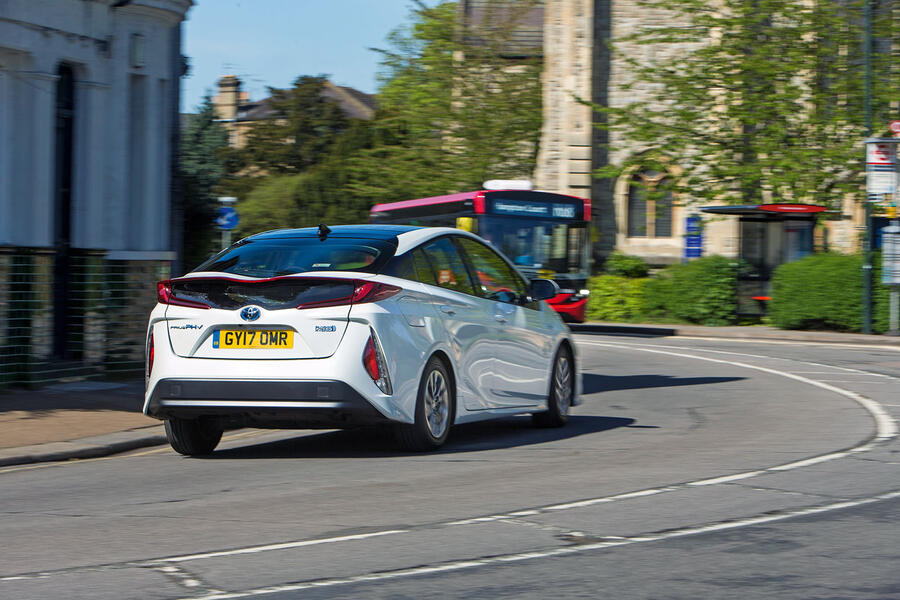 Second Opinion
The Prius Plug-in is a rewarding car to drive. Not rewarding like a hot hatch or sports car, obviously, but once you've adjusted to make the most of it, it's relaxing and good for your wallet. If those are priorities for you and you don't need a big boot, it's an interesting option to consider
James Attwood
Final report mileage: 12,555
Back to the top
Life with a Toyota Prius Plug-in: Month 8
Plenty of room in the back - 23rd May 2018
In all the whingeing we've been doing about the Prius Plug-in's shallow boot, we've failed to note the excellence of its spacious rear seat. Mind you, it's hardly luxurious given the 'wipe clean' nature of the bulletproof seat trim. Still, big people can travel a long way in the rear (as I discovered recently) and access is easy through a big door.
Mileage: 11,732
Back to the top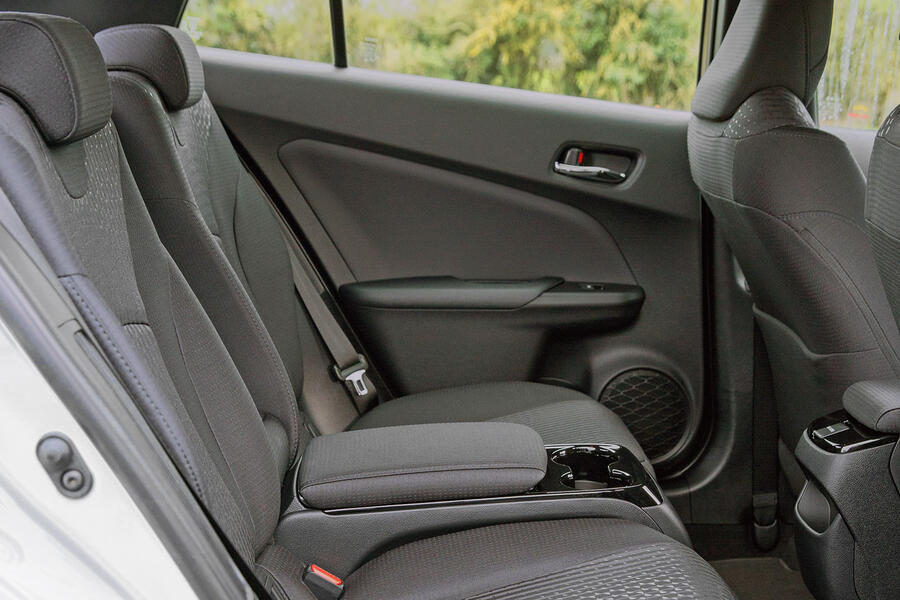 Three weeks' hard graft as a family car in a city: how did it cope? - 2nd May 2018
While driving an electrified car requires some significant changes to your motoring life – getting out and wrestling with a whacking great cable as you plug it in being the most significant – there are also many more subtle aspects that creep up on you.
I reckon all of them are positives, as three weeks and more than 1000 miles in the Prius reiterated recently.
There's the way, for instance, that chasing good economy scores suddenly becomes an unconscious goal. In the case of our plug-in hybrid, that principally meant keeping the mpg figure as high as possible, as well as gaming the car's own scores that it awards for your acceleration, braking and general progress.
In time, that turned into more conscious efforts to do better, be it flicking between electric and engine modes for maximum efficiency at different points of a journey (electric in town, engine on the motorway, essentially).
The inevitable outcome is a more relaxed, less stressful driving experience: there's the silence in electric mode, plus the knock-on benefits of trying to go about your way as smoothly and delicately as possible.
To my utter surprise, one weekend, that manifested itself into a trip to Hyde Park for my son and myself. Normally, I'd do anything to avoid driving into central London. It's a 12-mile trip that feels like it has been a success if it takes an hour. But this time, I didn't object: I went with the flow – there and back on pure electric, enjoying the conversation, enjoying the travel.
The only pity was that the car parking in Mayfair swiftly eradicated any financial savings we'd made on fuel, and more. But while down in the dungeons of the underground car park, surrounded by an array of pioneering classics that would put many a museum to shame, it did strike me that the Prius is likely as groundbreaking as many of them, if unlikely to be remembered by history as fondly.
Unlike its neighbours, its beauty is (quite definitely) not on the outside, but rather in its hybrid technology. Given that most journeys are less than 100 miles, for most people, most of the time, this is a genuine 100mpg-plus car.
Likewise, anyone I gave a lift too was wowed, not just by the technology but also by the interior, and especially the dashboard layout. That came as quite a shock as, to my eyes, it's all a bit busy and at the upper end of the plasticky materials parts pool. But everyday motorists were beguiled by the sweeping dash and its array of readouts, sucked in, I suspect, by the emotions of travelling on electricity.
It's not without faults, though. Later that same week, a family holiday necessitated a trip to Gatwick four-up, with luggage. EasyJet being EasyJet and me being tight, we were restricted to hand luggage only, but still our bags more than filled the boot, its space greatly reduced by the batteries that lie beneath.
No doubt batteries will reduce in size in time but, for now, this compromise almost certainly wipes out its credentials as a family car.
That's a shame because – for all that critics will rightly point at the asking price, which starts from an eye-watering £29,195 (but remember the potential tax, fuel and Congestion Charge savings) – this is a very fine car indeed.
More than that, though, living with it has proven to me beyond doubt that plug-in tech works.
Love it:
TOMORROW'S WORLD Proof that our motoring futures are going to be as interesting as ever.
Loathe it:
CLOCK WORK A month on from BST, I still can't work out how to change the clock.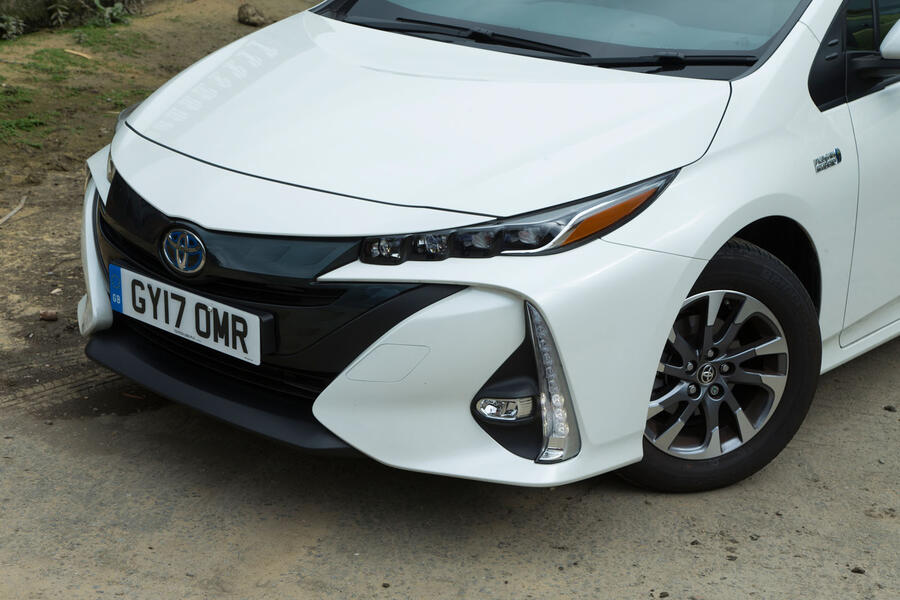 Mileage: 11,130
Back to the top
Electric economy makes for relaxed driving - 18th April 2018
My first prolonged experience with this car has been a revelation, from the joyous torque and near-silent electric travel to the ways in which your driving style gets more relaxed as you try to game the quoted fuel economy figure. On a 140-mile round trip with a chance to recharge the batteries in between, I used less than 1.5 gallons of petrol.
Mileage: 10,678
Back to the top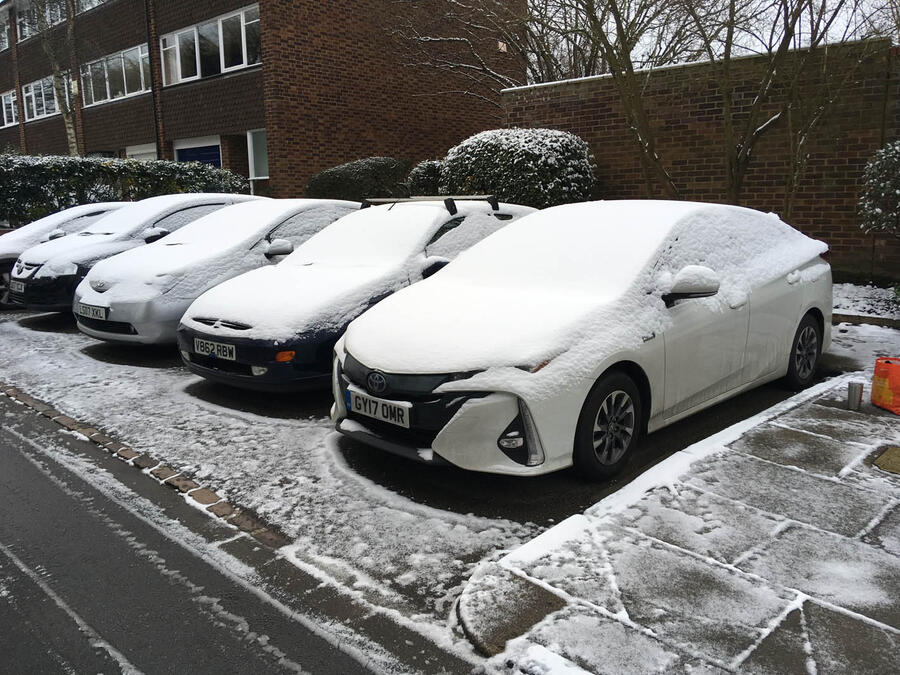 Life with a Toyota Prius Plug-in: Month 7
The challenge: to drive all weekend on electric power alone. And then it snowed - 4th April 2018
Charging the Toyota Prius plug-in hybrid's electric motor involves plugging it in. Fairly obviously. The clue is in the title, after all. Trouble is, I haven't got a Prius plug-in charging point outside my house.
So when I borrowed it from custodian Steve Cropley (who is fiercely protective of his 90-plus average mpg) for a weekend of low-mileage and cost-effective motoring, I had three options. I could rely on the petrol engine, try to find a charging point somewhere near my house – or try not to exceed the Prius's 30 miles or so of pure electric running.
My challenge, then: to spend a weekend in the Prius without using the petrol motor at all. Still, that should have been no problem given that I live mere miles away from Autocar Towers and the fact that I was borrowing the Prius largely to get myself to the start line of the Hampton Court Palace Half Marathon, a few miles further down the road, at the sort of downright antisocial hour half marathons often start at on Sundays.
My theory was simple: the fully charged battery would be stacked with enough lovely electricity to get me home on Friday night, take in a trip to Sainsbury's on Saturday (I know how to live), get me to the half-marathon on Sunday and enable me to return to our office charging point on Monday morning without having had to trouble the combustion engine.
My Friday drive home was a relaxed, electric-only cruise, allowing me to revel in how the Prius's calm, quiet demeanour makes London's rush-hour traffic far more palatable – even if, anecdotally, other cars seem to be a bit more aggressive towards me. I think they thought I was a private hire cab…
Of course, come Saturday morning, what I hadn't accounted for was the Mini-Beast from the East, a weekend-long mid-March blast of cold and snow. The Prius wasn"t the only long-termer affected by the elements this week, but it was the only one with an electric motor.
Electrified vehicles, as you doubtless know, aren't big fans of the cold, especially on start-up. That meant the petrol engine was called into action to start up the Prius early on Sunday morning, which seemed somewhat unjust after I'd spent 10 minutes clearing it of snow. (The irony of shovelling snow off the roof-mounted solar panels wasn't lost on me.)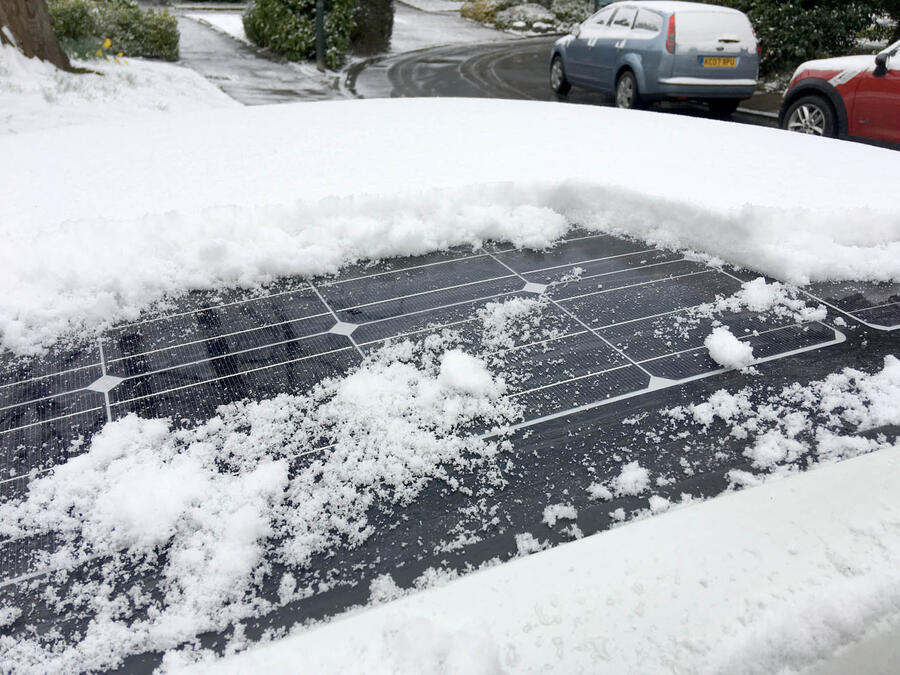 Mind you, had I been fitted with a warming combustion engine, I'd gladly have fired it up for the half-marathon: turns out 13.1 miles seems a lot further when it's freezing. Once warmed up, the engine slipped back into city electric mode, allowing me to complete the bulk of the journey to Hampton Court without messing up Croppers' average fuel economy.
My luck improved further when I arrived in time to nab one of the final spots in Hampton Court train station car park – between a Tesla and a Morris 1000. Study in contrasts, and all that. But by the time I'd got home later, I'd noticed that the Prius's promised electric range was falling faster than the actual mileage I was doing.
That continued on Monday morning. After another petrol-engine-assisted startup, I left my street with a claimed six miles of range in which to do my 3.1-mile journey. And yet, with less than half a mile to go to the office, the electric juice ran out and the petrol engine kicked in. Gutted.
I employed all my best eco-driving techniques to use as little fuel as possible to help maintain the Prius's fuel economy, and I don't think I did too badly. But it did make me think. The fuel gauge and stated ranges on just about every combustion-engined car I've driven tend to be massively pessimistic, telling you you'll run out of fuel long before you do. With electric cars, it seems to be the other way round.
Could it be that electrified cars are hopeless optimists, while combustion-engined ones are dour pessimists?
James Attwood
Love it:
CONFIDENT STEERING It might not be all that dynamic but, even in slippery conditions, the PHEV is reassuringly responsive.
Loathe it:
TINY BOOT You expect the boot of a hybrid to lose a bit of room due to the extra powertrain elements. Even so…
Mileage: 10,082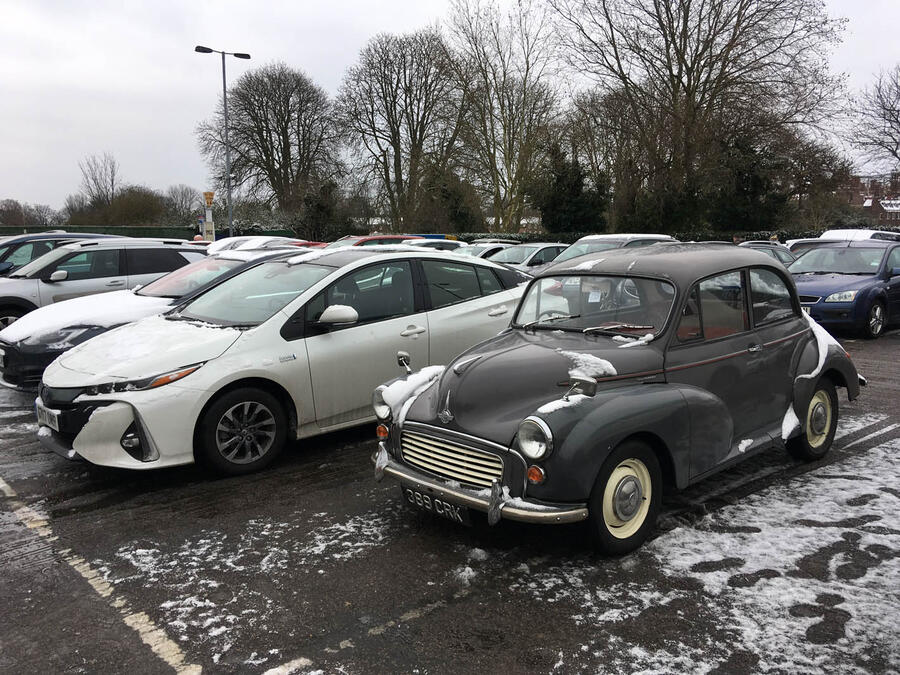 Back to the top
Life with a Toyota Prius Plug-in: Month 6
Returning after a brief interlude - 21st March 2018
Back in the plug-in Prius after a few days away, I notice again how well it rides. The steering's great too – meatier than average and just right for its combination of wheel size, gearing and rim effort. Maybe I'm becoming institutionalised after 9900 miles, but I reckon the handling would appeal to any driver with a reasonably open mind.
Mileage: 9877
Putting the PHEV outside its comfort zone - 7th March 2018
"Would you like," suggested Steve Cropley one day, "to trade your Mercedes-Benz E-Class Estate for my Toyota Prius Plug-in for several days? Oh, and if you can maintain the Prius's average fuel consumption up around the current 92mpg mark, that'd be great."
No pressure, then. The Prius has rewarded Steve with some exceptional indicated fuel economy claims, but many of his weekday trips have been short hops across the city, which play to the strengths of this hybrid's powertrain. He's able to cruise along at slow-ish speeds on the battery-powered electric motor, only occasionally calling upon the petrol engine.
Muggins here, on the other hand, would be putting the Prius through a 43-mile slog along the M3 twice a day and, as an added complication, I don't have a EV recharging box bolted to the side of my house, which reduced my options when it came to keeping the drive battery topped up.
We have a charging point at Autocar Towers but, faced with 86 miles daily, there was a risk that I'd quickly deplete the battery pack's claimed 39-mile driving range (which in real-world driving is considerably less) and have to rely more heavily on the petrol engine. That felt inefficient, and I risked incurring Steve's wrath by eating into his average fuel economy.
It didn't quite end up like that. I found I could let the hybrid system juggle the power sources on the motorway, then press the 'EV City' button to deploy electric-only mode as I reached the urban stretch near the end of my journey. That way, the car returned an indicated 70mpg-plus for the trip.
I would actually have liked to have used electric power at the start of my journey for the three miles to the motorway but, with ambient temperatures hovering around freezing, I needed to use the heater to clear the windscreen and warm the car, and that demand on the car's energy supply seemed to be enough for the petrol engine to need to get involved.
Toyota claims the Prius Plug-in is good for motorway speeds on electric power alone, but that kind of behaviour causes the remaining battery range to plummet and makes little sense.
Even in hybrid mode, the car feels a little bit strained at times when you need to squeeze the throttle just that little bit harder to, say, maintain speed on an uphill section. The car reacts with a noisy flare of revs and the bar charts on the dashboard detailing your energy usage shoot to the top of their ranges, admonishing your rashness.
On the other hand, I found that journeys on undulating motorways such as the M3 offered ample opportunities for the regenerative braking system to send energy back to the battery, so much so that my fears of lugging around a fully depleted battery were unfounded.
The most relieving news of all was that the impressive average fuel economy Steve has worked so hard to cultivate remained (almost) intact.
Mileage: 9541
Life with a Toyota Prius Plug-in: Month 5
Is it good looking? – 21 February 2018
I keep getting into debates about whether the Prius Plug-in is good- looking or not. To me, it's great because it's so modern: low and wedgy so the frontal area's small, nicely detailed at the front with compact headlights, well packaged (barring the shallow boot) and clearly shaped by the wind. Makes others look like tin boxes.
Mileage: 9259
Life with a Toyota Prius Plug-in: Month 4
Cold battery range – 31 January 2018
The recent wintry weather seems to have cut four or five miles from our Toyota Prius plug-in's stated battery-only driving range (from 33 miles to 29) and anything other than the gentlest driving seems to reduce it more easily than in warmer conditions. Overall fuel mileage is now about 93mpg — still brilliant, but not quite as good as it was.
Mileage: 8775​
The impressive range of our Prius PHEV – 17 January 2017
It's been freezing lately. For months we've been wondering how our plug-in Prius would cope with the traditional winter enemies of electric cars: a lower range when fully charged and a tendency for on-board power to be diverted to stuff like heating, headlights and keeping screens alive. Now we've had the opportunity to find out.
The Prius does, expectedly, lose charge when it's cold, but not disastrously.
Compared with the best fair-weather driving range available from a fully charged battery (about 33-34 miles), we're now being offered 28 instead.
On motorways, while cruising at 65-70mph and keeping decently warm, you get a real-world 20-22 miles, but in town you'll get all of the promised miles if you're careful. In other words, the car will still do an average out-and-back commute on battery power alone.
One of the curiosities of the on-board fuel computer is that when you're driving on electric power only, it always shows its maximum 199mpg.
That figure starts to fall once the car begins to use its petrol engine but takes a few miles to go below 199. You'll have driven 45-50 miles by the time your journey average falls to 100mpg, a Prius party-trick that unfailingly impresses passengers and gives you, the fuel buyer, a nice warm feeling.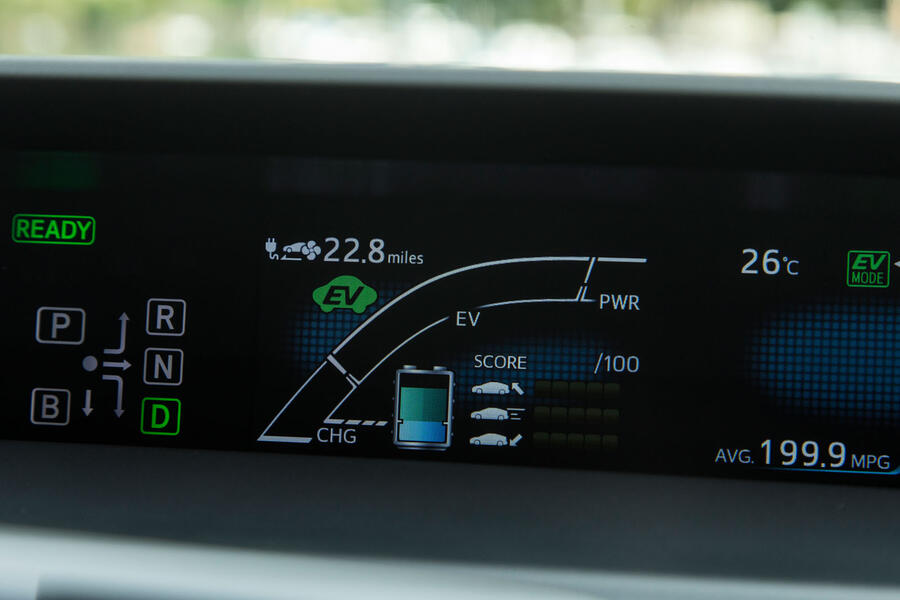 Inevitably, our car's whole life fuel mileage has fallen a bit over 7600 miles. It's now running at 93.6mpg, still spectacular, but below the 96-ish we were achieving in warmer weather. The computer's carefully recorded proportion of electric running (41 percent) has hardly changed, and you never seem to spend more than £35 filling the tank.
If it's frugal fuel usage and low tailpipe emissions you want, this car is a very good real-world solution, provided you can regularly charge the car at home and/or at work.
Apart from the deeply impressive frugality, another surprising attraction of the Prius PHEV is how much many people enjoy driving it. Nearly everyone who gets behind the wheel for a second time makes some remark about the feelings of quietness and calm that go with driving it, and the simplicity of its operation. There are no gears to change, and in one simple action you can increase the default rate of deceleration (and thereby increase energy regeneration) and drive with very little use of the brakes.
If you do need the brakes you'll find them powerful but sometimes variable in strength, depending how much the friction side of stopping is being assisted by electric regeneration. But they're nowhere near as unpredictable as hybrid systems used to be. I've also come to appreciate the Prius's uncorrupted, perfectly weighted, nicely geared steering.
The responses of the plug-in Prius will never thrill you, but don't get the idea that this means its controls are woolly and imprecise. The reverse is true, actually, and the point is perfectly made by the way the car steps off from a standstill.
An increasing number of conventional cars, especially those with automatic gearboxes and big engines, have a built-in hesitation on departure forced on them by clean-air requirements. The Prius (and others like it) do exactly what you ask, which is one reason why they feel so precise and swift in town.
Mileage: 7623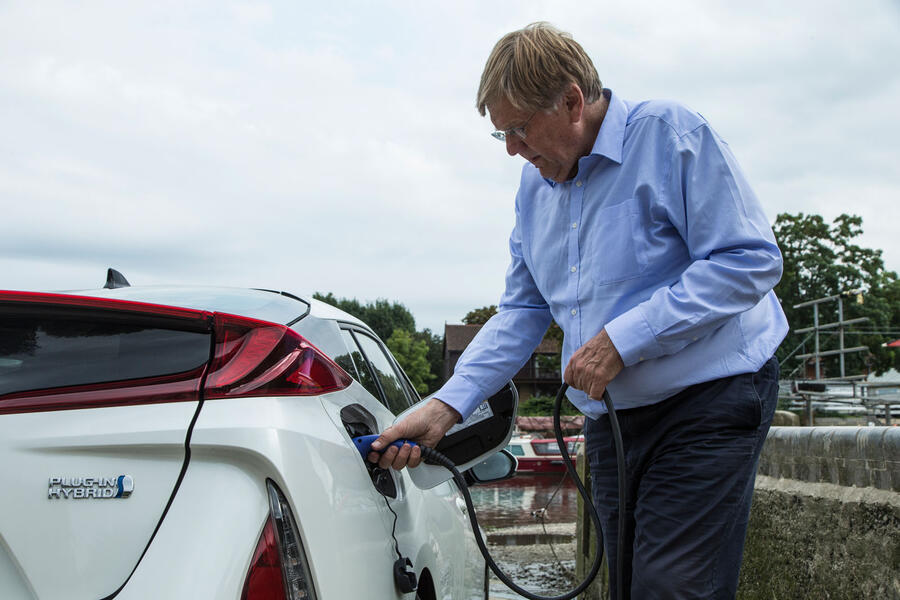 Back to the top
Life with a Toyota Prius Plug-in: Month 3
The Prius's seasonal range changes – 06 December 2017​
Having come to depend on the car's battery-only capability for my city commute, I've begun noticing how battery range changes with temperature.
On 18-20deg C days, the full-charge cruising range of the Prius PHEV was about 30 miles.
Now winter has bitten, it's 26-27 miles, enough to knock the overall average back to 95.1mpg. Still impressive, I'd say.
Mileage: 6859
Back to the top
Life with a Toyota Prius Plug-in: Month 2
The perks of driving a plug-in hybrid – 15 November 2017
One of the best things about running a car that needs charging points is that said sockets tend to be in prime parking spots, such as in the big bosses' car park where we work.
No security man dares protest when the Toyota glides in every morning, but if it were a petrol BMW, they'd kick it out, sharpish.
Running petrol consumption still at 96mpg.
Mileage: 5480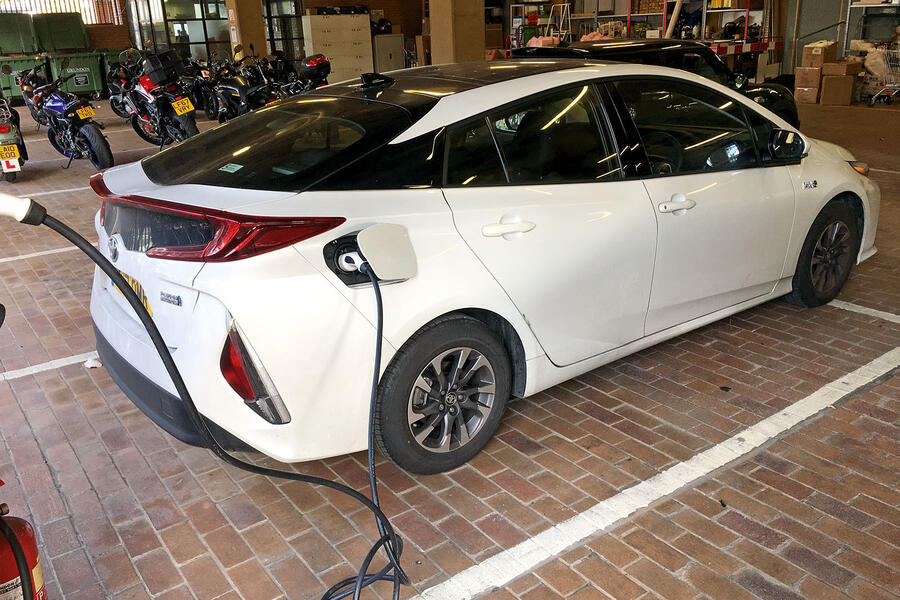 Driving the Prius without economy in mind – 25 October 2017​
There are only two things I honestly dislike about our Toyota Prius plug-in, and both are located on the carbonfibre tailgate. They're the badges that prominently read PRIUS PHV (on the left) and PLUG-IN HYBRID (on the right).
I guess they're there because Toyota is determined to stress its increasingly famous environmental credentials.
Trouble is, other drivers take these things the wrong way. There's a growing body who know exactly how the plug-in hybrid functions, and associate it – and the person behind the wheel – with an economy-chasing driving style that casts the driver as someone who will impede the progress of the driver behind, perhaps for fun.
This is wrong. The Prius plug-in can lay down a perfectly reasonable 0-60mph acceleration time of 10.3sec, enhanced by the instant response from standstill of its electric motor, and the ability of its continuously variable transmission to provide the perfect gear ratio for every occasion.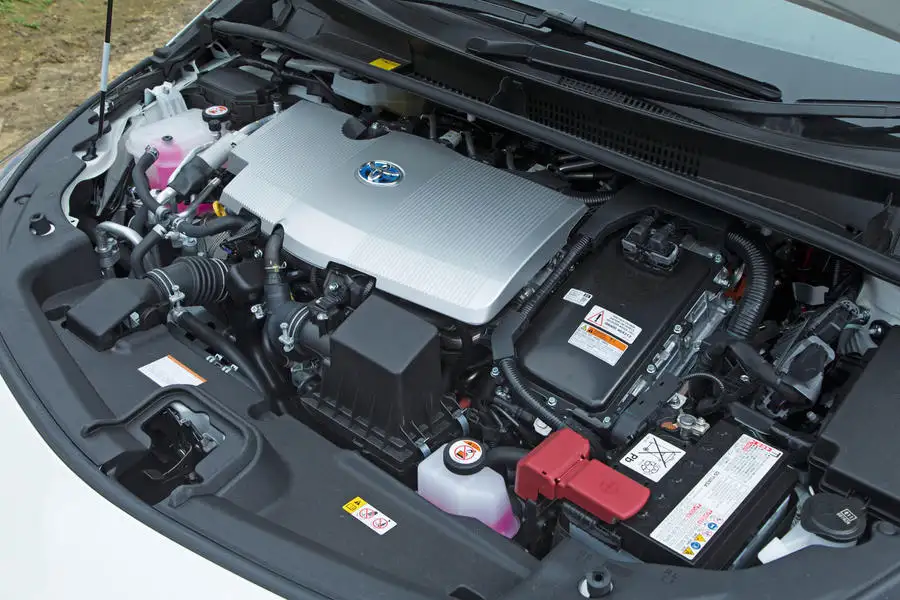 It's true that you're inclined at times to adopt an unhurried driving style – because the main purpose of this car is low fuel consumption and ultra-low emissions output – but I resent the presumption that this is a slower car.
It's not slow, either in a straight line or around corners. The handling may not be sporty, but the car has a very low centre of gravity, its weight distribution is much closer to 50:50 than any conventional front-drive hatchback, it has quick, uncorrupted steering and a small wheel, and given its modest tyre size it grips very well in bends, which it negotiates neutrally.
I've surprised plenty of ordinary repmobile drivers in roundabouts with both the step-off and the grip, which makes it galling to be cast as a member of the Anti-Destination League. If I could magic those badges away, I'd do it.
Ironically, I'm discovering that the Prius PHEV is an economy car, whatever driving style you adopt. At first, I always drove for economy, fearing that if I didn't, I'd discover fuel-drinking foibles I didn't want to know about.
My policy is to recharge the car whenever I have a decent opportunity (these exist both at home and at work) and the result, at 4984 miles driven, is an average consumption of 101.6mpg – plus (as someone is bound to point out) the electric power I've used. A handy read-out tells me that, despite the fact that I've done lots of motorway driving, the car has spent 42 percent of its time in electric drive.
More important is my experience when the car's operating beyond its electric range, which I've discovered is a dependable 33 miles in town, 25 miles on the motorway.
Cruising with the rest of the motorway traffic (with only an occasional tickle from the battery reserves to aid resumption of cruising speed after an obstacle), you can get 65mpg – courtesy of design and technical features such as the small frontal area and the fuel-saving Atkinson cycle engine – without trying. With effort, you can push it to the high 70s.
Such things may not provide the rush of conventional high performance, but they can definitely afford you a lot of satisfaction. If this is the future there's nothing to fear, and plenty ahead to enjoy.
Mileage: 4984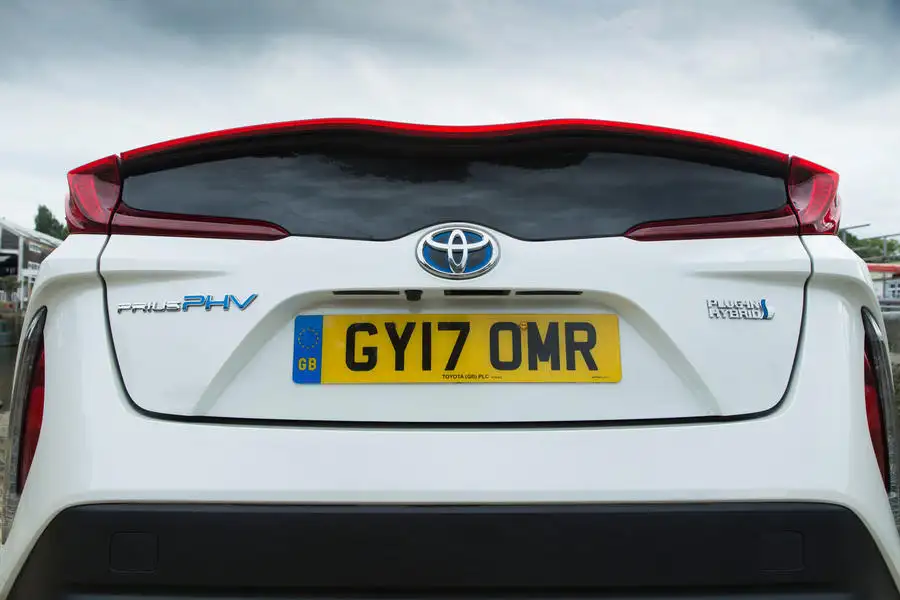 Back to the top
Life with a Toyota Prius Plug-in: Month 1
Getting in a tangle with Prius PHEV's cables – 04 October 2017
For a car that is so logically thought out in nearly every other way, the Prius's cable storage arrangements are annoyingly hard to use.
The compartment provided is too small, which means you simply resort to coiling the cables and chucking them in the boot as neatly as you can, compromising the shallow space even more than it already is.
Mileage: 3105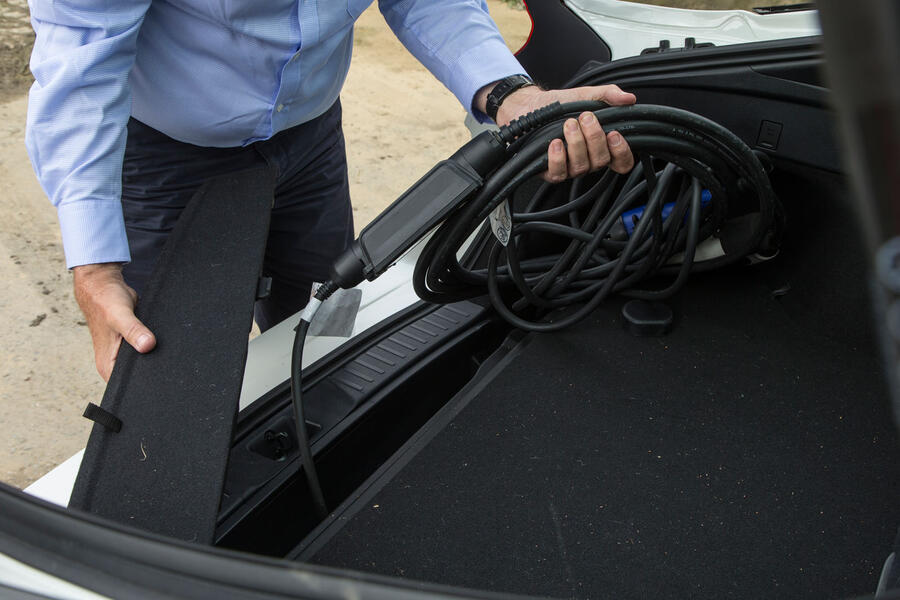 Welcoming the Prius Plug-in to our fleet – 06 September 2017​
Funny how friends, usually those who don't care much about cars, get straight to the heart of car matters.
"This thing's all about fuel economy, isn't it?" said someone who's never bought a decent car in his life, on first clapping eyes on my Toyota Prius PHEV.
I'd not have put it so baldly. To me, the plug-in Prius is a bundle of intriguing new technology. It is built on Toyota's bold, better-packaged TGNA architecture, has its electric-only top speed lifted from 53mph to 84mph, boasts a remarkably low aero coefficient of 0.25 and packs 50 percent more battery power, which it can replenish nearly twice as fast.
Its 97bhp Atkinson-cycle 1.8-litre four-pot petrol engine reaches 40 percent efficiency (30-35 percent is usual) and there's even a ventilation gizmo that knows when there's only one occupant and avoids wasting energy cooling the rest of the cabin.
Yet the plain truth is that when my friend spoke, I'd been boasting for five minutes solid about how the new Prius's trip computer was showing 100mpg for 1200 miles, even though half the driving had been on longish motorway journeys. Economy is indeed the Toyota PHEV's purpose and party trick.
I'm not sure what we wrote about this car a year ago is quite what we'd write now.
In recent months, diesels have started looking less enticing whereas plug-in hybrids (if you interpret the government's plans correctly) have been green-lighted until 2050. It's an important signal. These are cars we'd better get used to.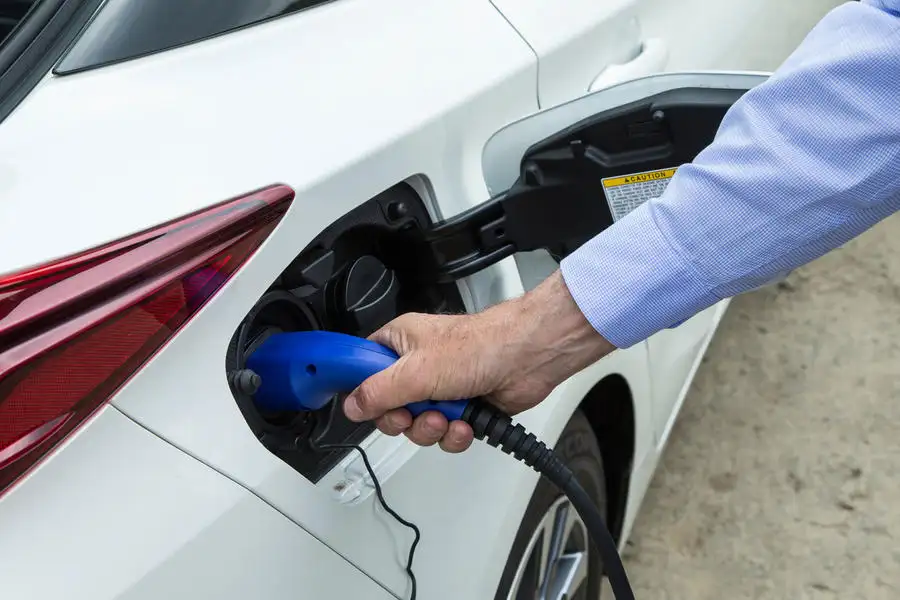 Our new Prius PHEV Business Edition relates closely in looks and function to a standard non-plug Prius.
It has the same reasonably spacious four-seat cabin trimmed in shiny, black, durability-conscious materials; same centrally located instrument pack full of fascinating functions and efficiency info; and much the same styling (apart from 11cm of extra body length to accommodate the battery under the boot floor) and a swoopily styled carbonfibre tailgate that helps reclaim some of the battery's weight.
There's quite a story around that new battery. At 8.8kWh, it has twice the capacity of the previous unit, increasing electric-only range from 15 to more than 30 miles. Despite that, it charges nearly twice as quickly, yet it's only 50 percent heavier (at 120kg) and 66 percent bulkier than its predecessor. The bad news is that the boot is now 16cm shallower than a standard Prius's, so carrying holiday luggage is now this family car's most serious challenge.
At £33,195, our Prius Business Edition Plus costs £7200 more than a similar-spec non-PHEV Prius.
However, for that difference, you get a roof-mounted solar panel (which contributes two to three miles' city driving a day in full sun, or more than 400 miles in a year) plus the 30-mile all-electric capability. There's an extra filler flap at the driver's side for the charging cable, plus all the gadgetry you need for a full charge from a Type 2 plug in two hours.
When you start driving, the first things you notice are silence, smoothness, easy step-off and the fact that this is no performance car. You can choose from four powertrain modes (HV hybrid, EV only, EV City and Battery Charge) that govern how the car's two electric motors and petrol engine work together.
With everything going as hard as systems will allow, you get 120bhp to work with. The performance figures are modest (101mph flat out, 11.1sec 0-62mph) but are kept respectable by a well-contained kerb weight of 1550kg, and the innate low-end response of the electric motors allows you a quicker step-off in roundabouts than the bald power figure leads you to expect.
What I've learned from 1200 miles' use is that how individual drivers cope with the Prius PHEV depends very much on the use the car is put to.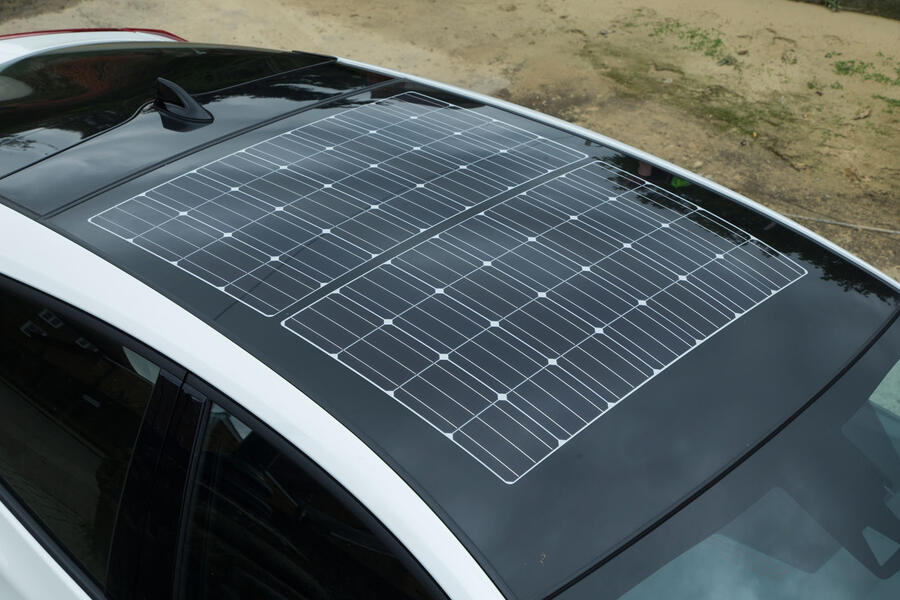 Station-and-school users may rarely need anything but electric power. But if, like me, you do 500-plus miles a week, about 100 miles of it at slow speeds in the city, charging the car as often as possible, your bottom-line petrol economy will hit the high 90s and sometimes reach three figures. You'll discover that 70-80mph is the viable cruising speed and that, with reasonable care, you can get an impressive 65-75mpg even without electric assistance. So yes, it's all about economy.
However, the chassis ability is a surprise. The all-independent suspension (struts in front, double wishbones behind) has relaxed spring rates and the car rolls on 15in wheels with squishy sidewalls so the low-speed ride is absorbent. There's a bit of a tendency to bounce at middle-range speeds, but the car is quiet and comfortable over suburban bumps.
Which makes the steering and grip a major surprise. The car corners neatly, grips well, doesn't roll much and has quick, uncorrupted steering.
It's never going threaten the GTIs, but it grows increasingly enjoyable and accurate to drive as you explore what it can do. The underbits may be exotic but the Prius PHEV is fitting my average-busy business life very well.
Second opinion
For many, the Prius's Achilles heel may be the asking price, but if the maths do work (and for some they will), then the car itself is supreme: economical, refined, spacious and more. It is yet another example of why there is no reason to fear the onset of electrification
Jim Holder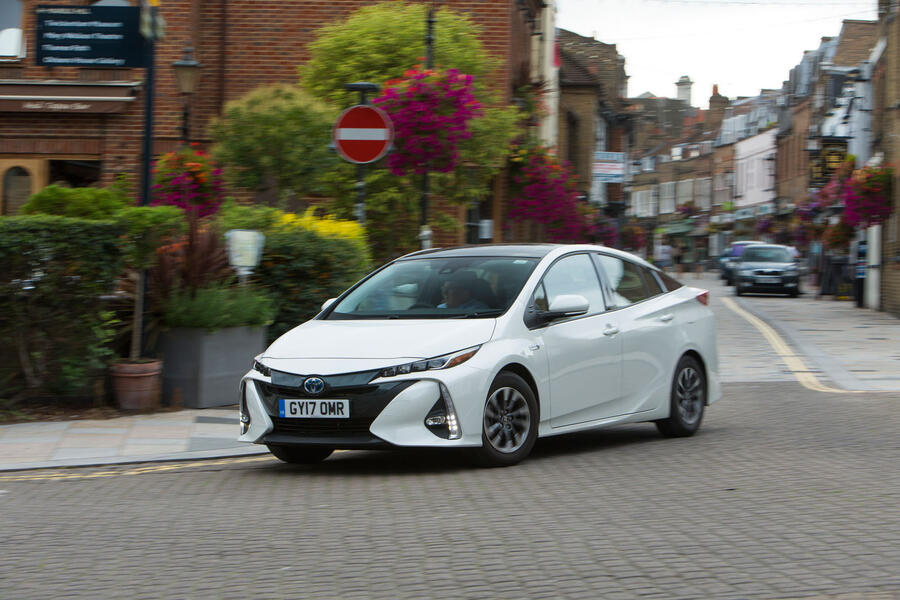 Toyota Prius Plug-in Business Edition Plus Costs and specification
Prices: List price new £31,695 (£29,195); List price now £31,695 (£29,195); Price as tested £32,740 (£30,240); Dealer value now £28,000; Private value now £27,000; Trade value now £26,000 (part exchange)
Options: Pearlescent paint, £795; Parking pack, £250
Fuel consumption and range: Claimed economy 283mpg; Fuel tank 43 litres; Test average 96.6mpg; Test best 199mpg; Test worst 56mpg; Real-world range 500 miles
Tech highlights: 0-62mph 11.1sec; Top speed 101mph; Engine 4cyls in line, 1798cc, Atkinson Cycle petrol; with dual-motor hybrid assist; Max power 121bhp at 5200rpm; Max torque not specified; Transmission e-CVT; Boot capacity 190-1200 litres; Wheels 15in alloy; Tyres 195/65 R15; Kerb weight 1550kg
Service and running costs: Contract hire rate £314; CO2 22g/km; Service costs None; Other costs None; Fuel costs £697.07; Running costs inc fuel £697.07; Cost per mile 6.5 pence; Depreciation £5695; Cost per mile inc dep'n 59.4 pence; Faults None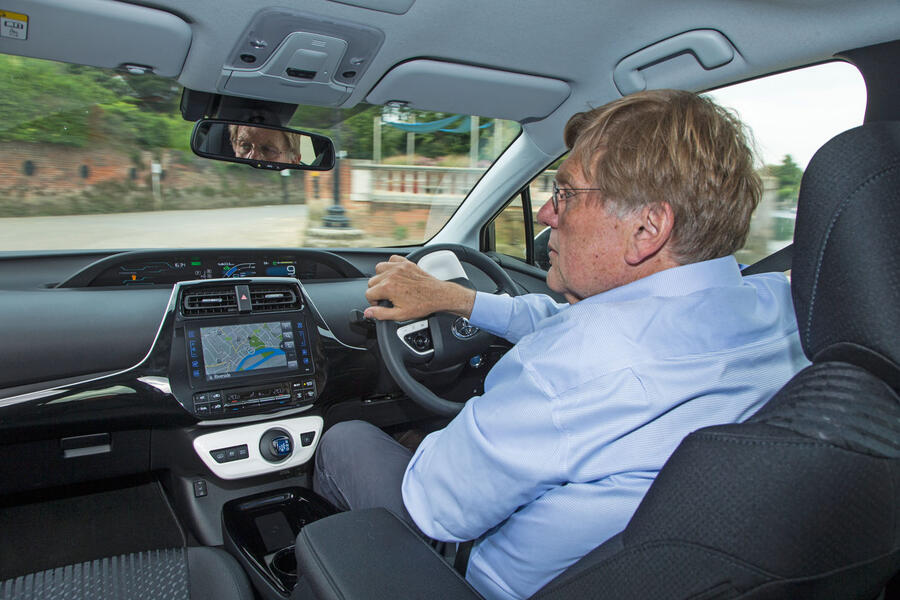 Back to the top
Tweet Widget
Facebook Like
Google Plus One
Nguồn: www.autocar.co.uk