Tweet Widget
Facebook Like
Google Plus One
This is the new Porsche Cayenne Hybrid
With no diesel engine currently being sold, this is the Cayenne that will appeal to buyers seeking improved fuel economy
We drove the Cayenne Hybrid in South Africa
The Hybrid has a different character to the regular Cayenne
Extra weight of the hybrid car isn"t too noticeable and the smooth powertrain impresses
Porsche Cayenne Hybrid detail
Electric drive system"s precise speed control will be a boon for those who go off-roading…
…not that many Cayenne buyers are likely to do so
The Porsche Cayenne Hybrid
The Porsche Cayenne Hybrid
The Porsche Cayenne Hybrid
The Porsche Cayenne Hybrid
The Porsche Cayenne Hybrid
The Porsche Cayenne Hybrid
The Porsche Cayenne Hybrid
Close
Our Verdict
The third-generation Porsche Cayenne has more tech, more power and a new chassis, but is it enough to make it the best SUV on sale?
First Drive Porsche Cayenne S 2018 UK review

Performance doesn't come at the expense of comfort and composure in Porsche's mid-range Cayenne

First Drive Porsche Cayenne E-Hybrid 2018 review

Porsche adds electric power to its third-generation Cayenne line-up
What is it?
The news that Porsche has, at the very least, put all its diesel programmes on hold makes this new Cayenne Hybrid a car that"s more important than usual.
If you want a Cayenne but care about taxation and running costs, this is the one you're going to have to buy. Porsche denies that diesels have been ruled out of all future models, but it does say the entire strategy is "under review". So don't hold your breath.
You'd have thought Porsche would just transfer the powertrain from the Panamera hybrid straight over; it fits and comes with four-wheel drive as standard. But no, the hybrid powertrains in a Panamera and this Cayenne are related but by no means the same. As we shall see, this brings news both good and bad for this luxury SUV.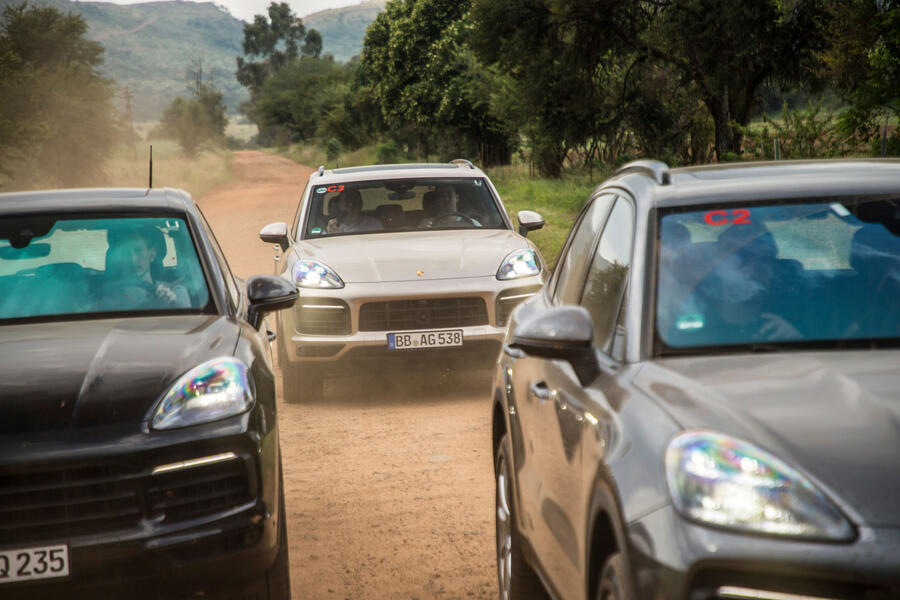 What's it like?
For a start, the Cayenne Hybrid doesn't use quite the same engine as the Panamera Hybrid. While the Panamera has a 2.9-litre turbo V6, the Cayenne has a 3.0-litre unit. So that's good, right? Actually, not really.
The smaller engine's reduced capacity is a result of a larger, reinforced crankshaft that shortens the engine's stroke, and you only do that if you want to put more power through it, such as the 440bhp made in the Panamera S. So there's clearly a hotter Panamera hybrid on the way. 
The Cayenne has no such need, so is denied the smaller, stronger engine. Still, the 3.0-litre unit can generate 335bhp all by itself, to which a further 134bhp of power is added from the electric motor - and that"s, indeed, identical to that used by the Panamera.
Total system power therefore amounts to 469bhp. Which sounds good until you realise that while Porsche is making no official claims for this as-yet-unhomologated car, the hybrid system in the Panamera adds 320kg to the weight of the standard car and there's no good reason why the same (or similar) will not be true for the Cayenne.
The other difference is that while all Panameras have Porsche PDK dual-clutch gearboxes, all Cayennes have conventional eight-speed automatics. This might not sound too important in the context of a hybrid, but, as I found out in two days of roaming around South Africa in one, it quite demonstrably is.
I can't tell you how quick it is but, with substantially more power and torque than the old Cayenne Hybrid, I'd estimate a 0-62mph time of a little over five seconds and a top speed of a little less than 160mph. So quick enough, in other words. It should do around 25 miles on electrical power alone – five fewer than the lighter, lower, more slippery Panamera – and 84mph, rather than 87mph, on electricity alone.
But you notice the extra weight less in the Cayenne than in the Panamera; I guess because your dynamic expectations are more modest for a luxury SUV. What you notice far more is how much smoother this powertrain is. All the joins between internal combustion and electrical power are smoothed over by the ZF box in a way the Panamera"s PDK cannot manage.
The result is that the big off-roader actually feels more sophisticated than the closest thing to a limo Porsche has ever built. The electric drive system will also prove a boon for those few owners who go off-roading because there's never been a more precise, easily regulated way of controlling a car's speed to the fractions of a mile per hour required for rock-hopping.
Should I buy one?
Combined with the well-known excellence of the still-new Cayenne, the hybrid version appeals to more than just your tax advisor. All I can say is that were a diesel option still be available – especially the monstrous V8 diesel from the old Cayenne – I would be staggered if I didn"t conclude that it would be both cheaper to run and better to drive. In the diesel"s absence, however, the hybrid offers both a credible and enjoyable alternative.
Porsche Cayenne Hybrid
Location South Africa On sale summer Price TBC Engine V6, 2995cc, petrol, turbocharged, hybrid Power 469bhp at 5400rpm (est) Torque 500lb ft at 1100rpm (est) Gearbox 8-spd automatic Kerb weight 2400kg (est) 0-62mph 5.3sec (est) Top speed 157mph (est) Economy TBC CO2 TBC Rivals BMW X5 40e xDrive M Sport, Mercedes-Benz GLE 500e 
Tweet Widget
Facebook Like
Google Plus One
Nguồn: www.autocar.co.uk