Tweet Widget
Facebook Like
Google Plus One
This is the new Hyundai Santa Fe SUV
The revamped seven-seater sits on an all-new platform, although the engines are carried over from the previous generation
Primarily aimed at the American and Korean markets, the Santa Fe will go on sale in the UK in late 2018, initially with a 2.2-litre 194bhp diesel engine
The Santa Fe has been reworked to give it more traditional SUV styling
Revised side windows help to boost visibility for rear passengers
The Santa Fe has an impressive level of interior kit, including a host of driver assistance features
Cabin is revamped from previous model, but not everything looks a major step forward
Rear seats have plenty of room
Revamped design also allows more light into the rear
Spacious boot will be useful for families
Santa Fe boot
Santa Fe has plenty of space when seats fold down
Santa Fe interior detail
Our test car was powered by 2.0-litre diesel engine that"s unlikely to reach the UK
Santa Fe details
Santa Fe detail
Santa Fe detail
Close
First Drive Hyundai Santa Fe Premium 2.2 CRDi 4WD 2018 review

Hyundai's fourth-generation large SUV has grown in size, increased in luxury and even has a little agility among its new talents

First Drive Hyundai Santa Fe 2018 review

The largest SUV in Hyundai's range gains a new look, but does it perform well enough to take on the cream of the seven-seater crop?

What is it?
This is the largest SUV Hyundai that sells in the UK. It finds around 4000 buyers each year in the UK, and is now entering its fourth iteration.
The formula essentially remains the same for this latest version, but there's been some significant evolution. The most obvious is that it now resembles a more traditional SUV, chiefly because the rear side windows dip deeper towards the waist, the successful aim being to improve visibility for passengers riding in the rear seats.
Hyundai says that change was requested by owners with families, many based in the United States and South Korea where most Santa Fes are sold. So this remains an SUV mainly aimed at markets other than Europe, as it always has been. But that doesn't negate its appeal here.
There are plenty of other modernising changes, including adaptive instruments, a refreshed cabin architecture, a wider palette of thoughtfully coordinated trim colours and an improvement in materials quality.
The usual suite of electronic driver aids are present, as they were in the previous Santa Fe. New is a safety system that temporarily locks the doors should an occupant attempt to open one into the path of oncoming traffic.
There's a new head-up display of heightened clarity, and the infotainment screen functions as a virtual rear-view mirror to help should the real thing be part-obscured.
Also fitted is Hyundai's HTRAC all-wheel-drive system, which apportions torque in varying quantities between the axles depending on the conditions, besides braking individual wheels to further improve traction.
This latest Santa Fe is bigger, like almost every other replacement model, although Hyundai has yet to reveal whether it's any heavier. One ingenious weight-saving and rigidity-enhancing detail is the use of fatter spot welds, which form more robust joints between panels – more of which are high strength pressings.  
While the 2018 Santa Fe rides on an all-new platform, the powertrains are carried over. The main engine for the UK will be the current 2.2-litre 194bhp diesel, available either with a six-speed manual or an eight-speed automatic. A 2.4-litre petrol may come here. That there is no 1.6-litre turbo petrol option, a powertrain that might better suit European buyers, underlines the Santa Fe's American and Asian focus.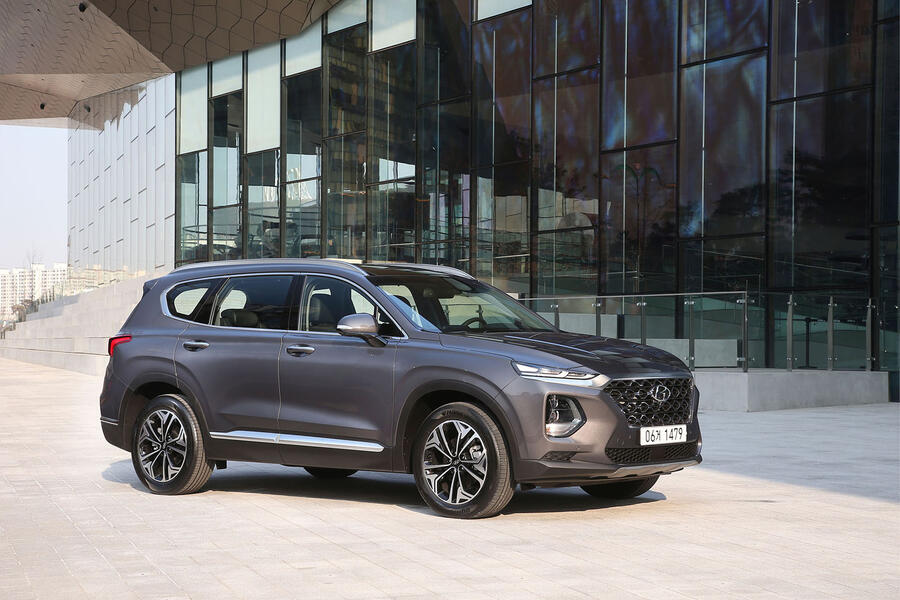 What's it like?
The Santa Fe's cabin is certainly different from the previous model; whether it's actually any better is probably more a matter of taste.
Still, there are those adaptive instruments (likely to be an option on European-spec cars), an inductive mobile phone charging pad and the excellent new head-up display. Sadly the soft-touch plastics do not extend to the centre console or the unlined glovebox, both of which look rental car cheap.
More important than these details are a particularly comfortable driving position and a spacious cabin. That applies to the boot, too. And all occupants enjoy the good view offered by the Santa Fe's enlarged glasshouse. 
We should be pleased that the smaller 2.0-litre diesel provided for test is not UK-bound, the engine's oily diet often loudly obvious. Its optional automatic is too willing to change up too early, blunting the Santa Fe's advance, although you can in part fix this by selecting Sport mode. You will feel the resultant enlivening, but the aural evidence of its gear selection strategy is prominent enough that you'll soon be returning to the Comfort setting, or the throttle-dulling, fuel-saving Eco mode.
Happily, we know that the existing 2.2 diesel that the UK will get instead is a far better engine, working particularly well with an automatic transmission.
The Hyundai's resistance to body roll makes you think the provision of that Sport mode is worthwhile. It doesn't alter the damper settings, but up to quite decent speeds the Santa Fe cuts clean furrows through corners. What happens at a more ambitious pace remains to be seen. On the strength of our test route, Korea's roads and traffic are an obvious reason for the country's indifference to sports cars.
Whatever the Santa Fe's handling prowess, some of it would be worth trading for a more absorbent ride. There's scope, because this new version is provided with longer travel suspension, whose benefits are somewhat negated by the girding of its springs and dampers, as becomes disturbingly obvious when bumps, lumps and potholes are encountered. The Santa Fe tackles these with the unyielding indifference of an old-school off-roader. Hopefully Hyundai will tweak it for comfort before it goes on sale later this year.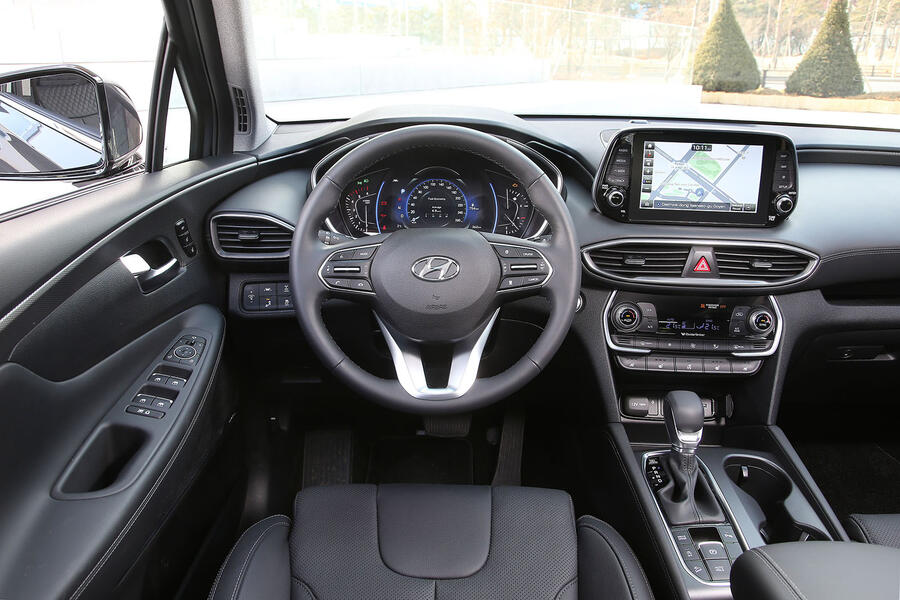 Should I buy one?
There are plenty of positives to consider with the new Santa Fe. The reworked machine arguably looks better on the move than it does in photographs, and the dashboard display is wholly contemporary. There's plenty of on-board storage, it's quiet, easy to drive and more electronically convenient.
All that said, the ride still needs work. If it gets some attention before it goes on sale in the UK it would better prepare this likeable SUV for the strengthening competition, and the Santa Fe's star rating will likely climb.
Hyundai Santa Fe 2.0D automatic
Test location Seoul, South Korea On sale late 2018 Price £33,000 (est) Engine 4 cyls, 1995cc, diesel Power 180bhp at 4000rpm Torque 293lb ft at 1750rpm Gearbox 8-spd automatic Kerbweight TBC 0-62mph 10.0sec Top speed 125mph Economy TBC CO2/tax band TBC Rivals Skoda Kodiaq, Kia Sorento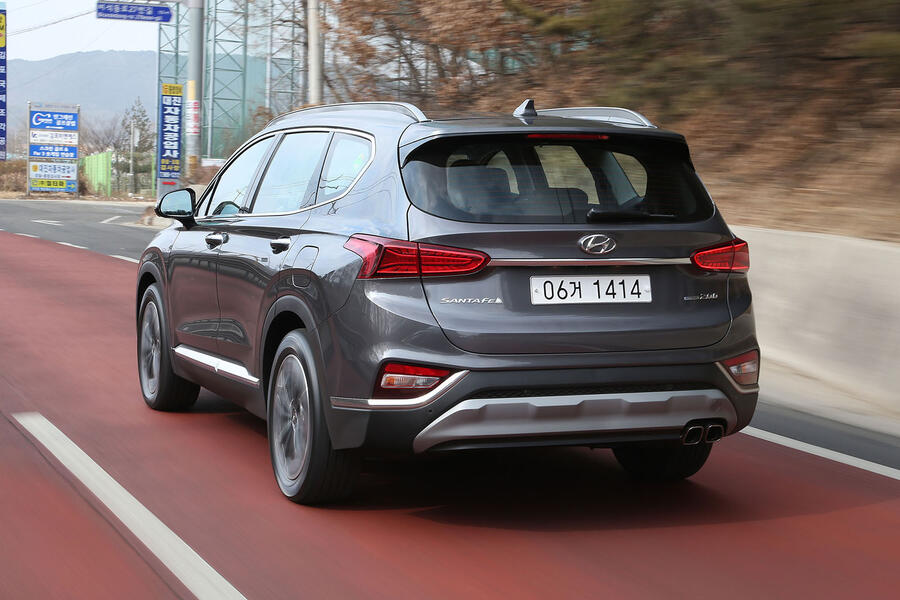 Tweet Widget
Facebook Like
Google Plus One
Nguồn: www.autocar.co.uk