Tweet Widget
Facebook Like
Google Plus One
This is the Ford Mustang GT 5.0 V8 automatic
Close
Our Verdict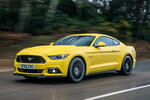 The Ford Mustang is available in the UK in right-hand drive for the first time, but does the rest of this American muscle car fit the UK car scene?
First Drive Ford Mustang GT 2018 UK review

Angrier styling finally gives the Ford Mustang the looks to match its V8 soundtrack

First Drive Ford Mustang 2.3 Ecoboost automatic 2018 review

Ecoboost-powered Mustang is more affordable and cheaper to run than its V8 sibling, but is nowhere near as charming
What is it?
A facelifted Ford Mustang. As if to prove that Ford of Europe's decision to bring the iconic American muscle coupe to this continent three years ago wasn't a fad, it's bringing us an updated one.
The styling changes aren't drastic, but there's more to report under the skin, with an overhauled 'Coyote' 5.0-litre V8 being adopted that develops more power than it used to; a set of digital instruments and a more complete collection of modern active safety systems being fitted; revisions and upgrades being made to the car's steering and suspension; and a new 10-speed automatic gearbox being offered.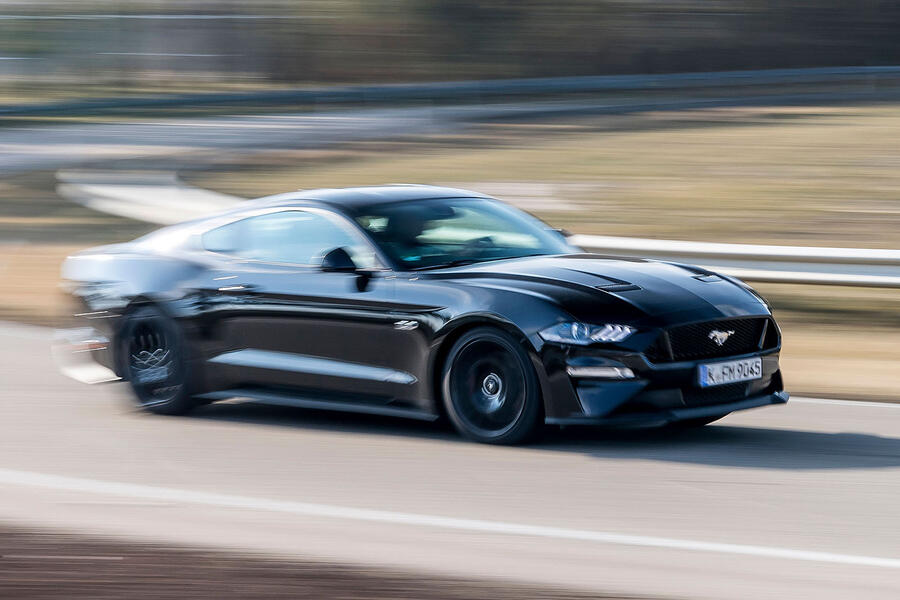 The new engine and gearbox combine, in the case of US-specification cars, to allow the Mustang GT to crack 60mph in under four seconds – although Ford has yet to let on exactly how much power the car will develop in European trim or how fast it'll be.
Ahead of the press launch proper, it gave us the chance for a short early drive in the new Mustang automatic at its proving ground in Belgium. 
What's it like?
Still big and burly, and as effusive and disarming as ever – although Ford's efforts to bring the car more in line with what Europeans expect from a performance coupe are beginning to show more clearly.
The Mustang's new 12in digital instrument screen has several display modes that change with your selected driving mode. While it's a way off having the graphical or functional sophistication to rival similar systems from Ford's premium-brand rivals, it does make the Mustang look and feel like a more up-to-date pseudo-luxury prospect.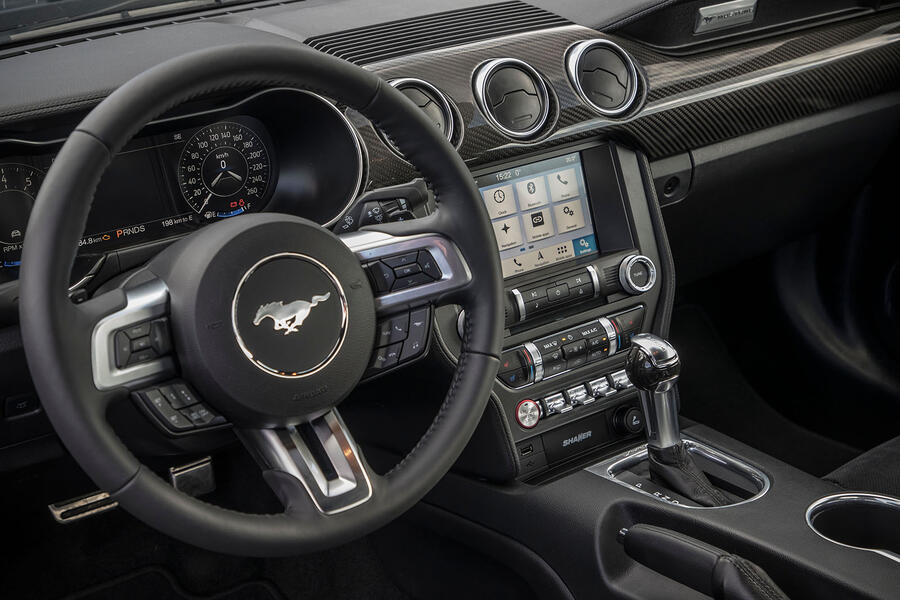 A smattering of more upmarket cabin materials contributes to the same effect – on the interior door cards, centre console and instrument panel. It's not to the extent that choosing a Mustang no longer means making a clear compromise on perceived quality compared with other coupes you might spend £40,000 on, but it does make that compromise a touch easier to stomach.
We had limited chance to test the difference made to the Mustang's outright performance level and handling on our brief test drive – and there's a fuller review coming soon, by the way – but it's clear that Ford's new gearbox and engine tweak has made a clear improvement to the car's peak acceleration. In 'drag strip' and 'track' modes the automatic version of the car becomes the perfect counterpoint to the physical, analogue challenge of launching the manual version of the car off the line.
With the auto, you simply mash the accelerator and watch as that ten-speed gearbox rifles though the ratios, keeping the V8 right in the heart of its power band. On a dry day, and figured the way us European motoring hacks do these things (at genuinely zero to 60mph, and not using America's preferred 'one-foot-rollout' benchmarking technique), I suspect a 4.0sec 0-60mph run might be an optimistic expectation of this car – but it wouldn't miss it by much.
The idea of an automatic gearbox with ten speeds fitted to a car like a Mustang V8 is admittedly a bit of a tough one to wrap your head around. To this tester, the car's appeal has everything to do with its V8 engine and how closely you can interact with it – and I wouldn't take the edge of that appeal by choosing a gearbox that robbed you of the involving, tactile connection of a clutch pedal or an H-pattern gearshift.
Then again, Ford isn't taking the manual away: it's simply broadening the car's ability and allure by adding a better automatic for those that want one. And it's a pretty good one. Working via four planetary gearsets rather than ten distinct ratios, it could be a shade faster when you're shifting gears manually using the car's paddles, but juggles ratios well in 'D' and 'S' modes. It's also capable of dropping three or four ratios at a time when you suddenly ask for a big hit of pace, and changes gear smoothly when you're in no particular hurry.
Ford's suspension and steering refinements for the car consist of new internals for the power steering system, and of magnetorheological dampers. The car's tiller continues to feel usefully weighty, conveying a good impression of the heft of the car around you, and its body control and handling balance both seemed good during the limited opportunity we had to investigate them. If there's been a really telling improvement made here, however, I suspect it's to the Mustang's ride, which could easily get choppy and restless in pre-facelift cars – and now feels a shade calmer and more settled.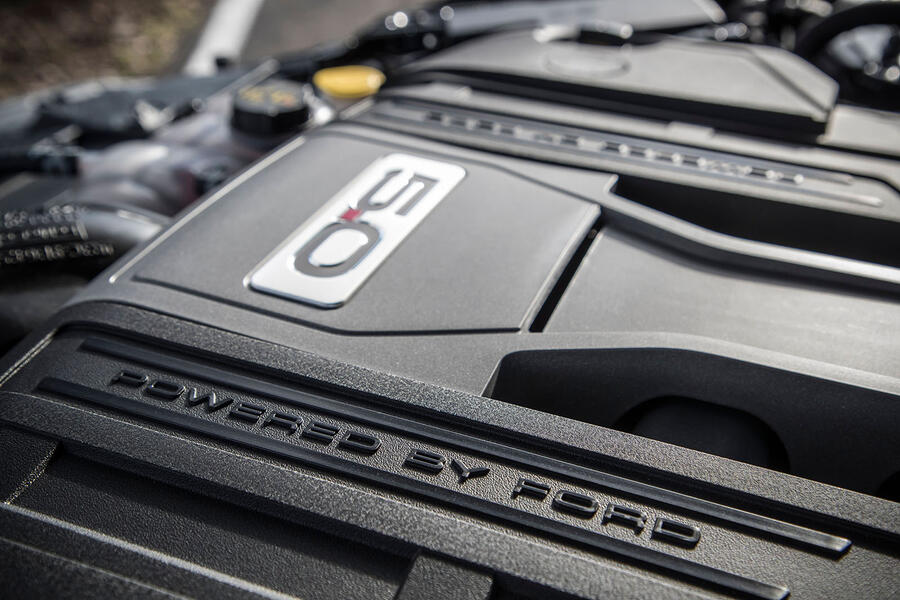 Should I buy one?
As a characterful, sporting alternative to a more reserved £40k coupe, absolutely. The Mustang is a car that continues to inspire excitement and affection in almost equal measure and, bit-by-bit, its creases are being ironed out.
If you do, though, you should expect to be in some company. The Mustang has done a lot better in Europe than Ford expected it to, with some 30,000 of them having been sold so far in the current wave. In some ways, this facelift is really just a fleshing out and rationalisation of the model range intended to secure every possible sale. And so there's a wider range of colours, wheel options and seat trims now, among other things.
While plenty of former manual champions inside Ford of Europe's engineering team have apparently been won over to the two-pedal side by the car's new ten-speed 'box, though, we suspect this car's still at its best in manual form. And if you're wondering – and we can't believe many genuine prospective Mustang owners actually are – all those overdrive ratios are somehow only worth one-half of one solitary mile-to-the-gallon to the car on the NEDC combined fuel economy cycle, compared with the six-speed manual version.
Would the difference be greater in the real world? Probably - but it depends how you drive. Surely life's too short to worry about your Mustang's 'gas mileage'?
Ford Mustang 5.0 V8 GT automatic
Where Lommel, Belgium Price £43,095 On sale Now Engine V8, 4951cc, petrol Power 444bhp at 7000rpm Torque 389lb ft at 4600rpm Gearbox 10-spd automatic Kerb weight 1831kg Top speed 155mph 0-62mph circa-4.0sec Fuel economy 23.3mpg CO2, tax band 270g/km, 37% Rivals Chevrolet Camaro 6.2, BMW M2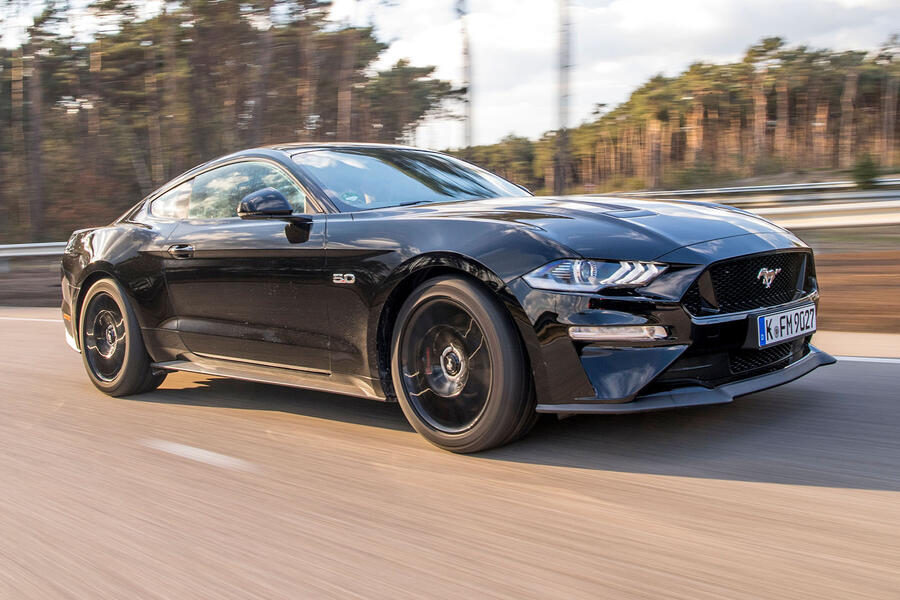 Tweet Widget
Facebook Like
Google Plus One
Nguồn: www.autocar.co.uk