Tweet Widget
Facebook Like
Google Plus One
What is it?
The seventh-generation Lexus ES mid-sized executive saloon: a car that isn't well known to UK buyers but that may just signal a key change in philosophy from its maker.
Selling cars in significant volumes and stealing market share from its chiefly German rivals have never seemed like particularly high priorities for Lexus in Europe, with the firm apparently content to play the longest of waiting games as its presence and profile ever-so-gradually increased.
And yet there are now signs that Lexus's attitude to its own growth on the continent may be changing; that it's rationalising its model range and 'getting serious' about maximising its European market potential.
Toyota's premium brand has doubled its European sales footprint over the past five years, mostly on the back of the NX crossover. And now it's changing tack with its entrant in the mid-sized executive saloon market, with the aim of offering British and European buyers a more practical, better-value prospect than it has thus far.
The change will come at the end of this year, when the seventh-generation Lexus ES goes on sale in the UK — a car that will supercede the GS in European showrooms.
The ES has been a fixture of Lexus's global range of saloons for almost as long as Lexus has existed. It became the firm's most popular four-door, presenting buyers in Lexus's biggest markets with a more rational alternative to the GS 'sports sedan'.
And the most significant thing it'll represent, from a UK perspective, is a switch away from the dynamically appealing rear-wheel drive mechanical template that the GS offered to adopt a more pragmatic front-drive layout.
How could that be good news, you might wonder — either for Lexus or for potential customers? The answer may well prove to be about money. Being a relatively costly car to build, the GS could never really compete with opponents from Mercedes-Benz, Audi and BMW at the cheaper end of Europe's executive segment's value scale.
The ES, on the other hand, shares a platform, an undisclosed proportion of under-the-skin mechanicals and even an American factory with the current Toyota Camry (although right-hand-drive, UK-bound examples of the ES will be sourced from Japan, just as the GS always was).
So you can appreciate why Lexus's European product planners might be more attracted to the ES than the GS, because Lexus UK can probably benefit — to a lesser extent than some might think, and perhaps only by relation — from some of the economies of scale of one of the biggest-selling passenger cars in the world.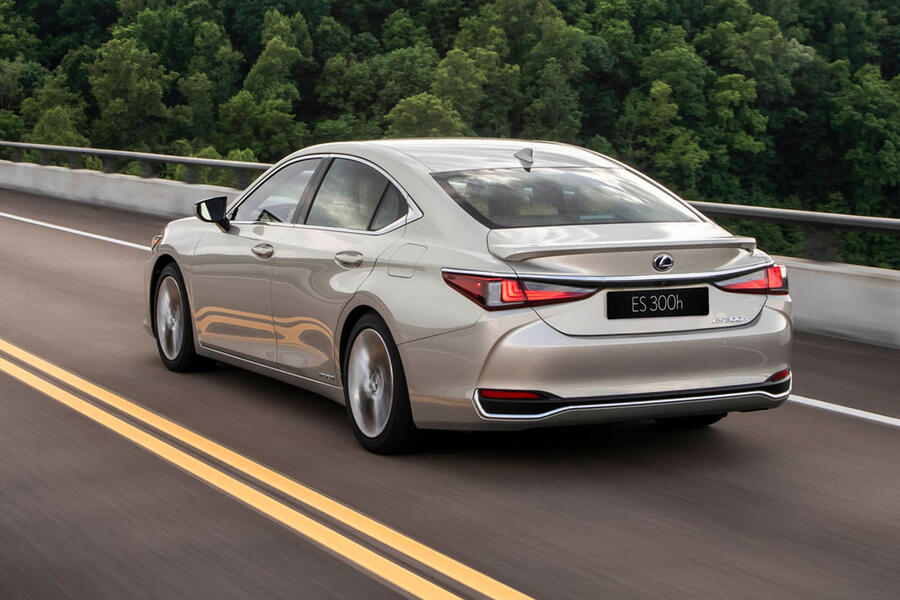 What's it like?
Let's start in the obvious place: the Camry connection. It's sure to become a stick with which some would seek to beat Lexus, as if to suggest that the ES is a less bona fide luxury product or credible rival for a Mercedes E-Class or Audi A6 than a GS was.
Chance afforded us the occasion to park our ES 300h next to a 2018-model-year Camry while taking a short break from our test route in and around Nashville, Tennesse, and to observe that the likeness between the two cars is certainly striking.
Lexus engineers will admit that the GA-K platform on which the ES sits was developed with both the Camry and ES in mind, and that there is some commonality as regards suspension and body-in-white.
But there's plenty of difference, too. Lexus uses lighter materials and stronger joining techniques for the ES than in its Toyota relative, while the ES's chassis is also laterally braced in places by structural 'performance dampers' (depending on trim level) and has much more thorough cabin isolation measures than the Camry as well as bespoke suspension tuning (the former includes a noise-suppressing alloy wheel design, while the latter is delivered through double-valved shock absorbers).
Opt for the ES in F Sport and you'll get adaptively damped suspension, too. None of which sounds like the technical makeup of an executive saloon with very much to be sheepish about, does it?
Lexus has high standards to maintain on perceived cabin quality and luxury feel with its bigger saloons. For the most part, the ES measures up to them — although there were some places where our test car could have been made to look and feel more expensive.
You'll find soft, smooth leathers on the ES's seats and in places around its fascia, but its dashboard and doorcards more widely feature slush-moulded plastic masquerading as hide and in a few places they feature harder, shinier plastics.
The decorative centre console trim doesn't quite match that of the steering wheel for grain and, as a whole, the car doesn't have the imposing aura of richness, solidity and technological sophistication you'll find in an A6 or E-Class.
Cabin space and overall practicality are good, with a couple of caveats. Stretches in both outright length and wheelbase compared with the previous-generation ES allow for good leg room in both rows, with larger adults able to sit line astern in comfort, but second-row head room doesn't quite hit the same standard.
Meanwhile, Lexus's decision to fit two kinds of structural braces around the car's rear bulkhead sees off any possibility of folding rear seatbacks. So, while the ES's boot itself is both wide and long, you won't be able to load longer items through into the cabin.
Lexus will only offer the ES to UK buyers in petrol-electric 'self-charging' hybrid form, as the ES 300h. Powered by a new 2.5-litre four-cylinder Atkinson Cycle petrol engine that drives the front wheels through an equally new hybrid transaxle transmission (made up of a 118bhp electric drive motor, a smaller motor/generator and an 'e-CVT' gearbox), the ES hybrid variant produces 215bhp, emits 106g/km of CO2 and comes with a combined fuel economy claim of just over 60mpg.
Those figures ought to look attractive when compared with four-cylinder petrol and diesel versions of its key rivals. The claimed 0-62mph sprint, at just under nine seconds, will look less attractive in relative terms but should hardly come as a disappointment to anyone familiar with the operating economy bias of Lexus's bigger-selling petrol-electric powertrains.
The ES has a more mature, refined and relaxing motive character than the GS. Its handling is composed, precise and fairly responsive, the medium-weighted steering is well-judged and has consistent pace, and the car has levels of outright grip and body control that will allow it to deal more easily with the full panoply of UK roads, I dare say, than some saloons of its size.
The car is at its most gratifying, however, when driven at laid-back pace — when its absorptive, quiet ride soothes away bumps and sharp edges very well indeed, and all is calm inside.
Lexus's latest-generation four-cylinder hybrid powertrain is likewise at its best when you're in no mind to hurry. Drive in Eco mode and you'll find you can keep the combustion engine quiet for longer periods and have a fairly long, nicely progressive accelerator pedal calibration with which you can easily record around 50mpg.
Select Sport mode in order to adopt a faster stride, however, and you'll find that, while the car's outright performance level at full power is decent, the old Toyota/Lexus hybrid frustrations of too much hesitation and too little flexibility on part-throttle make the ES 300h feel less driveable and assured in its acceleration than you'd like.
Although the car has wheel-mounted gearshift paddles, they're of little practical use, since the car's petrol engine adopts Lexus's familiar 'elastic band'-style revving routine once you use more than about two-thirds power anyway, regardless which 'gear' you've selected.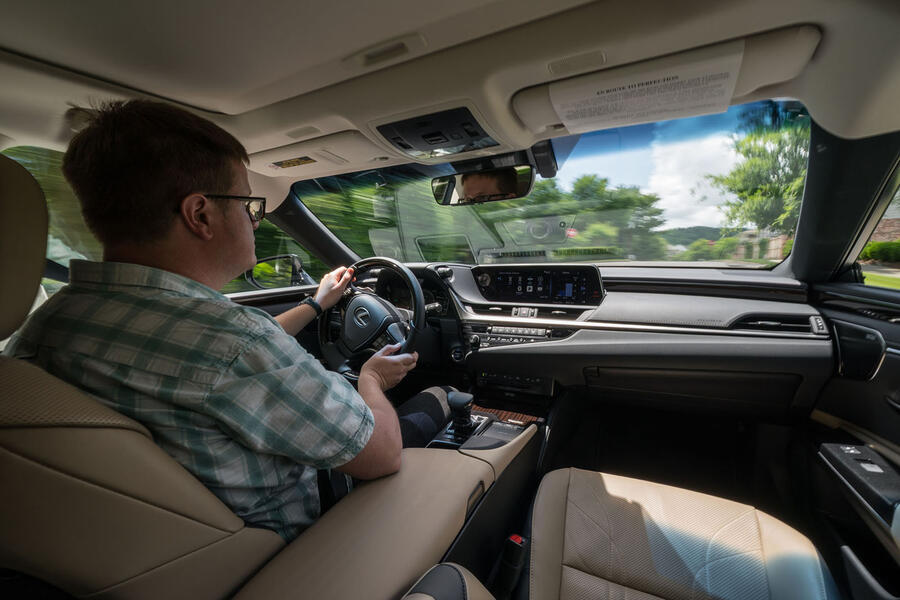 Should I buy one?
Well, you certainly shouldn't rule it out on the basis of the location of its driven axle — because it isn't actually the chassis of the ES that defines the limit of its driver appeal at all.
Rather, it's the car's hybrid powertrain technology, which does the same thing for so many of the firm's current model range (although admittedly more restrictively for some than for others), but which also, for its faults, undoubtedly contributes to the relaxing refinement and fuel economy that distinguish the ES at its best.
A shortage of driver appeal proves no great handicap for plenty of medium-sized executive saloons, of course; and assuming it can be brought to the UK at a more tempting price than the GS had, the ES is good enough to do plenty to improve Lexus's European sales fortunes.
Although it's no sensation, it's probably a stronger alternative to a Volvo S90 or Mercedes E-Class than a Lexus GS ever was to a BMW 5 Series or Jaguar XF.
Lexus ES 300h specification
Where US Price £35,000 (estimated); On sale December 2018; Engine 4cyls in line, 2487cc, Atkinson Cycle petrol; plus 118bhp electric motor assist; Power 215bhp at 5700rpm (total system output); Torque unspecified; Gearbox e-CVT; Kerb weight 1680kg; Top speed 112mph; 0-62mph 8.9sec; Fuel economy 60.1mpg (correlated NEDC); CO2 106g/km; Rivals Audi A6 2.0 TDI, Volvo S90 D4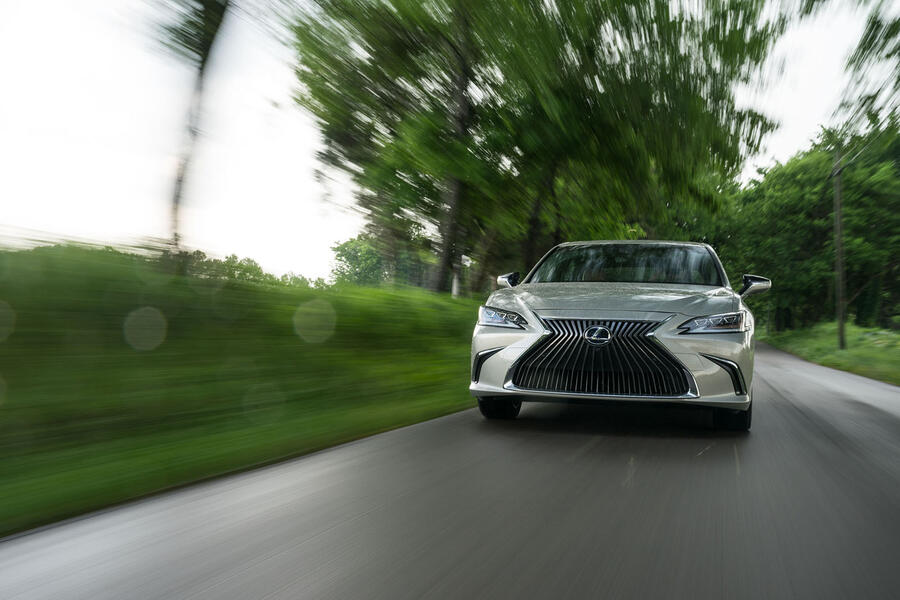 Tweet Widget
Facebook Like
Google Plus One
Nguồn: www.autocar.co.uk