Tweet Widget
Facebook Like
Google Plus One
The Ferrari 812 Superfast
Close
Our Verdict
The Ferrari 812 Superfast is the world's best Super GT car, massively entertaining and almost making 789bhp entirely accessible. Almost
First Drive Ferrari 812 Superfast 2018 UK review

Flagship V12 Ferrari is highly strung but staggeringly fast and utterly thrilling on UK roads.
What is it?
The Ferrari 812 Superfast makes a bit of a mockery of the way we classify the exotic car market. We call it a 'super GT' car because it's got a longways V12 engine up front and a boot at the back, and so it's cars such as the Aston Martin Vanquish S we compare it with most closely. And, for obvious reasons, we expect it to be primarily fit for the purposes of fast grand touring.
But – like every one of its direct predecessors I've ever driven, going back to the 575M – the 812 Superfast doesn't care to fit in. It has its own agenda, its own reasons for being – and they're pretty convincing reasons. Because this is Maranello's most powerful and expensive series-production model; it's nothing like any other GT car on sale. It feels wide on the road and it"s as fast and exciting as any mid-engined supercar you're ever likely to drive – not to mention more highly strung than many.
Our first drive on Italian roads came in June last year, when the car's new electric power steering and retuned four-wheel steering system seemed to combine very cleverly to answer the hair-raising dynamic shortcomings of the limited-series F12tdf. Back then, the 812 felt like a more natural-feeling, rounded car to drive even than the F12.
But what about on British roads, in right-hand drive - and on a drizzly, chilly day in March?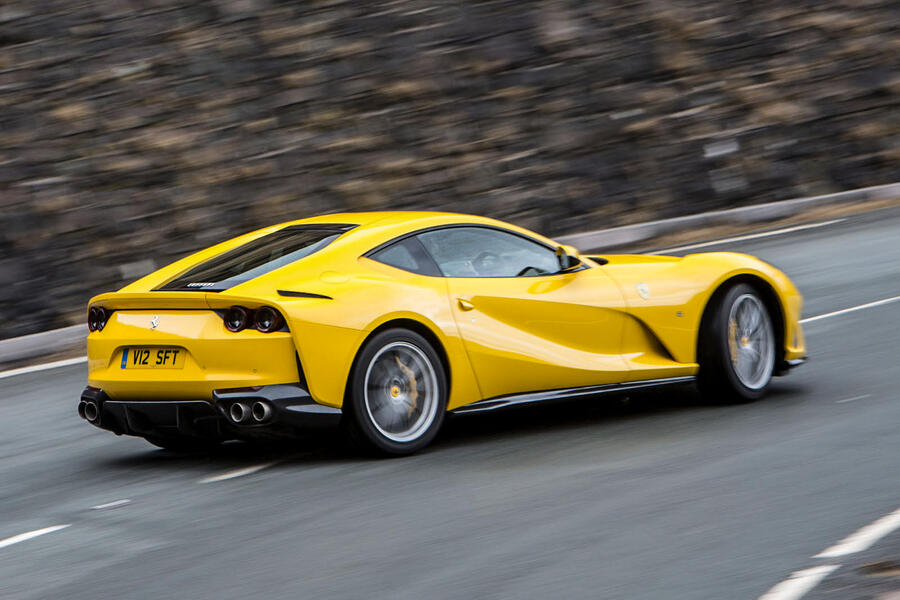 What's it like?
I'm not sure 'rounded' is how I'd put it. Stick the dampers in their 'bumpy road' setting and the suspension deals with motorways and well-surfaced A-roads just fine. Here, the driven axle is kept in consistent enough contact with the Tarmac to give you the confidence to begin to explore what that engine is capable of.
And, my word, it's an incredible engine; one of such potency that forays into the bottom half of the accelerator pedal travel are rare – and call for a very deep breath. On half-throttle from town speeds, you'll rifle through second and third gears and be going quickly enough to steady your enthusiasm before you've blinked. Risk a full throttle trip towards 9000rpm and you'll be stunned by this car's massive, linear pace – and left in awe of the musicality of its savagery.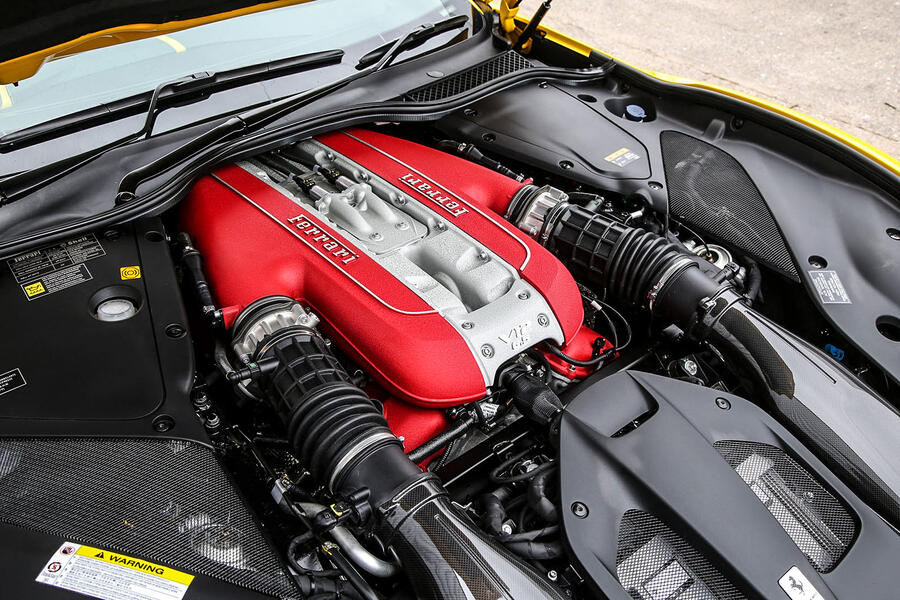 You're unlikely to risk those heady trips on less-than-immaculately surfaced cross-country roads, though. Even at its softest, the 812's suspension is firm to the point that it's a jostling, nerve-testing ride at times. Its ride and its handling are both particularly reactive over bumps taken at pace, when those enormously wide front wheels can start to tramline. At that point the car's steering – whose directness genuinely isn't an issue elsewhere, thanks to plenty of weight and good on-centre stability – just begins to burst your bubble. The rear suspension, meanwhile – on whose lateral stiffness the car's super-incisive handling is built – can compound the offence by making the body fuss and fidget over the same bumps that diverted the steering an instant earlier.
Upshot? That driving an 812 Superfast down a particularly testing B-road reminds you of Owen Wilson's Armageddon movie line; the one when he's "not sure if he's 98% excited and 2% scared, or if it's the other way around".
Seek out surfaces and journeys that suit it, however, and this car will amaze you over and over again. For handling response and turn-in incisiveness, as well as lateral grip and balance, it feels like it gives up absolutely nothing to the very best mid-engined supercars and track machines.
It'll take further acquaintance on track to be sure about that, because you can't get close to the 812's limits on the road. You can, however, enjoy a sense of agility and eagerness that little else on four wheels can match. Partnered with the aforementioned performance, which is equally breathtaking for its style as for its scope, that makes for a driving experience that'll keep you awake at night. For all of the right reasons.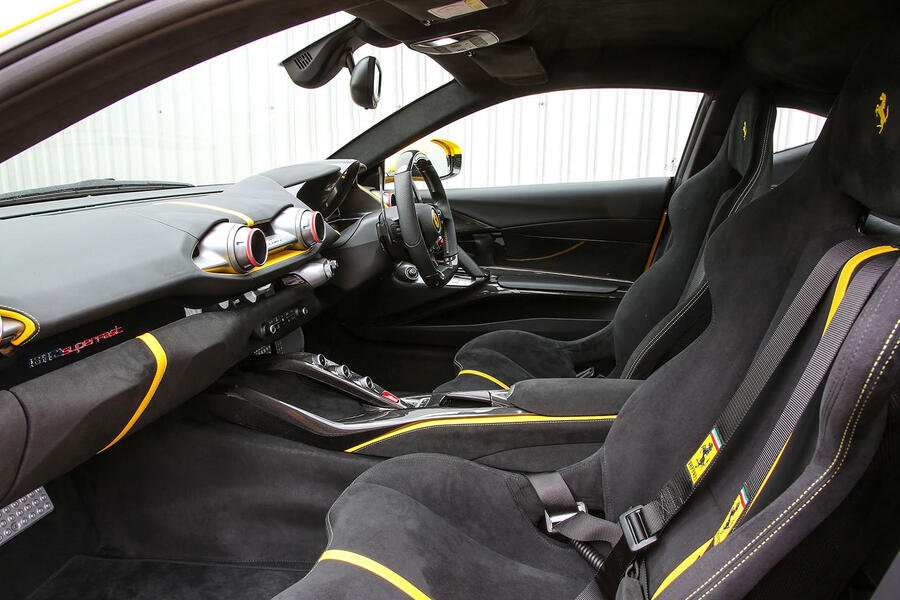 Should I buy one?
The 812 Superfast is every inch the car the name suggests it'll be. It isn't as easy to drive as it might be and can clearly be brusque and imposing. But it's just so intoxicating and such an epic thrill – even on the road, where the margins of its performance and handling potential are way beyond your reach – that you'd make wonderful allowances for it. You'd embrace its chassis compromise, respect it and use it intelligently.
Next up, to delve into the car's wilder side with a full Autocar road test, with benchmark laptimes and everything else that comes with it. For now, we've unearthed enough grounds for concern about the 812's ride on mixed UK roads to justify clawing back a half-star's worth of the acclaim we lavished last year.
And once we've sampled what the car's capable of on track? I've a feeling the final reckoning should be a very interesting discussion indeed. 
Ferrari 812 Superfast
Engine V12, 6496cc, atmospheric, petrol; Power 789bhp at 8500rpm; Torque 530lb ft at 7000rpm; Gearbox 7-spd twin-clutch automatic; Kerb weight 1630kg; 0-62mph 2.9sec; Top speed 211mph; Economy 19.0mpg (NEDC combined, with HELE); CO2/tax band 340g/km; Rivals Lamborghini Aventador S, Aston Martin Vanquish S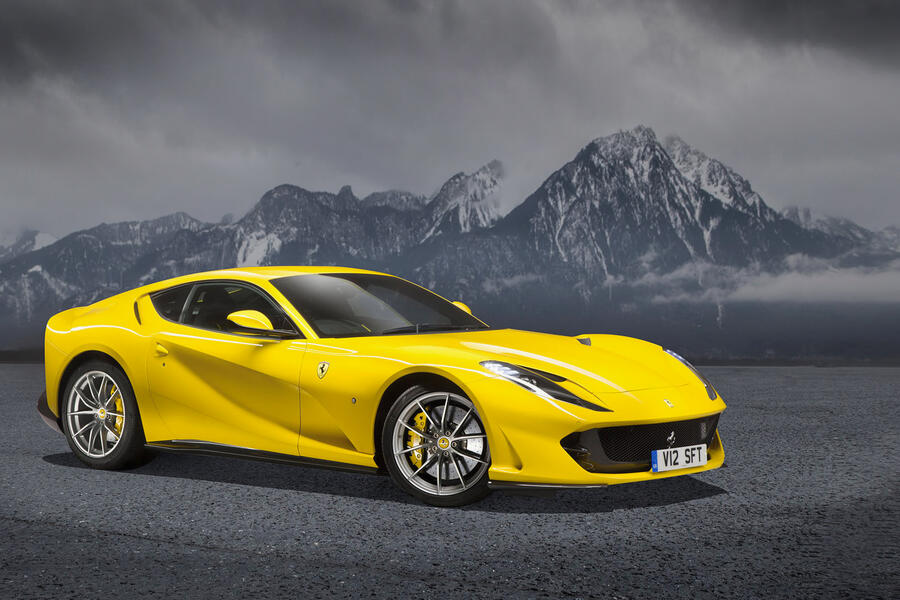 Tweet Widget
Facebook Like
Google Plus One
Nguồn: www.autocar.co.uk