Tweet Widget
Facebook Like
Google Plus One
Our Verdict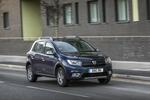 Sandero-based crossover offers greater value for money than its sibling, provided you're not going for a spartan entry-level model
First Drive Dacia Sandero Stepway LPG long-term review

We're familiar with the Sandero – it's the cheap fuel that really intrigues us.

First Drive Dacia Sandero Stepway Ambiance DCi 90 first drive review

The Sandero Stepway is anything but budget motoring, and is a genuinely tempting offer
Why we ran it: UK doesn't get new cars with factory-fit LPG tanks. So we used a dual-fuel Sandero to find out what are we missing
Month 1 - Month 2 - Month 3 - Month 4 - Month 5 - Month 6 - Specs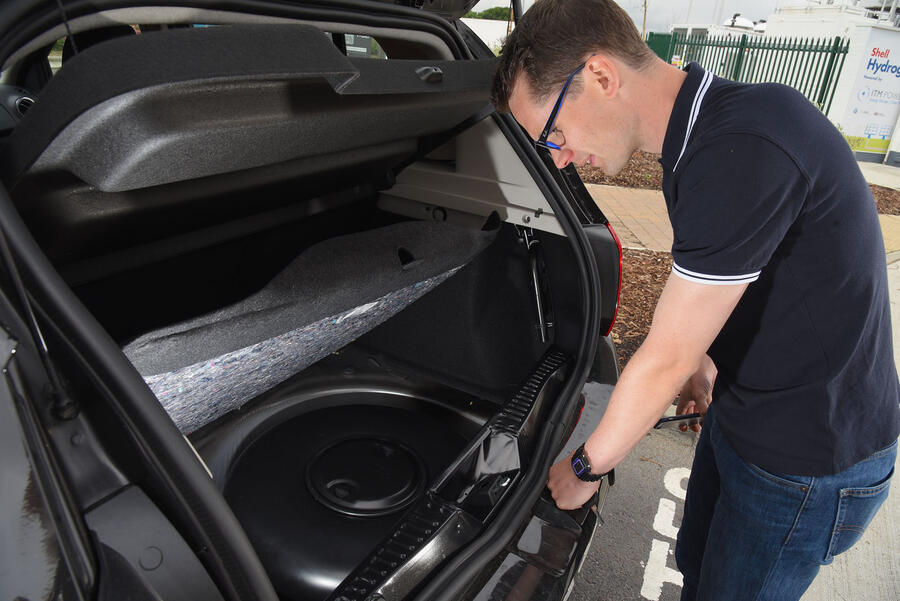 Life with a Sandero Stepway LPG: Month 6
After six months of LPG motoring, we can see the advantages. It's a pity others can't – 21 February 2018
So was this LPG-powered car cheaper to run than its petrol or diesel equivalent? Yes. Was it any less convenient? Not really. So why are UK car buyers being denied the option of a manufacturer-fitted LPG tank in their new right-hand- drive cars, to gain access to the cheapest fuel on UK forecourts?
That's the one question we've been unable to find a satisfactory answer to in the six months since we started this test. In that time, the only thing that has really changed is how much stronger the case is for the more widespread adoption of LPG (liquefied petroleum gas, also known by its brand name Autogas, a Calor and Shell joint venture).
That's because it has proved to be so darn cheap to run. Trust me, filling up the tank with LPG and the bill being low enough to be paid with a contactless credit card doesn't get old. That, more than anything,is what I'll miss about it. The 'it' is, of course, a dual-fuel Dacia Sandero Stepway LPG, registered in the Netherlands because you have to go to the Continent to buy one with a factory-fitted tank. It's not just Dacia: so many other mainstream car makers (Ford, Nissan and Peugeot, to name just three) repeat the trick of not giving us Brits the chance of 60 pence-per-litre LPG from the 1250 or so forecourts offering the fuel.
We went for the Stepway, a raised, softer-riding, slightly tougher- looking version of the Sandero, because the low cost of LPG fitted so well with the 'cheap as chips' ethos of Dacia. And so it proved: we didn't learn much we didn't know already about the functional, rational and practical Sandero itself from this test, other than that it could be made yet cheaper to run.
We did learn that filling up is more fiddly than with a regular petrol or diesel pump, and the real-world range of 250-280 miles from a 40-litre LPG tank isn't as good as that of a conventional petrol or diesel car due to the lower calorific value of LPG. As a result, economy is worse on paper (we averaged 34.5mpg, compared with the 43mpg our sister brand What Car? got from a similar non-LPG Sandero with the same 0.9-litre three-cylinder engine) yet the cost of the fuel was much less. The 2028 miles we racked up cost just £160.34 in fuel whereas the same number of miles covered in the What Car? Sandero would have cost £257.29.
If the more frequent fill-ups are a bind, you can always call on the petrol tank from the standard donor car, although we rarely did. The LPG tank, by the way, is mounted in the boot where the spare wheel would sit, thus stealing no boot space.
Despite the cost savings, Autogas's chief short-term argument for LPG use is that it is a 'here and now' solution for improving air quality, particularly at a time when UK cities are having to propose legally binding plans to clean up their air. Even beyond cars, there are so many other forms of transport – taxis, buses, commercial vehicles – that could benefit now from LPG conversions, which can also be done for cars yet lack popular appeal, or indeed the government grants there once were for switching to the fuel. Shame. Car makers admit that the demand just isn't there for LPG, but people won't miss what they don't have. Imagine if 50 mainstream LPG models hit the UK car market tomorrow in right-hand drive, and robbing no more boot space than a spare wheel takes up: even an average salesman wouldn't have to work too hard to sell one to those who value low running costs.
Mileage: 2574
Life with a Sandero Stepway LPG: Month 5
Proving LPG cars have a role to play in the UK – 28 December 2017​
How topical: the government used November's budget to remove the fuel duty escalator for LPG-powered cars.
The presence of this escalator, no matter how small an impact it would make on the cost of a litre of LPG if enacted, has been highlighted by manufacturers as a reason why they don't offer the cars with factory-fitted LPG tanks they supply to mainland Europe (in left-hand drive) in right-hand drive for UK buyers, citing uncertainty around the fuel's price.
Will anything change? We'll have one final report on our Sandero coming soon where we'll round up the state of the LPG nation in the UK, but plenty of you have got in touch to say you'd welcome a third fossil fuel choice alongside petrol and diesel when buying a car.
One such reader is Richard Shepherd. Our Sandero LPG model was sourced from the Netherlands and that's also where Richard has had to buy every one of his new cars since 1996 to get the factory-fit LPG system he knows works for him.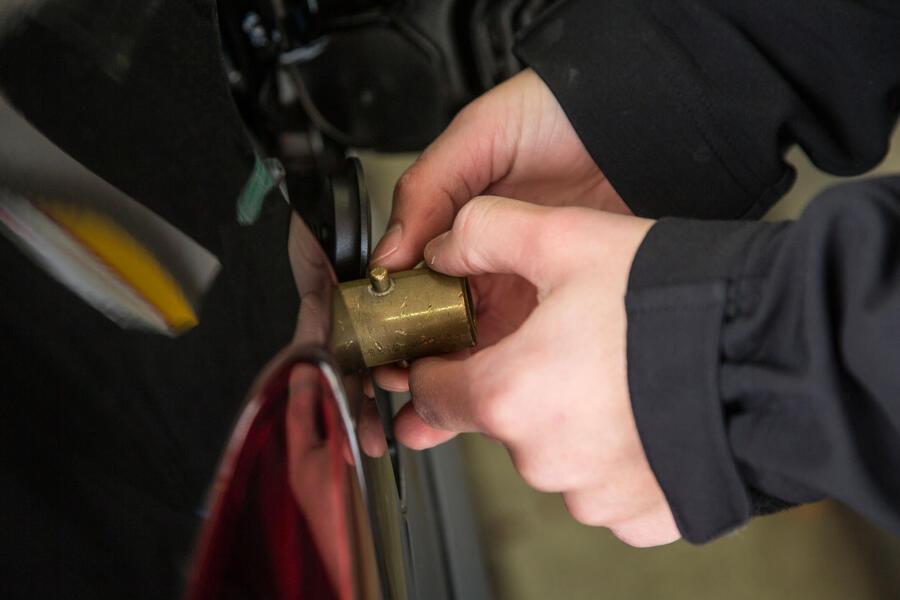 He reckons running LPG saves him £700 for the 1000 litres of fuel he buys each year. However, the poor euro-to-pound exchange rate is making the prospect of buying another LPG model from the Netherlands as his next car uneconomic because the higher purchase price will not be offset by his lower fuel costs. And he is unable buy an LPG-powered car in the UK.
Fleet buyers are interested, too. Marvin Hurst runs a taxi company in Leeds, one of a number of cities with an air pollution problem (remember, LPG cars are less polluting than petrol or diesel and cited by the fuel's makers as a 'here and now' solution to combating air quality problems) and he'd consider the switch to help address that.
He's also familiar with LPG, having run a converted Ford Focus in the past and got on well with it. His experiences tally with mine with regards to fuelling, though: it's just not as easy and straightforward as picking up one of the green or black pumps, sticking it in your fuel tank and squeezing the trigger.
It can be quite a faff to get everything lined up and locked in to work properly and it requires calm nerves, due to the discharge of gas that's released when you break the air seal.
That release, particularly with one of the pumps of a newer design, doesn't half make you jump and leave your hand cold for a few seconds from the short, sharp burst of gas on it.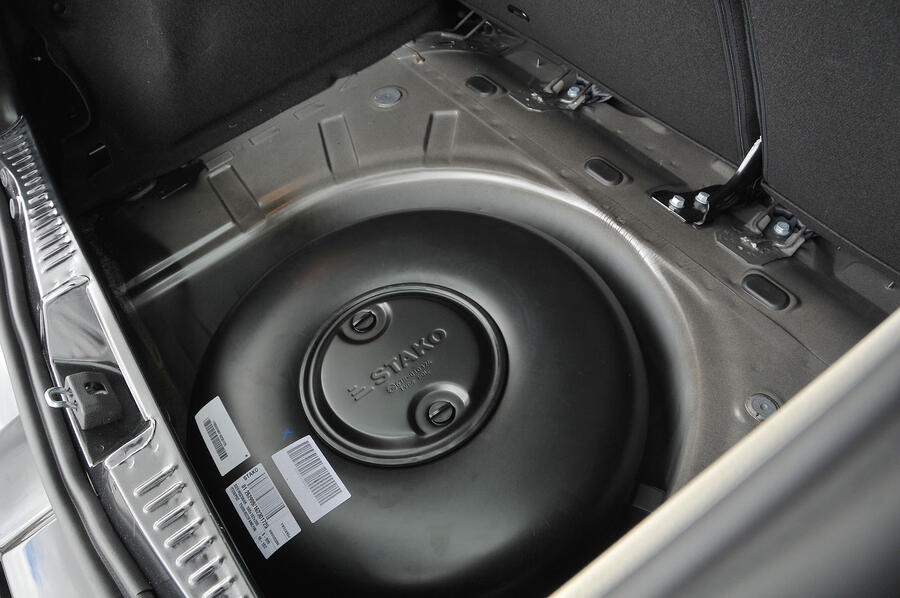 It's still a quicker and easier process than charging an electric car, though, something Marvin, a pragmatic chap, can also testify to. His company runs Leeds' only electric private hire car in the city.
"It suits what we use it for, but my experience of the complexity and payment policy of public charging stations leaves a lot to be desired," he said, calling on the Office for Low Emissions Vehicles (which is tasked with the roll-out of the UK's recharging infrastructure) to tackle this to encourage wider EV take-up. We're with him on that.
Last but not least, Christopher Balfour is a 10-year owner of a Bristol with its V8 converted to run on LPG through two 100-litre tanks either side of the boot and he is well placed to take the long view on the fuel.
Like me, he has struggled with the screw-in adaptor that allows LPG to be pumped perfectly each time. He also notes the demise of several LPG outposts near his native Hampshire and a reduction in suppliers willing to help with and support aftermarket conversions to LPG.
The upshot: we're not there yet, but I can't shake the nagging feeling the government and car makers are missing a trick. Sales of non-petrol and non-diesel cars made up 5.3% of total sales last month. I've a suspicion LPG would rank higher still if offered now as a more mainstream option.
Mileage: 2376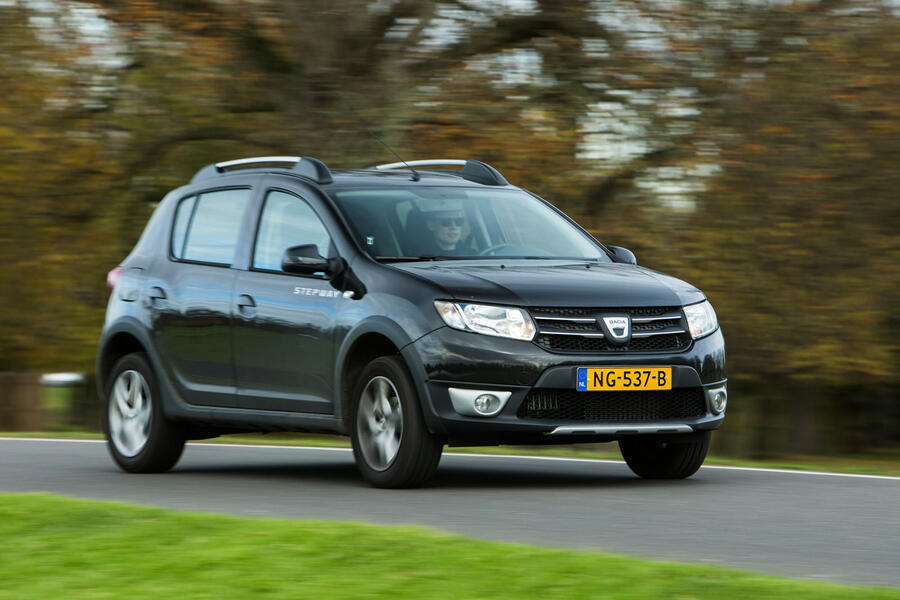 Back to the top
Life with a Sandero Stepway LPG: Month 4
Why is buying an LPG car a challenge? – 22 November 2017
Cheap, uneventful. Two words I find myself coming back to when people ask what it is like to drive around in an LPG-powered car.
Colleagues who borrow it for a week have a happy knack of using similar words to describe their own experiences. "I don't know why you can't buy one here officially" is the (paraphrased) follow-up point myself and others typically make.
So why is that? As discussed right back at the start of this long-term test, LPG-powered cars, which produce fewer harmful emissions, could be used to help tackle the UK's air-quality problems while we wait for the more widespread availability of affordable electric, zero-emissions cars and a charging network to make their use viable for more motorists.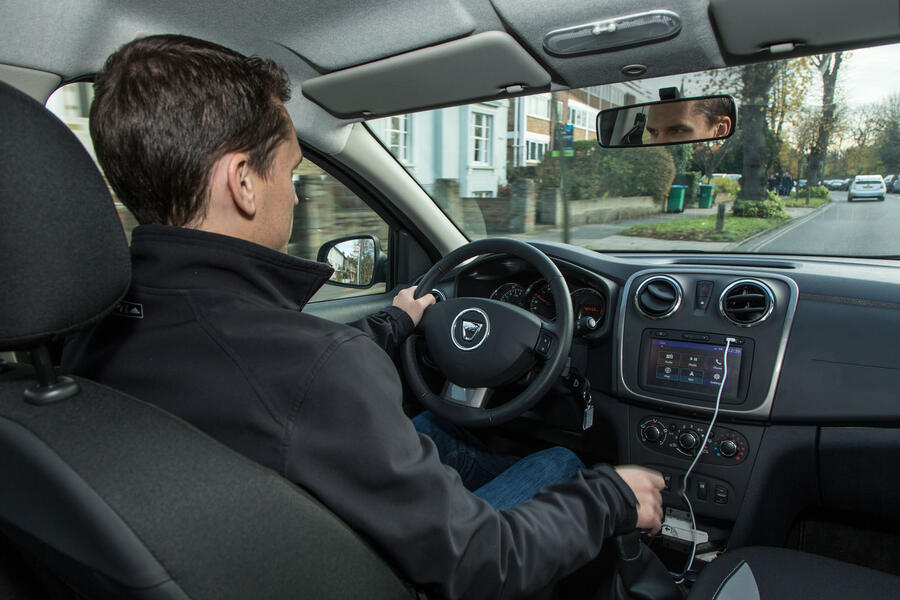 A report landed on my desk with stats on LPG across Europe. On the other side of the English Channel and North Sea, you'll find more than 45,000 LPG stations before you hit the edge of Spain, the Balkans or Turkey, depending on your direction of travel. In the UK, there are only 1250.
Those 45,000 pumps can provide fuel to a whole host of mainstream cars – not just cheap and cheerful ones like the Dacia Sandero we're testing – that leave their respective production plants equipped with an LPG tank alongside their conventional petrol one, meaning no need for an aftermarket conversion.
Alfa Romeo will sell you an LPG-powered Mito or Giulietta; Fiat a 500, 500L, Panda, Tipo or Punto (yes, they still make Puntos); Ford the B-Max, C-Max, Fiesta and Focus; Kia the Picanto, Rio or Venga.
The good people at Mitsubishi will provide your ASX or Outlander with LPG power if you so choose.
Likewise Nissan with the Juke, Micra or Note; and Opel with the Adam, Astra, Corsa, Insignia, Karl (known as the Vauxhall Viva in the UK), Meriva, Zafira Tourer and Mokka X.
Still with us? There's more. The Peugeot 208, Citroën C3, Hyundai i10 and i20, Renault Clio and Mégane, Honda Civic, Subaru XV, Forester and Outback, plus the Ssangyong Tivoli and Korando, complete the set of models sold in the UK that are offered with an LPG option on the continent but not here.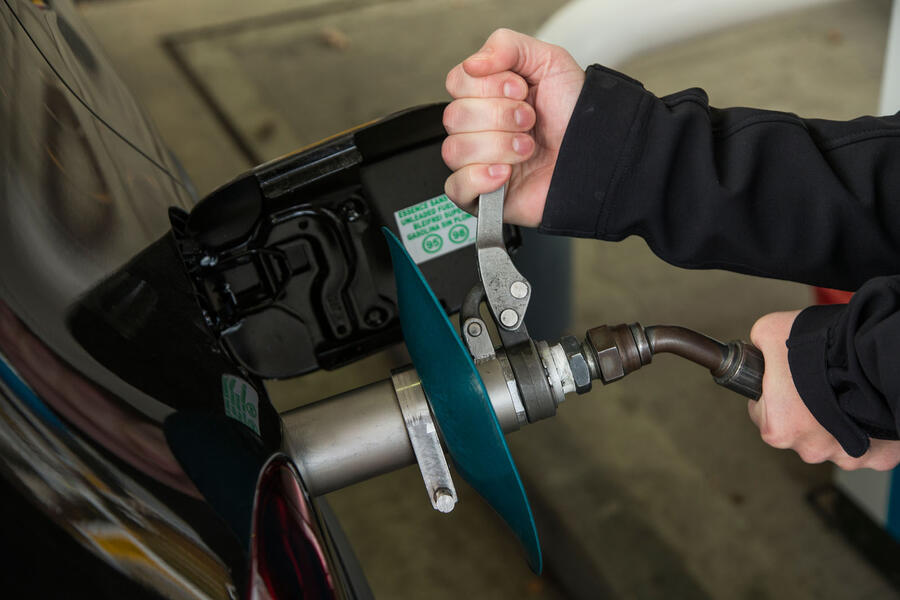 Two main reasons are typically given for it not being offered: first, the LPG-powered cars are not produced in right-hand drive; and second, that LPG is no longer protected from the fuel duty escalator, meaning it is exposed to the same rises in taxation as petrol and diesel.
Autogas, the chief supplier of LPG in the country that was set up as a joint venture between Shell and Calor in 2000, isn't having any of the latter argument.
It points out that the escalator has yet to be enacted and that LPG duty is much lower anyway, at 15.8% of the cost of a litre to the 58.9% of petrol and diesel.
Even if the tax went up, it would remain a much cheaper fuel at the pump than either of its more traditional alternatives.
As for the point about left-hand-drive, Autogas uses the Ford Transit Connect van as an example of an LPG-powered model that is already in production in right-hand drive.It is built in Spain and exported to Hong Kong, where motorists drive on the left, like we do here in the UK.
So, Ford, why not divert some over here to gauge the reaction? From our experience, buyers are missing out unfairly on perfectly decent vehicles.
Mileage: 2260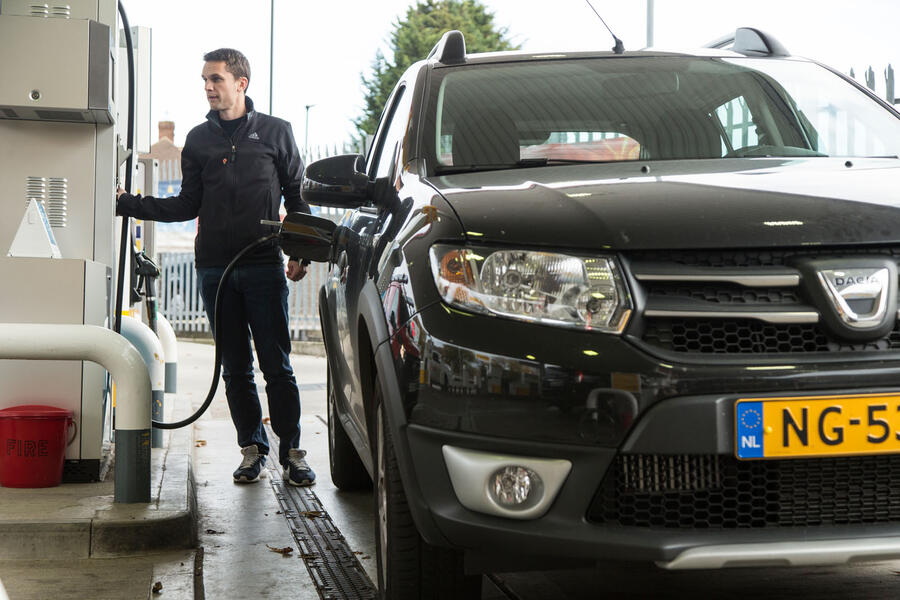 Back to the top
Life with a Sandero Stepway LPG: Month 3
A retro ghetto-blaster in disguise? – 01 November 2017​
I have developed a quaint affection for the Stepway's stereo system.
Sophisticated it isn't, but the mix of rudimentary speakers and a hollow plastic dash combine to produce a huge, unprocessed ghetto-blaster sound quality that brings back happy memories of cheap, 1990s-era hatchbacks.
It's all part of the parsimonious appeal of having a cheap, LPG-powered runaround.
Nic Cackett
Mileage: 1710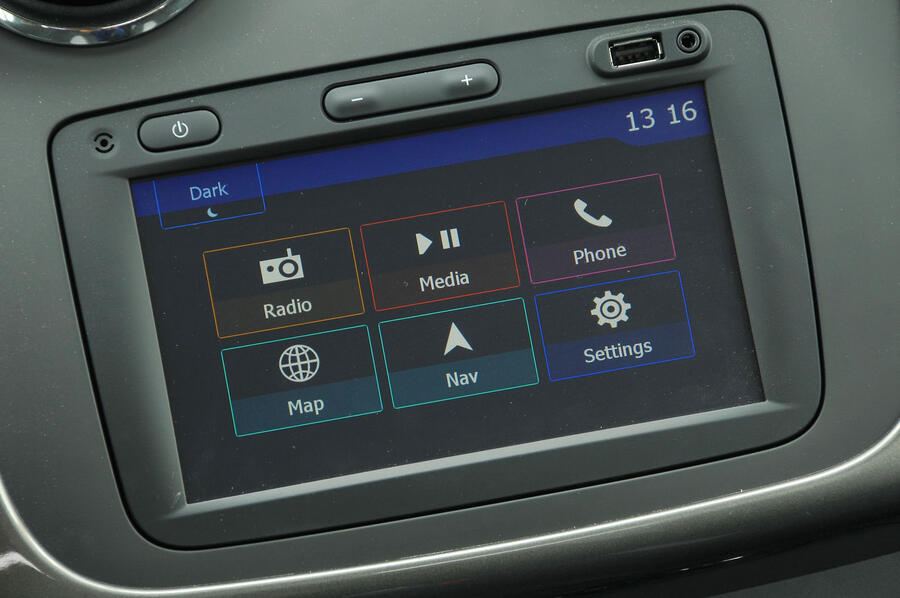 Counting the miles as well as the pennies – 11 October 2017​
The wealth – or rather the dearth – of LPG motoring has been shared around Autocar HQ in recent weeks, as others begin to discover that the curious Dacia with the Dutch numberplates doesn't bite.
News editor Rachel Burgess grabbed the keys to see how different a Dacia Sandero is to drive on LPG from one running on petrol.
"What's most remarkable about the Dacia is how unremarkable it is," she came back saying. "I was constantly trying to find ways in which it was different to drive from a non-LPG one but never managed it. I expected it to feel heavier (due to the extra fuel tank) and slower (extra weight) but it just felt the same."
Nic Cackett, former Autocar road tester and now editor of our sister title PistonHeads (check it out at pistonheads.com), went one further and broke the seal on the hallowed tank of petrol, not used since the Sandero LPG arrived.
"I rather liked the seamless transition to the Stepway's conventional reserve. It made the potential range seem colossal," said Nic, "but the eventual requirement for consecutive goes at separate pumps does rather reinsert the strife."
Back on the subject of pumps, I mentioned last time about a bad experience with one of the newer kinds of pump at a Shell I found on the A316 near Autocar's office.
The nozzle struggled to fit onto the car and then the got adaptor stuck on when refuelling was eventually done. I blamed myself.
Well, Rachel had the same problem with the same pump. "It didn't work," she said. "My partner and I both persisted for 20min before giving up and heading to another garage."
Rachel had another observation that tallies with my own: the indicator of how much gas is left in the tank gives about as straight an answer as a politician on Question Time.
How did my first ever attempt at filling up the LPG-fuelled Dacia go? Take a guess... pic.twitter.com/0RwcH1LlsY
— Rachel Burgess (@theburgeword) September 17, 2017
"I put in only £10 of fuel to a tank that was almost empty, yet when I got back behind the wheel, it said the LPG tank was full," she said. "My guess is that the LPG indicator is not an awfully fair measure of how much LPG remains in the tank."
She's right on that, but the office consensus on the available range from a tank of LPG is around 200-250 miles, depending on how brave you're feeling when the red light on the little tank indicator comes on.
Last word to Nic, who donned his road test flat cap one last time for his appraisal of the rest of the Sandero's manners.
"For all the practical limitations presented by our Stepway – the intransigent pumps, the south-paw steering wheel, the airport-car-park-confounding numberplate – it's worth reiterating what a happy and contented car the underlying model really is," he said.
"I drove it back from Luton one night – after midnight, after a flight and after very little sleep – and although the steering may be as slow as oak-tree growth, the Dacia's pulpy, affable ride and squidgy seats make it almost impossible to complain about."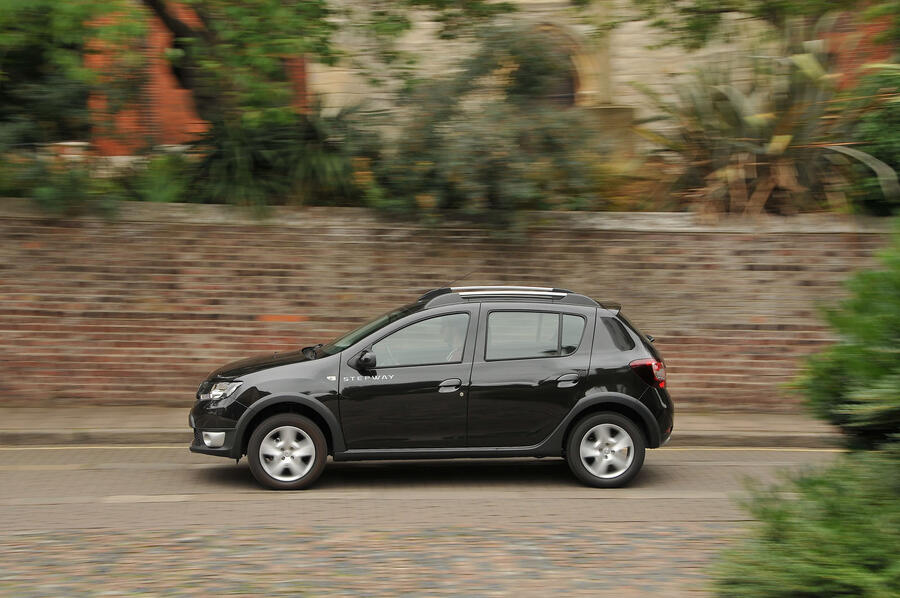 Mileage: 1592
Back to the top
Life with a Sandero Stepway LPG: Month 2
Counting the miles as well as the pennies – 06 September 2017 
My first credit card bill since I took ownership of the LPG-powered Sandero Stepway has landed, and it makes for happy reading.
Which is good news, given that I signed off my first report on the car last month by noting this was the long-term test of the calculator and credit card as much as the car itself, to assess the viability of LPG as a fuel to help improve the UK's air quality problem and save motorists a few quid in the process.
We've had two brims of the 40-litre tank so far: a 28.17-litre fill that took me 213 miles, and a 30.76-litre replenishment that got me 234 miles.
Those fills were both carried out when the red warning light was illuminated on the LPG tank indicator, backing up some internet research that suggested Dacia has quite a creative interpretation of the amount of gas remaining.
Each time, LPG cost 58.9 pence per litre, meaning that the fills came in at £16.59 and £18.12 respectively. That means it costs £34.71 to travel 447 miles at an economy rate of 34.5mpg.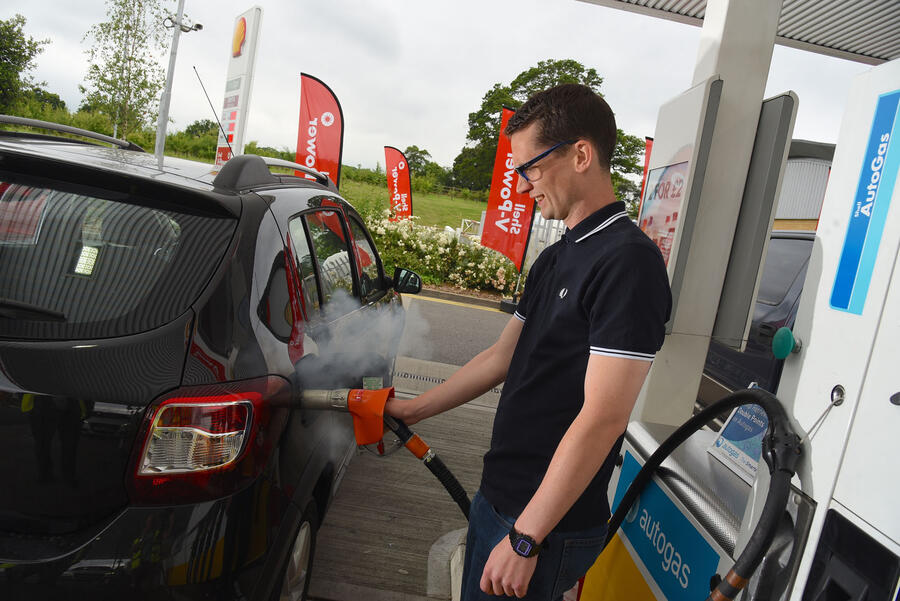 So how does that compare with a petrol-powered equivalent? As luck would have it, our sister magazine What Car? also has a Dacia Sandero (albeit in non-Stepway spec) on long-term test. Using the same 89bhp 0.9-litre three-cylinder engine, it is averaging 43mpg.
The economy in an LPG car is always worse, due to the fuel having a lower calorific value, but given that petrol has averaged around £1.15 per litre over the same period, the fuel cost of £54.35 to travel the same distance in a petrol Sandero leaves you an extra £20 out of pocket.
However, it's worth noting that the petrol Sandero would have done close to that distance between fills, rather than the more frequent stops needed in the LPG car.
When those fills have been needed, it has been fairly easy to find LPG fuel pumps so far, one always having a welcome habit of creeping up on a roundabout just in time for the tank to run completely dry (if that's the right term). I've encountered the pumps at only Shell filling stations so far, although it's worth noting that Shell isn't the only fuel company with LPG pumps.
While at Shell, though, I have come across two types of LPG pump. One I explained about in the first report (a simple push-on, twist and lock type), but a newer push-on-and-clamp-over device has also now emerged. It is supposed to be easier to use. Well, I faffed around with it long enough for the assistant in the filling station's shop to have to come out and show me how it is done…
Maybe my struggle was because, being a model intended to be sold to Dutch buyers, our Sandero Stepway's fuel tank needs an adaptor screwed over the inlet so it can be filled up using UK-spec LPG pumps.
My pump fail was complete when this adaptor subsequently got stuck. A pair of pliers and brute force was needed to remove it back at the office. 
Still, I'll put all these down to lessons learned and teething trouble, because the bottom line so far is this: the LPG-powered Sandero is proving much cheaper to run than its petrol equivalent and the network of LPG pumps has not yet left us short and caused us to switch to the back-up petrol tank.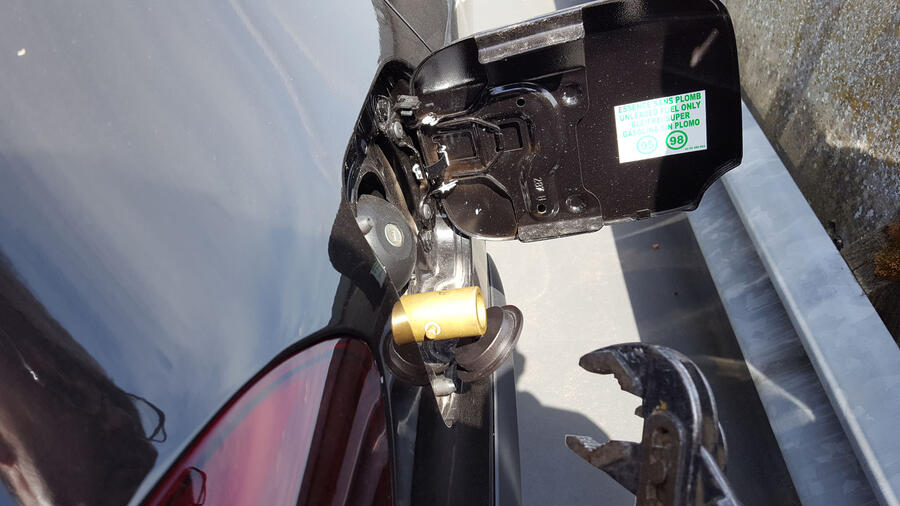 Mileage: 1399
Back to the top
Life with a Sandero Stepway LPG: Month 1:
Welcoming the LPG Sandero to our fleet – 02 August 2017
It's something we've all cast an envious eye at before: the third entry at the bottom of an illuminated fuel prices sign.
The one at Cobham Services near junction 10 of the M25 read '58.9 pence per litre' when I went to pick up this Dacia Sandero Stepway with a difference for our long-term test fleet.
That's the price of a litre of Autogas, the brand name for the most common form of LPG (liquefied petroleum gas) you'll find in the UK. That makes it about half the price of a litre of petrol or diesel or, in other words, rather appealing financially.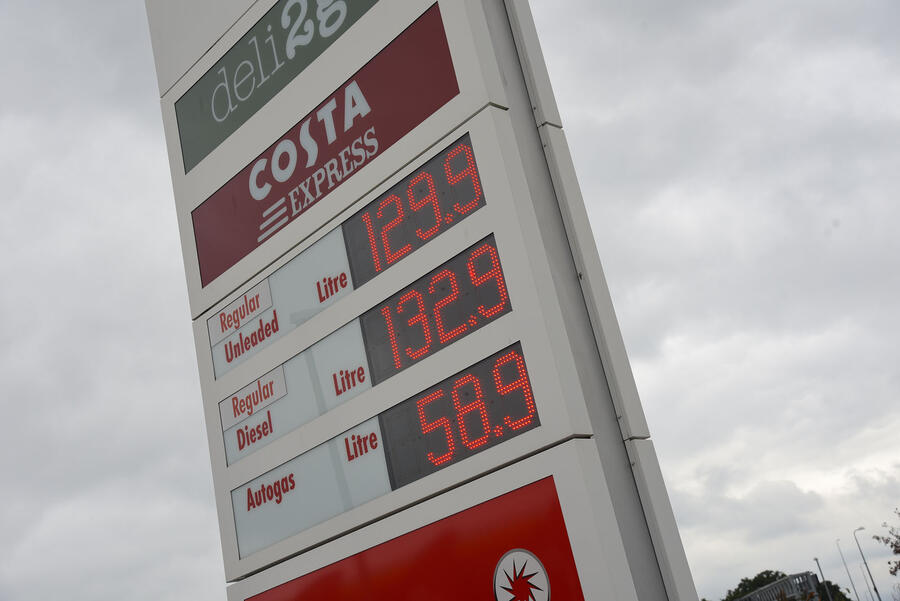 Despite a push at the turn of the century, however, LPG has not taken off in the UK. Unlike on the continent, no cars with a factory-fitted LPG tank are sold here, meaning a conversion is the only way to go if you want to drive on the cheapest fuel available on UK forecourts.
The gas industry wants to change that and is trying to get LPG back on the agenda as a 'here and now' solution to the UK's well-publicised and pressing air-quality problems. With the government vowing to ban sales of new petrols and diesels in 2040, the LPG lobby argues that the infrastructure is already in place to support a less-polluting fuel that can make an immediate difference to air quality at a palatable cost.
So, to that end, we're running the Sandero Stepway for six months to find out how well an LPG-powered car works in Britain in 2017.
You'll notice our car has Dutch numberplates and the steering wheel on the wrong side. Because manufacturers do not sell LPG-powered cars directly to new-car buyers in the UK, we decided against a conversion and popped over the Channel where they do sell them.
Are UK car buyers missing out? That's one of the things we'll be finding out.
So why a Sandero? Well, it's the epitome of cheap motoring. The cheapest fuel on sale in the UK, in the cheapest car.
Or in the words of Dacia's Dutch website, run through Google Translate: "What is even smarter than a Dacia? A Dacia LPG!"
We had a Sandero on our fleet when it was launched, so are well versed in its simple charms, which haven't diminished in the intervening period.
This time it's a Sandero Stepway, which is raised by 40mm compared to the standard car, has extra kit and looks more rugged. There's not much difference in how they drive, although the Sandero Stepway has a softer ride.
The engine powering the car is the familiar 89bhp 0.9-litre turbocharged three-cylinder unit from myriad Dacia and Renault models. Our car has the same 50-litre petrol tank as Sanderos sold over here and will happily run on petrol all day as normal, but in addition has an LPG tank. It is 40 litres in capacity and sits in the boot in the space where a spare wheel would be.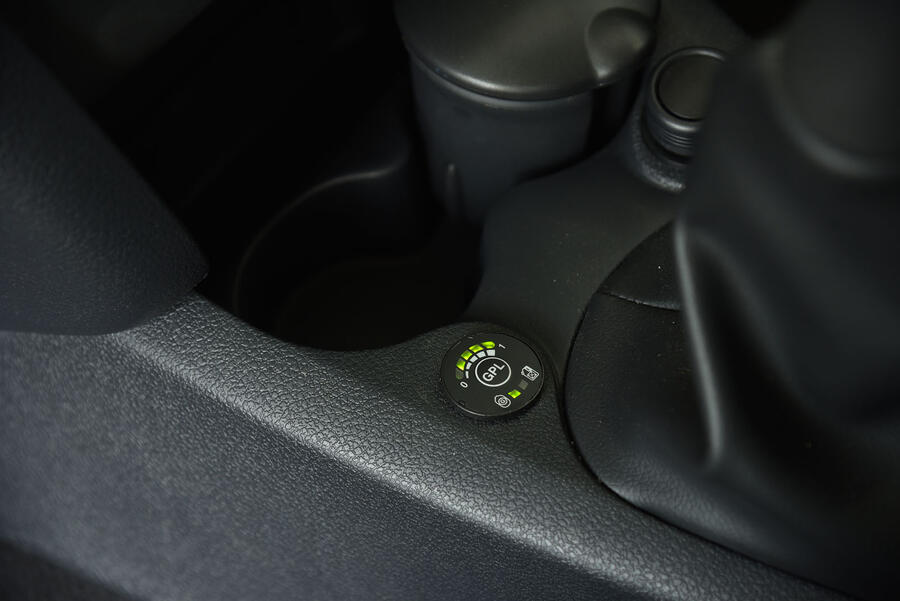 The tank is round and unobtrusive, robbing no obvious usable boot capacity, and is a world away from the mental image of aftermarket LPG conversions that leave the car's boot filled with gas cylinders.
The obvious difference is when you look behind the fuel filler cap. Next to the conventional petrol one is a smaller cap for the LPG. In the UK you need to screw a supplied adaptor into the LPG filling neck each time you refill because pumps vary according to territory.
To refill, you slot the pump over the adaptor, turn 90 degrees to lock it, pull the handle on the pump and latch it on, and then press the button on the dispenser to start filling. It's really not as complicated as it sounds and dispenses fuel at the speed of the slower petrol pumps you might find on an older forecourt.
Just watch out for the pump making you jump with a big release of pressure when you unlatch the handle afterwards.
There's only one difference inside between an LPG-powered Sandero compared to a regular one: a little low-tech dial next to the gearlever. The dial indicates how much fuel is left in the LPG tank and tells you whether you're running on petrol or LPG, with the option to switch between the two.
We have a full tank of petrol on board for emergencies but don't plan to use it during the car's six months here or this would all be a bit pointless, wouldn't it?
The fuel is cheap, then, so what of the car compared to a standard Sandero? It's a bit like comparing apples and oranges given the differences in taxation and various incentives and rates, and the fact that our car is one of the last pre-facelift versions.
Setting all that aside, an LPG-powered Sandero Stepway will cost €15,380 (£13,490) in the Netherlands compared with €15,980 (£14,017) for a conventional petrol one.
In the UK, a Sandero Stepway is much cheaper to begin with (£8995-£10,995 for this engine, depending on the trim) before you consider the different taxation system. But when cars equipped with factory-fitted LPG tanks were sold in the UK at the turn of the century, they cost about £1000-£1200 more than their petrol-powered equivalents. Let's imagine that it would cost from £10,000 here.
This will be the long-term test of the calculator and credit card as much as the car. How many LPG fuel stations are there? How does the economy compare with a petrol car? Is it really cheaper? How often do you have to fill up? How many people could benefit from switching to LPG?
I'll be channelling my inner Carol Vorderman to find out.
Dacia Sandero Stepway LPG specification
Specs: Price New £13,490; Price as tested £13,490; Options None
Test Data: Engine 898cc, turbocharged petrol; Power 89bhp; Torque 103lb ft; Top speed 104mph; 0-62mph 11.1sec; Claimed fuel economy 55.4mpg; Test fuel economy 35.1mpg; CO2 115g/km; Faults Stuck adaptor (fixed); Expenses None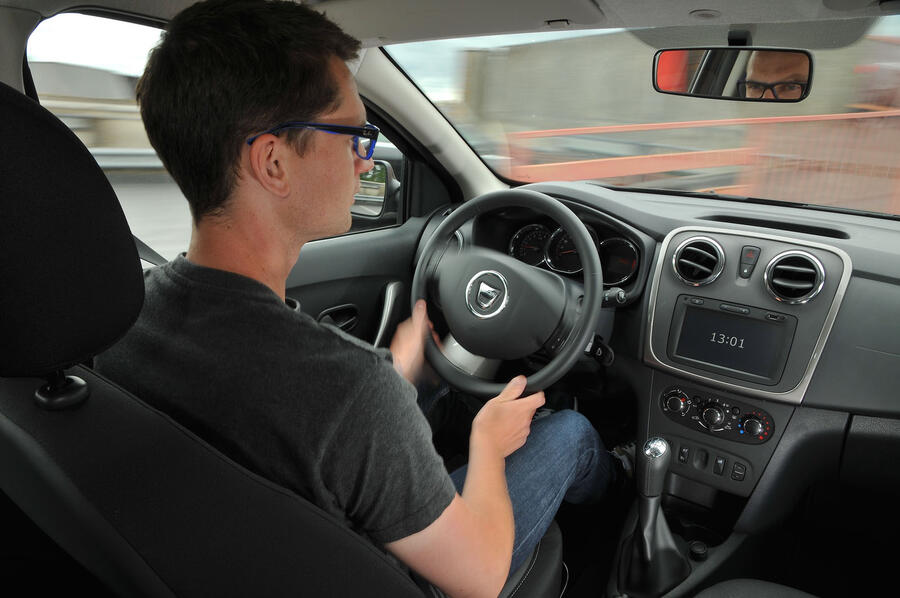 Back to the top
Tweet Widget
Facebook Like
Google Plus One
Nguồn: www.autocar.co.uk