Tweet Widget
Facebook Like
Google Plus One
Our Verdict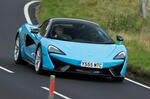 The McLaren 570S Spider combines all the dynamic brilliance of the coupé with the added fun of roof-down driving at the touch of a button
First Drive McLaren 570S Spider Track Pack 2018 UK review

Deleting the roof from McLaren's circuit-prepped 570S has done nothing to blunt its remarkable performance, both on and off a track

First Drive McLaren 570S Spider 2017 review

McLaren has created its most attainable drop-top by removing the roof from the 570S coupé, but none of the car's talent has come away with it
What is it?
Honing a topless car for trackday obligations seems a confused initiative, but in the days of pick-up trucks made by Mercedes-Benz and super-saloons from Kia, it seems anything goes.
That being said, giving the McLaren 570S Spider the same trackday makeover introduced last year on the coupé is a bit of a tap-in, at least in concept. So stiff is the construction of the car's carbonfibre 'Monocell II' tub that the removal of its upper portion incurs almost no penalty in the way of torsional rigidity. As such, there's also the additional benefit that weighty chassis-strengthening measures simply aren't required.
And so we have the 570S Spider Track Pack, which includes more than £17,000 worth of options to help it appeal to "owners interested in occasional trackdays", according to McLaren. Those in search of a more committed circuit experience will be directed towards the 570S GT4 racer, although that's a whole new level of expense, given that a six-event season with full factory support costs £160,000 before you've even bought the car. It's one you can read all about here, courtesy of Andrew Frankel's dispatch from a meeting at Spa-Francorchamps.
Anyway, the road car. In terms of spring rates, suspension geometry, engine and gearbox mapping, or indeed anything oily, the Track Pack changes precisely nothing over the standard car. The specific tuning of the anti-roll bars, adaptive dampers and coil springs therefore remain – no bad thing if you're going to spend most of your time on the road. Despite its composure, we've always regarded the 570S as one of the most forgivingly usable cars of its type, and also superlative on track with the powertrain and chassis setting ramped up to, er, Track mode.
'Super-lightweight' forged alloy wheels do reduce unsprung weight to the tune of about four kilos per corner, however, and there's a sports exhaust with dark 'stealth' styling. The system is both lighter than the usual apparatus and more vocal, says McLaren. Track Pack cars also get an upgrade at the contact patch, with the standard Pirelli P Zero tyres swapped for track-ready (but still road-biased) Corsas.
Carbon-ceramic brakes are already standard on the 570S, so there's no need to tinker with them for track duties.
What's it like?
Well before you've even hit the engine starter button, the Track Pack feels special, and not because of what this cabin has got but because of what it hasn"t got.
Track Pack cars get carbonfibre bucket seats clad entirely in soft Alcantara. They're not only beautiful in their simplicity but also deeply supportive and snuggly comfortable even after a couple of hours in the saddle, although you might not want to go for too much longer.
It's similar story with the steering wheel, whose fuzzy rim is both firm and pleasingly thin and whose exposed carbonfibre spokes are gloriously free of switchgear. This is a fantastic way to set the tone, and in a similar vein, you'll find your legs channelled neatly into a pedal box that seems oddly offset. This, before you complain, is simply McLaren's way of gently encouraging you to brake with your left foot. This is easier than you might think because of the low-set point at which caliper is calibrated to oh so progressively bite disc. Why can't they all be like this?
In terms of architecture, this remains the best driving environment of any supercar, then, and the generous use of Alcantara only makes it feel all the more exceptional. Carbonfibre is also used for the door inserts, gearshift paddles, centre console and the surround for the IRIS infotainment system, which is fitted with a telemetry app for recording lap times. Those of a particularly geeky inclination can also option cameras in the front and rear bumpers alongside a third mounted within the car's firewall.
The roof, meanwhile, is the usual composite, folding two-piece job that goes up or down in 15 seconds and at speeds of up to 25mph. With it in place, the 570S is impressively refined – genuinely – and you're nicely protected from buffeting even with it down. There's nothing to complain about here, and you can lower the rear windscreen with the roof up for a bit more engine chatter and a gentle breeze.
Next to the standard model, there's no discernible difference in the way in this car behaves, either – which is to say brilliantly. During an afternoon at Brands Hatch, you might detect the saving in unsprung mass, but on the open road the Track Pack's 33kg overall deficit to the standard car is slight enough to be undermined by a sizeable weekend bag. And you'd get such an item, along with a couple of helmets, in the bonnet cavity, which continues to shame those of similarly mid-engined rivals.
'Alacrity' is an abused expression in this line of work, but if any car splices apices in an alacritous fashion, it's this one. The sense of infinite front axle control is further heightened by the low scuttle carved into the carbonfibre tub, affording the driver panoramic visibility, as well as the heart-warming purity of an electrohydraulic steering rack and the fact that the seats are positioned so centrally within the chassis.
On the smooth surfaces this car so dearly loves, traction and grip are rarely an issue, although such is the adhesion generated by that front axle that the chassis can pivot about its nose under a trailing brake. That might startle the uninitiated, but it's a driver's dream, and along the same lines, McLaren's tuning of the ESP in Dynamic mode remains sweetly judged.
The 562bhp 3.8-litre flat-plane-crank V8 is still a two-sided affair, though. Despite the sports exhaust, at no point will it put the hairs of your nape on alert, as the flat six in Porsche's 911 GT3 and the V10 shared by the Audi R8 and Lamborghini Huracán frequently do. Perhaps this shouldn't matter, but it does, the overall experience being poorer for the lack of a ripe soundtrack.
Boy, it hits hard, though. Naturally, there's some turbo lag at lower crank speeds, and being of an over-square design, this engine's more explosive moments are skewed towards the 8500rpm red line, so the subsequent delivery is comparable to a depth charge rolled from the stern of a destroyer. And contrary to what you might think, the understated, nasal timbre of the V8 only serves to heighten the intensity of the acceleration.
It does make you wonder who on earth test drives one of these and then thinks "Actually, I will need the 720S after all". The sprint to 62mph, incidentally, is done and dusted in 3.2sec – the same as the F1.
Our only criticism, if you can even call it that, is that you are required to carefully pick your moments when you're really cooking in this car. The chassis is remarkably pliant, but it's not imbued with black magic, and the fact that it's so assured on merely poor surfaces doesn't mean it can be quite so dismissive of those that are downright mediocre. And neither should it. However, you can get caught out when proceedings become a little cantankerous at speed, especially because the steering is so lively and expressive.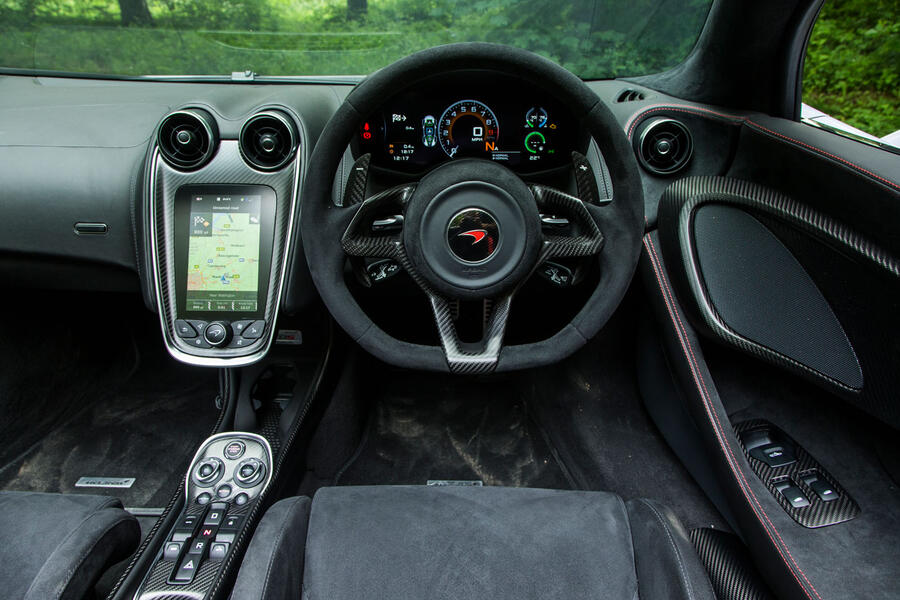 Should I buy one?
McLaren expects a similar level of Track Pack uptake for the Spider as for the coupé – around one in every 10 orders.
Are you surprised it isn't more? We are, a bit, so well does the pared-back, circuit-ready approach suit this particular Sports Series McLaren. Then again, the 570 – in the S guise seen here but especially so its more laid-back, prettier GT form – has a remarkable talent for touring that means many owners don't treat them as an out-and-out performance car in the first place. For these men and women, the Track Pack will be unnecessary expense, and fair enough.
Specify it, however, and there exists no other car this exotic that can reward so richly when run ragged on track and then offer more placid but no less satisfying thrills while the evening sun streams into the cabin on the way home. The Lamborghini Huracán Performante Spider is simply too compromised and Lotus's Exige Sport 410 a touch raw. Porsche is allegedly building a 911 Speedster with GT3 running gear, but good luck getting hold of one of those.
It means that with the 570S Spider Track Pack, McLaren has built the greatest utility supercar money can buy.
McLaren 570S Spider Track Pack
Location Buckinghamshire; Price £181,910; On sale Now; Engine V8, 3799cc, twin-turbo, petrol; Power 562bhp at 7500rpm; Torque 443lb ft at 5000-6500rpm; Gearbox 7-spd dual-clutch automatic; Kerb weight 1465kg; Top speed 204mph; 0-62mph 3.2sec; Economy 26.6mpg (combined); CO2, tax band 249g/km, 37% Rivals Porsche 911 Turbo S Cabriolet, Audi R8 Spyder V10 Plus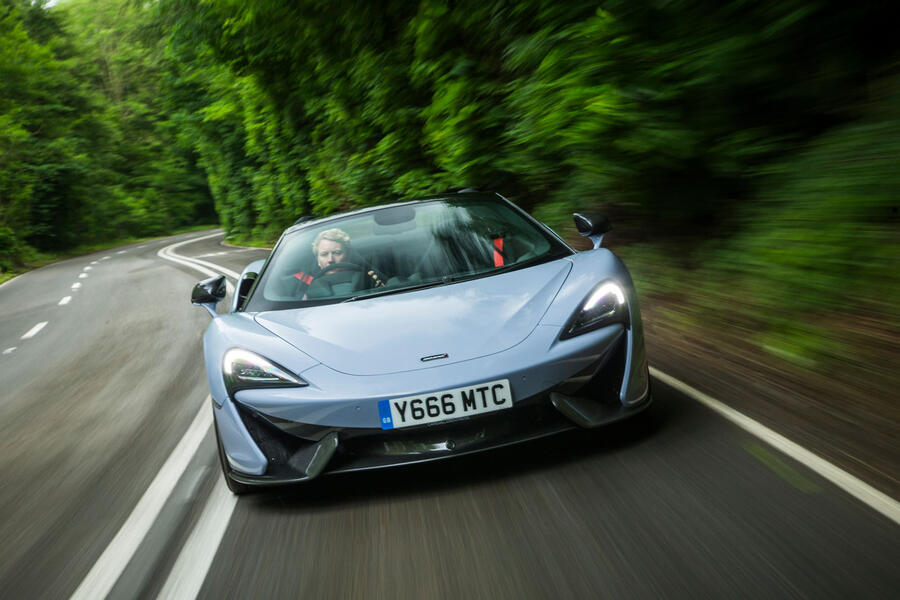 Tweet Widget
Facebook Like
Google Plus One
Nguồn: www.autocar.co.uk