Tweet Widget
Facebook Like
Google Plus One
Mada has simplified the 2 range and at the same time produced this limited-run model
The powerplant isn"t particularly sporty, but responded well to being worked
Mazda 2 Sport Black front bumper detail
Glossy black trim looks stylish, although buyers should question if it"s worth the extra outlay over standard 2 models
Mazda 2 Sport Black detail
Mazda 2 Sport Black trim details
Sport Black edition gains black trim details
Interior is largely unchanged from previous update of Mazda 2. Everything is well laid out and simple, although it lacks the sheen of newer rivals
Power comes from the 89bhp version of Mazda"s 1.5-litre petrol engine
This is the Mazda 2 Sport Black special edition
The Mazda 2 Sport Black. No, there"s not all that much black on it
Mazda will produce 500 Sport Black models, which feature special exterior and interior trim details
Close
Our Verdict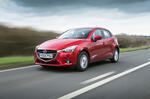 The Mazda 2 name dates back to 2002. This latest version showcases the firm"s Skyactiv technology and "Kodo" styling
Mazda's Skyactiv tech revolution transforms its cheapest model
First Drive Mazda 2 Sport Black 2018 UK review

Mazda has added black trim to this limited-run version of its small car, but hasn't messed with its dynamics. How does it compare with the Seat Ibiza?

First Drive Mazda 2 GT 2017 review

Range-topping version of Mazda's recently updated supermini packs 113bhp. The 2 GT is certainly swift but bland to drive
What is it?
The Mazda 2 was only updated last year, but the Japanese firm has now refreshed the small car range further – and, while doing so, has produced this 500-run limited-edition Sport Black model.
The first thing to note about the Sport Black (which follows a previous Sport Black model from 2015) is that it's not particularly black; the colour is reserved, in a nice, glossy variety, for the series of exterior details – including a rear spoiler, skirt trims, the front grille, alloy wheels and mirror caps – that mark this car out as a special edition.
The other thing to note about the Sport Black is that it isn't overly sporty; power comes from the mid-range 89bhp version of Mazda's 1.5-litre Skyactiv-G petrol engine, powered through a five-speed gearbox, rather than the six-speed unit available on the most potent 113bhp version.
Incidentally, that Skyactiv-G engine, in three states of tune (there's also an entry-level 74bhp option), is now the sole powertrain for the 2, with the diesel offered previously dropped as part of that range refresh. 
Elsewhere, Mazda has slimmed down the number of trim levels offered on the 2, with five now available to choose from, many of which getting extra kit.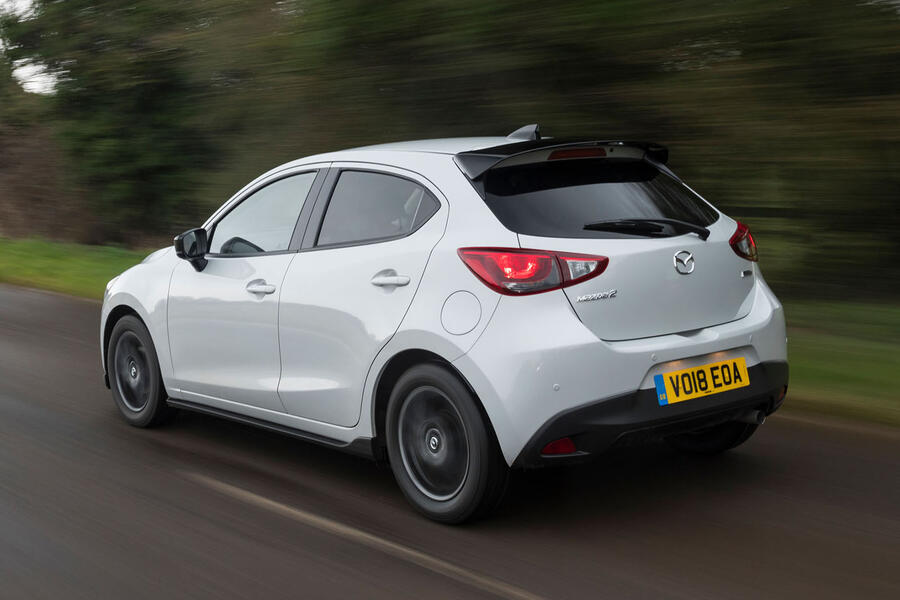 What's it like?
Despite adding some extra kit to the 2's various trim levels and some glossy paint detail to this Sport Black version, Mazda hasn't messed with the mechanicals of the supermini.
That's no bad thing, given that it only reworked the car recently and the 2's handling and performance have earned the car a solid placing in our ranking of the top 10 superminis. Mazda's philosophy of producing cars with relatively low weight and powered by efficient engines pays off here.
The 89bhp version of the Skyactiv-G engine in the Sport Black performs best when it's being worked. While there are occasional flat spots in the power delivery when not using many revs, put the effort in and the engine is capable of brisk progress, helped by a typically excellent Mazda gearbox. The engine is also efficient; we were able to average just over 50mpg during our test.
The ride is largely good, too, feeling smooth over all but the roughest of bumps, combined with consistent, well-weighted handling. 
It's worth noting that this 2's combination of ride, handling and mid-range engine doesn't necessarily result in the sportiest of packages. This might disappoint those who take the Sport Black's name literally, but there is enough performance for most buyers of this type of car.
The £15,995 Sport Black is largely based on the mid-level SE-L Nav+ trim, which means you get automatic lights and wipers, LED foglights, rear parking sensors and adjustable cruise control. For comparison, a 2 in SE-L Nav+ trim with the 89bhp engine costs £14,895.
The interior layout is largely unchanged and you'll find little to criticise here; it's simply laid out, clear, uncluttered and comfortable. The seats are supportive and the controls are where you'd want them to be. Sport Black models get a few extra trim details, including some carbonfibre effect on the dashboard.
That said, the 7.0in colour infotainment screen (which can also be controlled with a centre console-mounted rotary dial) is beginning to show its age compared with the bigger, brighter systems in newer class rivals such as the Seat Ibiza and Volkswagen Polo. However, much like the way the 2 drives, what the infotainment lacks in shine it compensates for with an intuitive, easy-to-use system.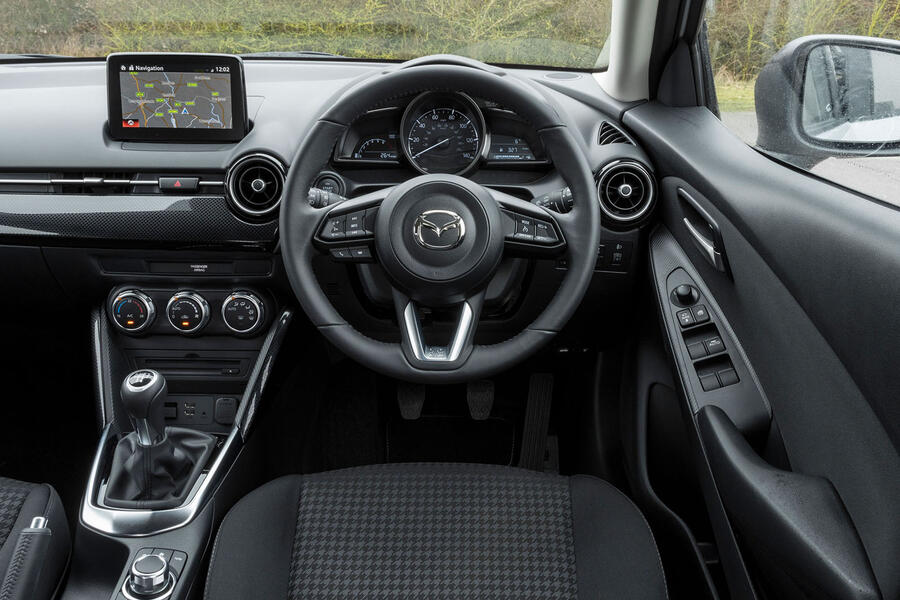 Should I buy one?
Even wearing its Sport Black finery, the 2 can't quite match newer rivals such as the Seat Ibiza or Ford Fiesta when it comes to features, equipment and all-round shine - and, at £15,995, this special edition is not far off the price of the £16,015 list price of an 89bhp 1.0-litre Ibiza in mid-level FR trim. But there's still plenty to recommend here, especially if your priorities lie on the dynamic side and you"re looking for something a little different from your small car.
In some ways, it seems fitting that Mazda has 'simplified' the 2 range with this refresh; the 2 is a supermini that succeeds because of its simplicity. It stays true to Mazda's Jinba Ittai philosophy rather than worrying itself with trying to mimic flashier rivals.
That results in a simple, pleasurable car that"s capable of rewarding and entertaining an involved driver. That said, unless you"re particularly fond on limited-run models and glossy black trim, it"s worth questioning the £1100 extra for the Sport Black.
Mazda 2 Sport Black 
Where Kent On sale now Price £15,995 Engine 4 cyls, 1496cc, petrol 89bhp at 6000rpm Power 89bhp at 6000rpm Torque 201lb ft at 4000rpm Gearbox 5-spd manual Kerb weight 1050kg Top speed 117mph 0-62mph 9.7sec Fuel economy 57.7mpg (combined) CO2 rating 111g/km Rivals Ford Fiesta, Seat Ibiza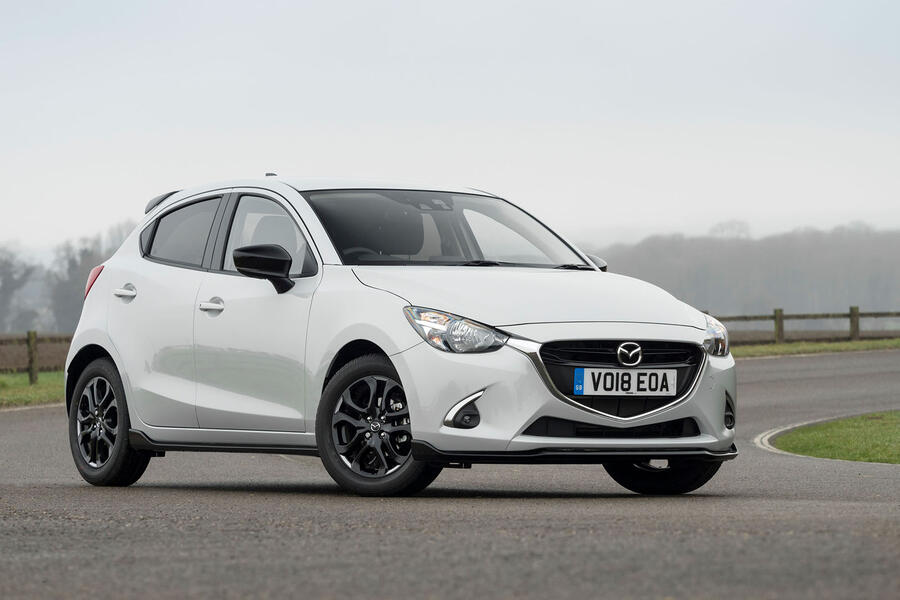 Tweet Widget
Facebook Like
Google Plus One
Nguồn: www.autocar.co.uk