Tweet Widget
Facebook Like
Google Plus One
Our Verdict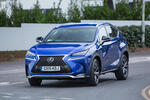 The hybrid-only mid-sized Lexus NX is challenging the likes of the new Volvo XC60, Range Rover Velar and Audi Q5 among others, but is it up to the task?
First Drive Lexus NX300h 2018 review

Facelifted Lexus NX has been given more tech, more luxury and more refinement, but does all that make the hybrid-only SUV a compelling option?

First Drive 2015 Lexus NX200t review

Sporting, turbocharged petrol variant of the Lexus NX has style, pace and a premium cabin, but isn't much fun
What is it?
The Lexus NX is the Japanese company"s antidote to formulaic European design, face-lifted for a second time since its launch in 2014.
Sitting a rung below the BMW X5-rivalling RX, the NX has been a big seller for this relatively under-represented brand, accounting for almost a third of its European sales and in 2017 outselling the CT200h luxo-hatch at a ratio of three to one. A large part of its appeal has always been the acute, concept-car-esque geometry of its bodywork.
For 2018 the changes are subtle but prolong the impact of the head-turning looks that make it almost a caricature next to the more restrained likes of the Volvo XC60, Audi Q5 and Mercedes-Benz GLC. The gaping spindle grille is now more aggressive, and flanked by more deeply recessed air intakes. The bumpers have also been finessed and the LED headlights are not only sleeker in design but now incorporate Lexus's Adaptive High-beam System. The indicators now illuminate in a 'sequential' fashion, in the style first seen on expensive Audis.
Lexus has also given the NX its Safety System Plus technology, which compromises a pre-collision warning and emergency braking system, adaptive cruise control, adaptive high-beam headlights (that is, headlights capable of selectively illuminating the road ahead in such a way that other drivers aren't constantly dazzled), lane-departure warning and road-sign assist. The last of those reiterates speed limits and such on the infotainment display.
One more thing: Lexus has axed the 194bhp 2.0-litre turbocharged NX200t for 2018, leaving the hybrid 300h tested here as the only option. The grade-structure has been simplified, too, to SE, Luxury, F sport, F Sport Premier Pack (adds a head-up display, plus a 14-speaker Mark Levinson sound system) and, at the top of the pile, Premier.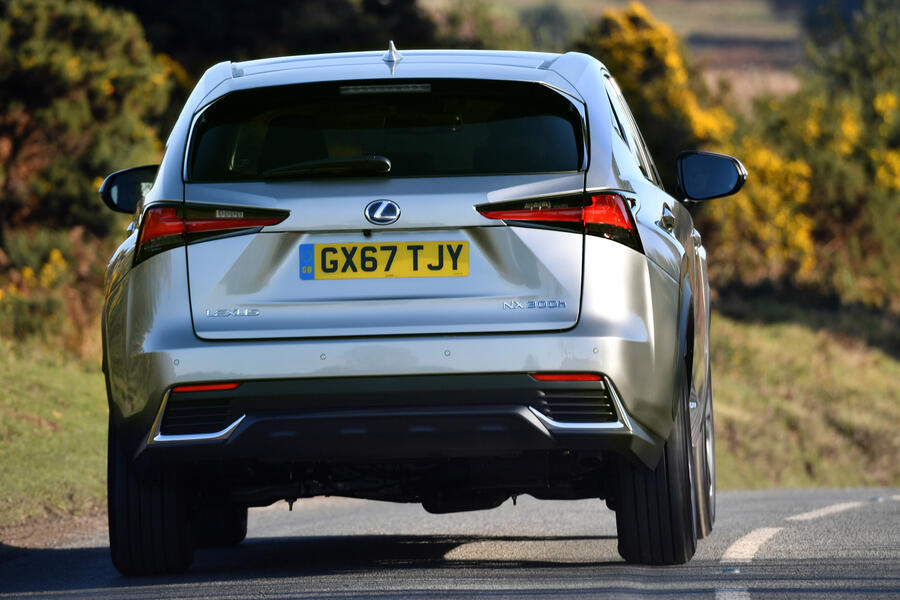 What's it like?
The interior remains a highlight, even if the instrument dials still sit unusually low and the enlarged infotainment screen, now 10.3in, sits awkwardly atop of the dash. Lexus does cabins very differently to the German marques, with copious switchgear and the use of novel materials to clad an architecture that favours rigid strata over flowing curves. Build quality feels very high indeed, and the driving position is widely adjustable, with well-bolstered seats.
The driving experience is frustrating and effortless almost in equal measure. It's characterised by a ride that's satisfactory on good roads but brittle everywhere else, and a method of propulsion that's laudably refined at a cruise but raucous under acceleration. As such the NX300h only really hits its luxurious brief a portion of the time, and never truly settles.
To get the best out of the Hybrid Drive powertrain – a system consisting of a four-cylinder petrol engine, an electric drive motor and a slave motor, all permitted to spin independently through a planetary gearset – you have to play by its rules. Carpet-grazing throttle inputs are rewarded with an unpleasant flurry of revs, so smooth, quick progress is a matter of conserving momentum and gently massaging power out of the Hybrid Drive when you can. No change there, then.
The NX300h is, however, capable of impressive cross-country pace, with well-controlled body roll and intuitive steering. A shame, then, that the recuperative brakes still feel over-assisted, springy and thus difficult to modulate.
In low-speed traffic the NX300h remains a cut above its un-electrified rivals thanks to ability to glide off the mark silently. You have to experience this to realise how calming a sensation it is, particularly in comparison to the stop-start systems on non-hybrid rivals, which are constantly firing up the engine.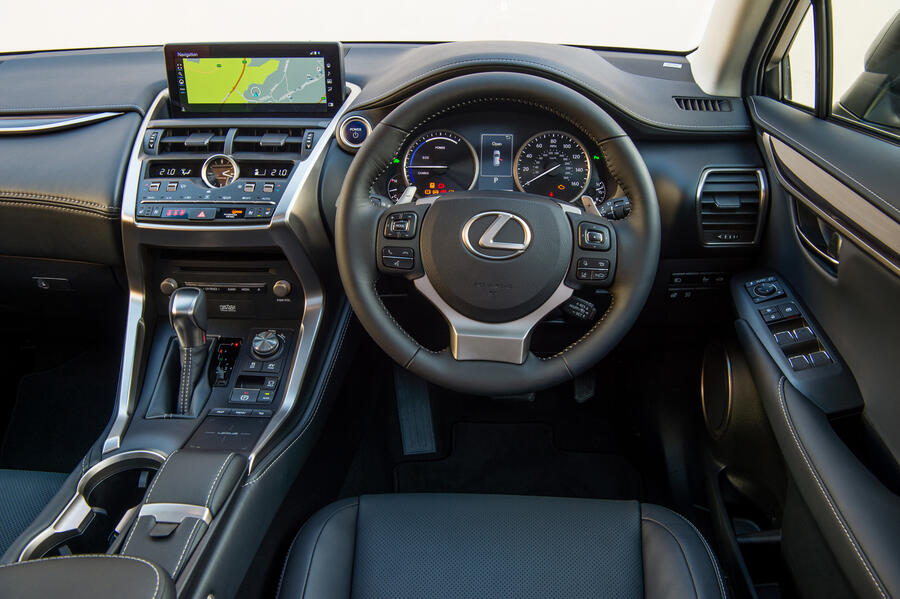 Should I buy one?
It depends on your priorities. The hybrid powertrain is going to feel recalcitrant to keen drivers familiar with a traditional setup and, despite its accuracy, the artificial feel through the steering won't be welcomed either. An Alfa Romeo Stelvio is in another universe in terms of involvement.
Not that such things will necessarily bother those of more steady-state driving habits, be it motorway cruising or a congested commute. In either scenario the electric share of its powertrain means the NX300h is quiet and refined, even if the low-speed ride does sometimes fire shockwaves into the cabin.
And that's the big compromise, because it means the NX300h has a very narrow operational bandwidth – smooth roads at a cruise, basically – where it really impresses. As such it's difficult to recommend the Lexus against the butter-smooth Audi Q5 or the more dynamically appealing BMW X3, charismatic as the Japanese SUV is.
The NX300h's trump card is its efficiency. Carbon dioxide emissions are rated at just 121g/km, which betters even similarly powerful diesel rivals and means benefit-in-kind rates are low. For many, that, the indulgence of the interior and the unusual design will be enough.
Lexus NX300h 
Test location Feltham On sale Now Price £34,895 Engine 4cyls, 2494cc, petrol plus two electric motors Power 194bhp Torque 152lb ft Gearbox CVT Kerb weight 1785kg Top speed 112mph 0-62mph 9.2sec Fuel economy 55.4mpg CO2 117g/km Rivals Audi Q5, Volvo XC60, BMW X3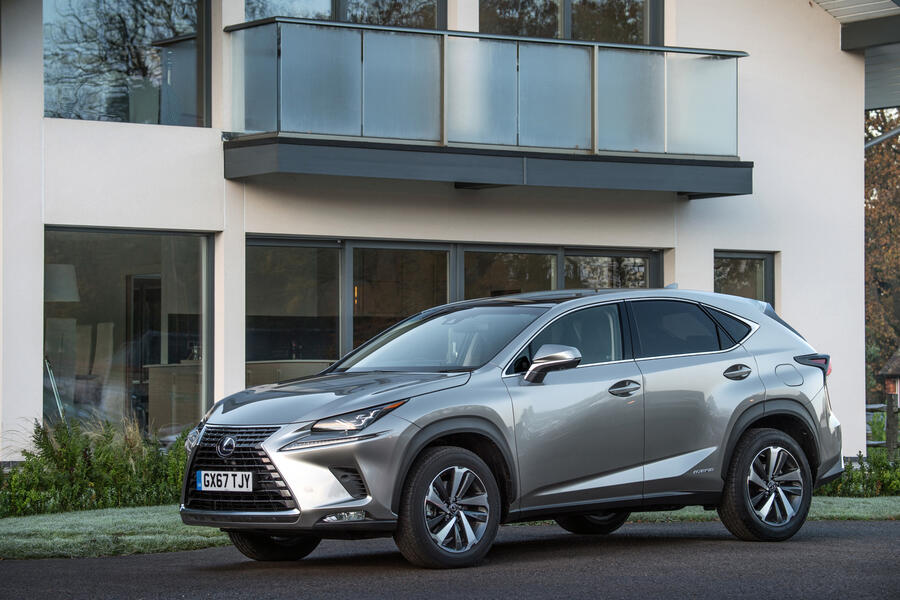 Tweet Widget
Facebook Like
Google Plus One
Nguồn: www.autocar.co.uk