Tweet Widget
Facebook Like
Google Plus One
Our Verdict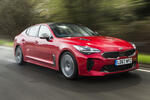 Kia's most dynamically adventurous model yet, the Stinger targets BMW, Audi, Mercedes and the rest of the executive saloon set
First Drive Kia Stinger GT S long-term review

This is a 365bhp, rear-drive sports saloon with something to prove. Let's see if it can

First Drive Kia Stinger 2.2 CRDi 2018 UK review

Oil-burning Stinger handles long-distance journeys with ease, but there's no denying that it's the least exciting version in Kia's line-up
Why we"re running it: To get fully familiar with the dynamic successes and foibles of an alluring driver's car. And to see if the UK public can 'get' the idea of a truly desirable Kia
Month 3 - Month 2 - Month 1 - Specs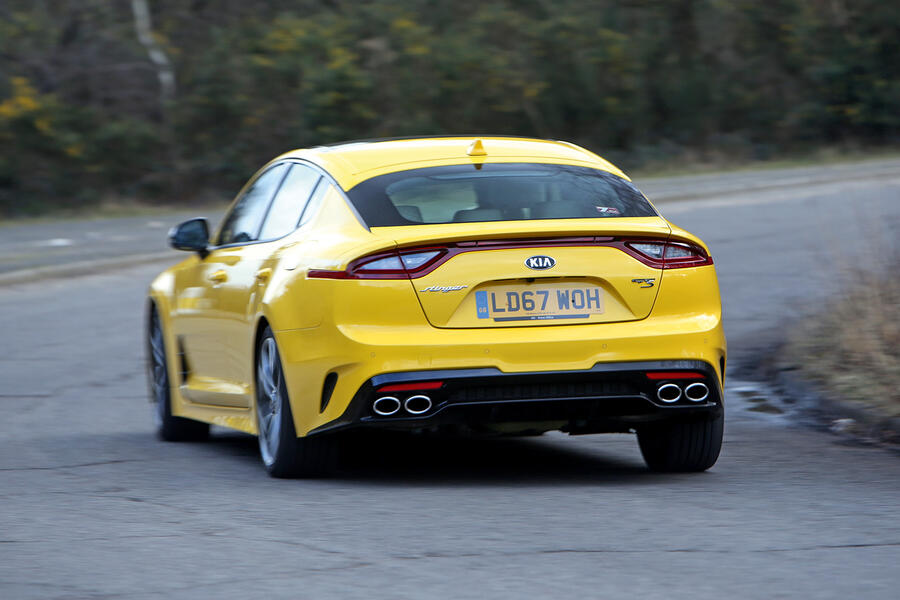 Life with a Kia Stinger GT S: Month 3
We've been stung by a Stinger, but it's hardly the car's fault. Blame that big pothole - 6th June 2018
Just over three months after we first picked up our Stinger GT S from GWR Kia in Brentford, London, Big Yellow was back there, in need of some fairly serious work.
If you've been following our time with Kia's striking new sports saloon, you'll have read how a colleague recently had a rather unfortunate encounter with an exceptionally large pothole on a late-night run back from the airport. The encounter turned out to be an expensive one.
In the days after this episode, after new tyres had been sourced and normal service was thought to have been resumed, it became apparent that something still wasn't right. You see, there was a shudder. An annoying one, from the nearside front wheel that had squared off against said pothole. It became more intrusive under braking.
Unsure of the source of the shudder – it could have been a warped alloy or an alignment issue – we decided to send the Stinger in for a proper diagnosis. It was partly to fix the shudder but also to establish if that pesky pothole had caused any damage to the suspension or any other part of the car.
So I delivered Big Yellow back to GWR Kia in Brentford on 9 May so the diagnosis could be made and the issue fixed. Unfortunately, no courtesy cars were available, so I ordered an Uber and went back to the office.
The following day, a video from Kia's servicing department appeared in my inbox. This free vehicle health check video, recorded by one of the technicians, gave a brief but insightful look at the car and the damage that the pothole had caused.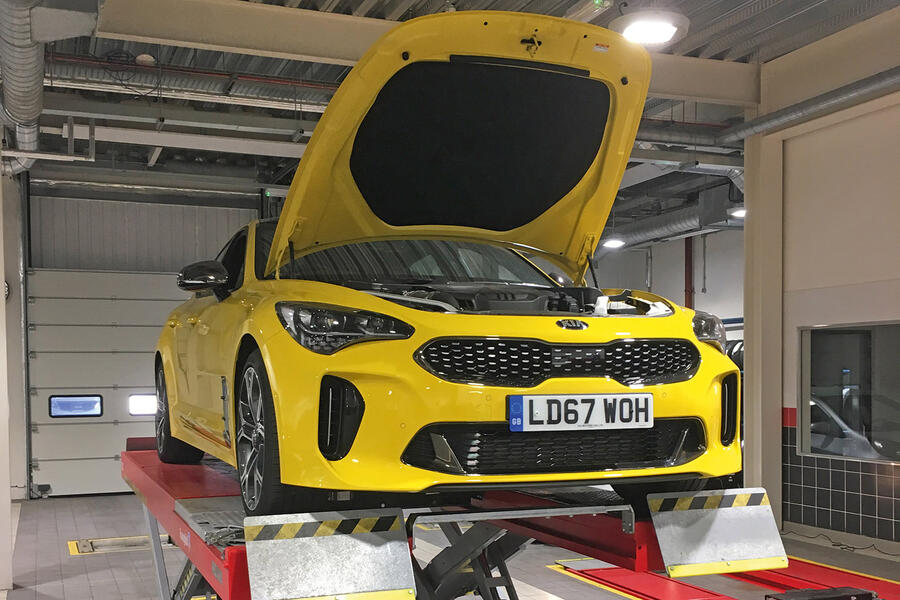 Thankfully, there was no damage to the front suspension (phew), but the nearside front alloy had been buckled by the impact, which in turn had damaged the tyre. So that's what was causing the shudder.
The technician's prescription? A new alloy would have to be sourced, as well as a new tyre, and a wheel alignment would have to be performed. No drama. Then our man continued down to the nearside rear wheel, which had suffered the same fate as the front.
So that meant we were now looking at two new wheels, two new tyres and wheel alignments all round. It was quickly becoming apparent that this wasn't going to be a cheap job.
A follow-up phone call to GWR Kia also revealed that we'd be without our Stinger for about a week, too, because there was an issue sourcing replacements for the Kia's ContiSport Contact 5 tyres. A courtesy car was still out of the picture, but one would be available after the weekend.
By the following Wednesday, that courtesy car was there waiting for us, but another phone call later that day also revealed that the Stinger was, in fact, ready to be collected. Joy of joys. So it was back to GWR on Friday (we're an organised bunch, honest) to collect the Stinger and discover the cost.
Now, although the Stinger is covered by Kia's excellent seven-year warranty, that obviously doesn't cover damage caused by potholes. The subsequent bill read: nearside front alloy, £442.14; nearside rear alloy, £649.94; wheel alignment, £120; wheel fitting, £36 per wheel. A grand total of £1284.08. Yikes.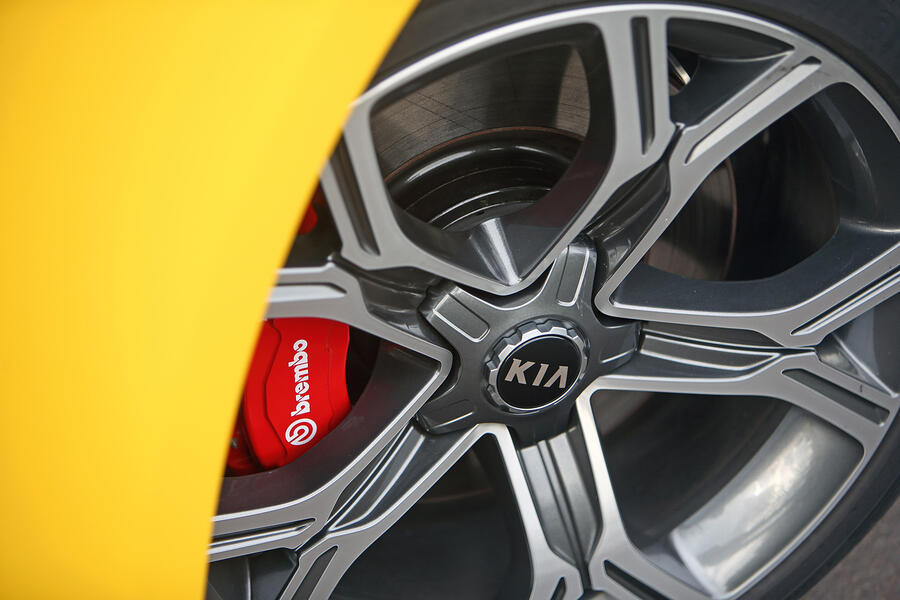 We could have saved a substantial amount of money by having the wheels refurbished rather than replaced. Our technician thought that was the way to go and it would have cost around £70 per wheel. But given we want to test the Stinger in as good a condition as possible (and our snappers want cars with shiny, tidy wheels), we opted for the full work.
Overall, the service went without a hitch. A loan car might have been nice, but that's our only complaint. Let's just hope we avoid any further interactions with potholes.
Love it:
COOL SEATS With the weather starting to get warmer, ventilated seats are hard to go without. Good thing the Kia's got them.
Loathe it:
CHIME TIME The irritating welcome chime has returned. Looks like we'll have to delve into the sub-menus to switch it off yet again.
Mileage: 5781
Back to the top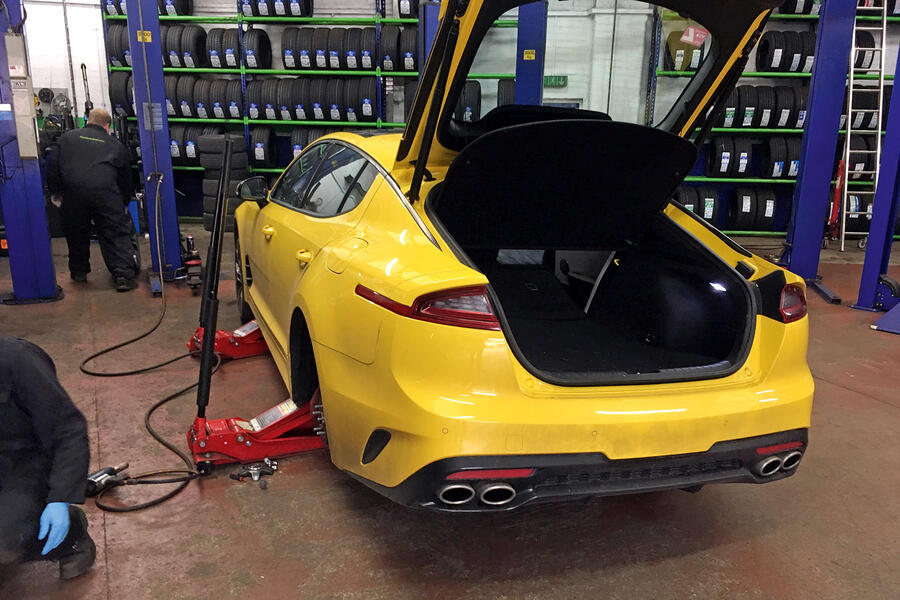 Life with a Kia Stinger GT S: Month 2
There"s no escaping the appeal of the V6 engine - 23rd May 2018
Having had a go in the cooking petrol and diesel versions of the Stinger in recent weeks, it was great to finally get back behind the wheel of our GT S long-termer. While those more sensible models maintain the rear-driven handling balance and stylish looks of their V6-engined range-mate, without that 365bhp powerplant under their bonnets they feel a bit, well, pedestrian.
Mileage: 5505
Back to the top
If you don't want to know the score, look away now: Kia Stinger nil, pothole two - 9th May 2018
How many British drivers have found out how costly and inconvenient a meeting of 19in alloy wheel and ominously deep pothole can be over the past six weeks? It must be in the thousands – and two Autocar road testers are certainly among their number.
It was one particular pothole found by m'colleague Matt Prior late at night on his way home from the airport that befell the nearside of our long-term Kia Stinger GT S recently. The pothole had been cut out for repair but left unfinished – and, Matt reported, made him very glad he hadn't taken the motorbike to Heathrow on that occasion.
The meeting burst the car's front nearside tyre, and so Matt spent a goodly chunk of Easter holiday time that should have been dedicated to chocolate egg consumption sourcing a particularly elusive Continental ContiSportContact 5 tyre on a bank holiday weekend.
Bless him, he succeeded, though, and returned the car to the office the following Tuesday sorted. Or so he thought.
A few days later, however, yours truly stopped to buy fuel on a Friday night commute home to find a bubble blister the size of a tennis ball in the sidewall of the Stinger's nearside rear tyre, having already been somewhat perturbed by a slight but detectable wobble emanating from the car's front axle under braking.
All was clearly not well. So I sourced the car's second replacement tyre in a week and booked in to my nearest fitter, which was inundated with demand already from people, many of whom had probably been similarly unlucky with potholes, and so couldn't squeeze the car in for three days.
When the fitting was finally done, having taken the opportunity to have both nearside wheels rebalanced, I discovered the source of the wobble on that front axle: a front rim sufficiently altered by its run-in with a Northamptonshire crater that it needed 125g of balance ballast strategically sticking to it – and it still doesn't feel quite right on the car, even after that.
Good news? There's no warped disc, as I suspected there might be when last I wrote. The nice bloke at the fitters even let me check that much for myself.
Either way, the inevitable main dealer service appointment will now have to made, I fear – and I worry it'll be expensive; because Kia's seven-year warranty might be good, but I doubt it extends to cover the fallout of shoddy road repairs. Replacement 19in rims can't be cheap, can they?
And I'm also told (by the same nice chap at the fitters, since you ask) that I should get the tracking checked by Kia while I'm at it.
"Don't leave it too long," he said. "Bad tracking gets set in its ways and becomes harder to fix with use. It's a bit like breaking in a new shoe with the tongue out of place. After that, you know that tongue will never sit straight on the bridge of your foot, where it should, no matter how many times you adjust it." Somebody give that man a TV show on Discovery.
In better news, I've come across the function, buried a couple of menus inside the trip computer, to deactivate the dreaded 'welcome chimes' the car plays as you enter and exit. They make it sound like a 10-year-old Windows laptop computer.
Although they're minutely different ditties, they're about as 'welcome' – by the time your 99th rendition comes around, at any rate – as a jab in the ear with a cotton wool bud. Suffice it to say I've disabled them for the foreseeable – or at least until just before the next time I see fit to lend the car to Mr Prior for an airport run.
Love it:
BRIGHT PAINTWORK The recent sunshine really makes the paintwork zing. I'm currently too afraid to look directly at it for fear of retina damage. But in a good way.
Loathe it:
LIMITED SET-UP CHOICES No 'custom' driving mode. Sorry, Kia: 'smart' isn't the same thing if you want to pick steering, damping and powertrain maps à la carte.
Mileage: 4158
Back to the top
Stinger isn't short of storage space - 25th April 2018
Photographer Luc Lacey and I have different priorities in a car but the Stinger keeps us both reasonably happy with its old-school dynamics and immense practicality. You wouldn't believe the amount of kit required for a three-car photoshoot, but the cavernous boot swallows it all with ease. The hatchback opening is handily shaped too.
Mileage: 5144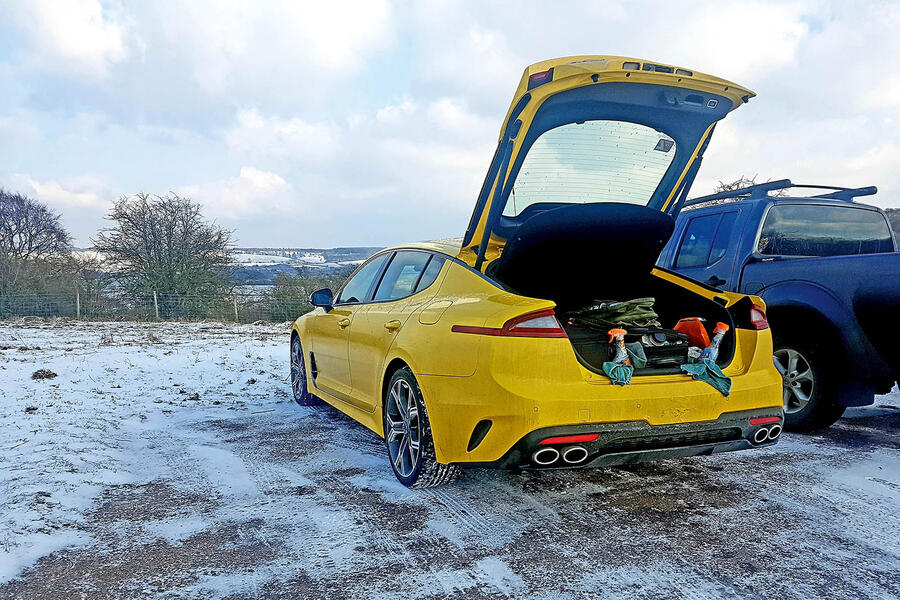 Back to the top
Life with a Kia Stinger GT S: Month 1
Every Autocar staffer is keen to learn what it's really made of, which is good. Except… - 11th April 2018
Our Kia Stinger GT S may be becoming a victim of its own success.
If it had met with a bit less praise when first introduced, it might not have this problem. But when fellow Autocar staffers get their first taste of the car, I'm getting the impression they're giving it what we might politely describe as 'a pretty thorough workout'. Makes sense, given that there are no predecessors from which to get a guide on exactly how good a driver's car it might be. What else is there for a car reviewer to do but be sure to find out for himself?
The grounds I have for this conclusion aren't exactly indisputable, but the car's fuel economy has certainly taken a slight turn for the worse. I'm also told, by the chap who's spending a few days in the Stinger as these words are being written, that it might have a developing brake problem. It hasn't been figured or track-tested, yet there are signs that the front discs may be warped or need skimming. See what I mean? The Stinger's clearly being put to good use right now.
Meanwhile, I'll take the chance to update you on what seem to be the detailed pros and cons of the car's driving experience, which I'm now privy to, having, well… you know… given it more than one pretty thorough workout myself.
A V6 engine that's responsive, torquey and free-revving and a chassis that does rear-driven handling purity, fine cornering balance and a nicely fluent kind of body control still strike me as the Stinger's chief dynamic assets. I think both are good enough to bear comparison with the various 'performance' BMWs, Audis and Jaguars available for north of £40,000.
The outright authority of the car's handling composure, meanwhile, and the weight, feel, positivity and self-centring of the steering – come to think of it, the whole textural and sensory richness of its driving experience – aren't quite at the same level. As a rule, when you ask the really probing questions of the Stinger, there's a certain lack of attention to detail about its answers. The car has driving modes, but its close body control becomes a little bit recalcitrant at the very firmest, Sport+ end of the spectrum, and its steering picks up weight with little discernible improvement in feel.
More frustrating, though, is the refusal of Kia's in-house eight-speed gearbox to stay locked in manual paddle shift mode. If you select fifth gear, for example, and dig fairly fast and deep into the accelerator travel but make sure not to hit the pedal's kickdown switch, the gearbox often still shifts down to fourth or third – just because it thinks that's probably what you want it to do. It's not what I want, though. I've been very clear about what I want: manual mode. The transmission also has no S mode. And when you flick a paddle to select a gear manually – usually the left one, since you'll likely want to change down – it typically takes two or three paddle squeezes to get to the ratio you're after when surely the ECU could just give you the optimum ratio straight away.
To blot its copy book still further, the 'box then reverts to automatic shifting in D unannounced and entirely of its own accord, and after what seems like only 15-20sec. That effectively means you have to swap cogs very frequently to keep the gearbox in the mode you want it in. It's annoying, too, when you find that the Stinger's electronic stability control system isn't really fully off even when it tells you so. There are separate stages to negotiate to turn off both the traction control and the ESP, but even having achieved both, you'll find there are braking and throttle interventions to contend with if the car decides you're driving too aggressively. But it shouldn't be deciding anything, should it? Grrr.
So the Stinger gets most of the big-picture stuff right on the road but sells itself short on some finer points. And much as I'd never deny anyone the chance to find these things out first hand, I'll be relieved when my colleagues have worked that out as I have – and the Stinger can look forward to a slightly easier time of it.
Love it:
BOOT ACCESS Liftback hatch means loading cases, buggies and bags right up to the seatbacks is easy.
Loathe it:
KIA'S 'WELCOME' CHIMES They make it sound like an old Windows laptop. Thankfully, I've found the off button.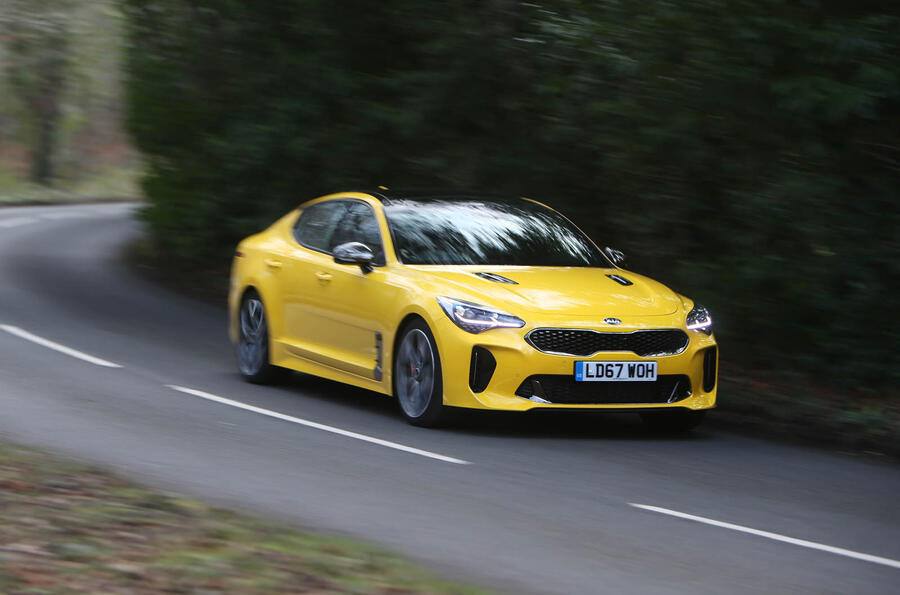 Mileage: 5818
Back to the top
Finding the Stinger"s comfort zone - 28th March 2018
A blast down Hampshire's B-roads made me realise just how large our Stinger is. Couple this with a gearbox that doesn't offer a dedicated manual option and it makes for a driving experience that's not quite as exciting as you'd hope it to be. Still, it's proving a competent motorway cruiser. A proper long-distance drive is definitely on the cards.
Mileage: 2245
Back to the top
Welcoming the Stinger GT S to our fleet – 14 March 2018​
You'll have perhaps seen those large, glass-walled, ritzy-looking showrooms just off London's Great West Road. Imagine being dropped off outside one of them on your way to collect your new three-hundred-and-something-horsepower, luxury sports saloon. It's a good day, obviously – but an otherwise ordinary Monday morning on the likes of which three-hundred-and-something-horsepower sports saloons are quite commonly handed over to their new owners in the dealerships around these parts.
Funny thing is, you've already driven past the nearby Audi, Mercedes, Jaguar and BMW showrooms to get to where you're going – and you've done it without a single twinge of regret.
As you enter the building through huge sliding panes, you're aware that this showroom stretches for another two storeys above your head and far enough to your left and right to accommodate more gleaming new cars than you can count. You find yourself in a white-walled, pristine handover area, greeted by a sharp- suited 'relationship manager' with textbook customer service patter.
He brings you coffee and then walks you around a car with knockout styling, 19in alloy wheels, quad pipes, heated nappa leather seats, masses of standard equipment, a turbocharged six-cylinder petrol engine, driven rear wheels and a limited-slip differential nestling purposefully in between them. It looks every inch an authentic, sporting, premium product and, as you've already found out on an earlier test drive, it behaves like one, too. You are a happy bunny.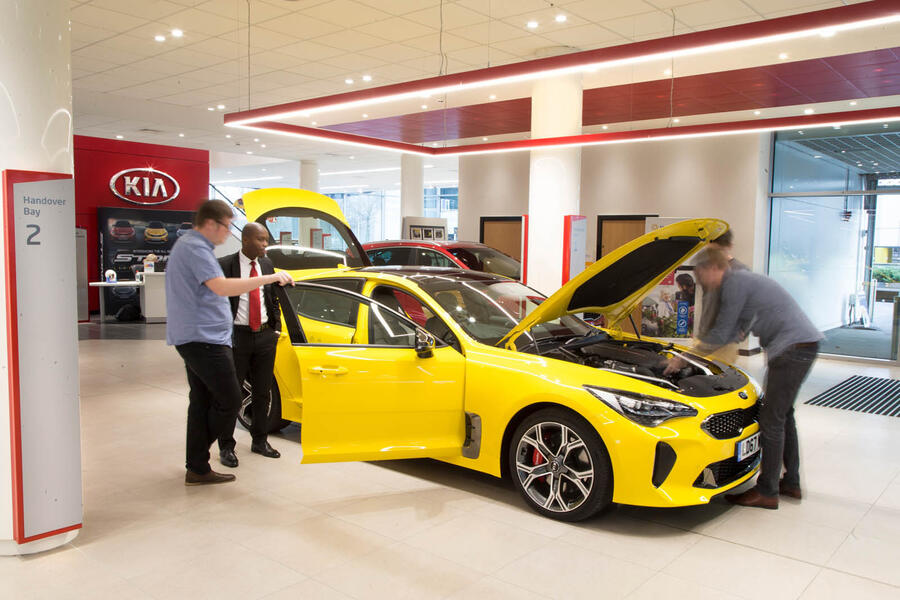 Shortly thereafter, the man in the sharp suit hands over your keys, and away you drive to set about drawing admiring glances for your new acquisition. You've received what you can only conclude has been a f lawless premium-brand customer service experience. And it was brought to you by a brand that, just a few years ago, you'd never have thought capable of any of it: Kia Motors.
That's pretty much how the road test team assumed custody of Autocar's latest long-term test car, the Kia Stinger GT S. And what a fascinating prospect this car is turning out to be. We've reported on it in first drives and in a group test, where it took on the BMW 440i and a Jaguar XE S and came very close indeed to upsetting the form book in quite spectacular fashion.
In case you missed the test in question, the Stinger certainly didn't lose out because its 365bhp turbo V6 engine isn't gutsy enough, its ride supple enough, or its rear-driven handling engaging enough. In all three respects, the sports saloon mustard was well and truly cut by this car.
Now, we plan to spend six months living with this intriguing alternative to one of the obvious German or British-made, rear-driven performance executive options. We'll be digging more deeply into the car's dynamic capabilities to put our fingers on exactly where, if anywhere, Kia already surpasses the likes of Audi, BMW, Mercedes and Jaguar; where it can easily improve; and where progress may prove harder.
Moreover, though, we'll just be using the Stinger – on long trips, short commutes, weekend errands and in every other way we can – to find out how well it stands up to the scrutiny of the everyday. We expect premium-brand cars to tackle this stuff well, after all; to be slick and easy to operate yet technologically rich and sophisticated too. But, for a car maker new to the luxury fold, will the necessary depth and attention to detail be evident? Time – and extended familiarity – should tell.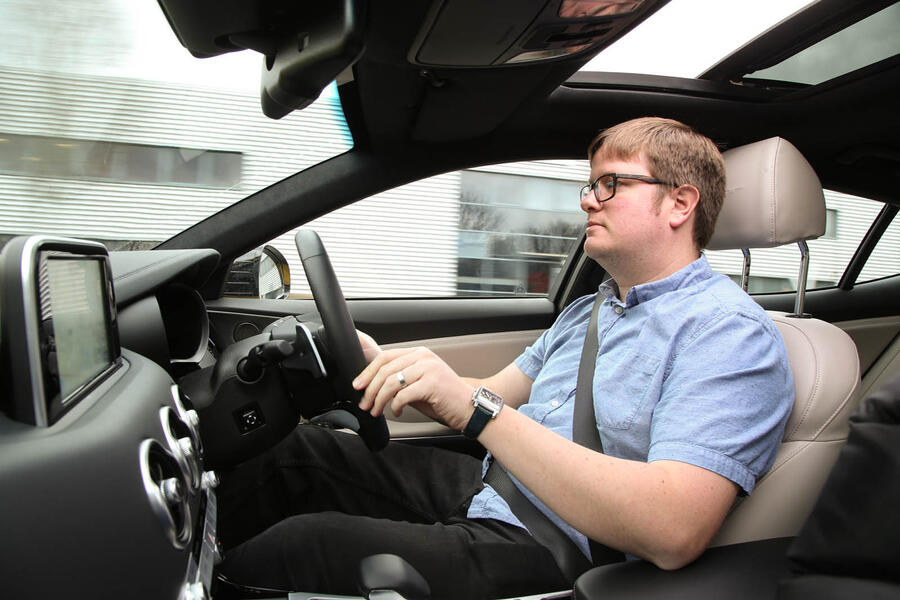 There's something deliciously simple about the prospect of a top-of-the-line saloon that comes so laden with kit that you could hardly find a single optional item worth adding to your order. Kia has been trading on this fully loaded appeal with its bigger cars for years, but it's particularly telling to me that, even now that it has created a four-door as stylish as almost any other on the market, the firm is still offering the flagship V6 turbo version of its newbie with only a handful of footnote options.
Would sir like chrome-effect door handles? Footwell illumination? A spare headlight bulb kit, perhaps? No, thanks. Not when we've got LED headlights, a head- up display, electric heaters for all four chairs, a powered tailgate, a wireless phone- charging pad, surround-view cameras and a 15-speaker premium stereo for sweet Fanny Adams, we don't. The new Stinger GT S looks just fine to us exactly as it comes.
And, usefully, you couldn't confuse it for the next style-conscious executive GT in the office car park in this Sunset Yellow paint, could you? The attention-grabbing hue serves our purposes well since gauging the reaction of the UK public to a 365bhp rear-driven sports saloon from Kia will be a key part of our long-term test. If you're buying one of your own, however, it may be as well to note that the Stinger GT S comes with the choice of only one no-extra-cost colour – and it's the one you're looking at. There are two shades of grey, a white, a black and a red – but all cost £645 as 'premium' colours. And if you're not engaged, like us, in some six-month public opinion temperature test experiment, I dare say having 'premium' paint would be money well spent.
If you make a tiny hole in a piece of cardboard, I'm told, you can watch another car pass across this face without risking damage to your retina #bigyellow pic.twitter.com/TDWQP1IvOm
— Matt Saunders (@TheDarkStormy1) February 6, 2018
The reactions of the public are already telling, by the way. Having been dropped at home by a cabbie just a few days after we'd collected the Stinger, the driver in question said he liked what he saw: "Wow, what an amazing-looking car. You could cover up those badges and easily pass that off as a Maserati or something. I love it; even though it's a Kia."
A man who earns his living in 30-pence increments of 225 yards each can clearly be relied upon for a chastening dose of reality; and, glassy west London showrooms or not, it's plainly a long way from his line of thinking to 'I love it because it's a Kia'. Still, it'll be fascinating to observe first-hand how far the Stinger can take its maker along that particular road in a relatively short space of time.
Matt Saunders
Second opinion
My first outing in the GT S coincided with the so-called Beast from the East. Not that I should have worried – despite rear drive, modest tyres and big power, the Stinger took all that snow in its stride thanks to lazy torque, calm steering and an indulgent chassis balance.
Richard Lane
Kia Stinger GT S specification
Specs: Price New £40,495; Price as tested £40,495; Options none
Test Data: Engine 3342cc, turbocharged petrol; Power 365bhp at 6000rpm; Torque 510lb ft at 1300-4500rpm; Top speed 168mph; 0-62mph 4.7sec; Claimed fuel economy 28.5mpg; Test fuel economy 27.4mpg; CO2 225g/km; Faults None; Expenses None
Back to the top
Tweet Widget
Facebook Like
Google Plus One
Nguồn: www.autocar.co.uk