Tweet Widget
Facebook Like
Google Plus One
Our Verdict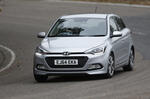 The second-generation Hyundai i20 is a very spacious, well-kitted and keenly priced addition to the competitive supermini segment, but is ultimately let down by its weak engines
First Drive Hyundai i20 2018 review

Optional dual-clutch automatic gearbox and exterior styling tweaks modernise Hyundai's supermini, but it's still not an exciting drive

First Drive 2016 Hyundai i20 Turbo Edition review

Packed with standard kit, the Hyundai i20 Turbo Edition is great value, but the driving experience still leaves us cold

What is it?
A fresher-faced, better-equipped version of Hyundai's entry in the hotly contested supermini segment.
The i20 has been around in its current guise since 2014, but with the Seat Ibiza now established as front runner, and the Volkswagen Polo and Ford Fiesta not far behind, Hyundai is aiming to stay within reaching distance of the podium with a few much-needed mid-life nips and tucks.
Major mechanical changes? Aside from the option of a new automatic gearbox, not very many. Opt for the 99bhp 1.0-litre T-GDi engine and you can now choose between a five-speed manual 'box or a seven-speed dual-clutcher.
The 74bhp and 83bhp atmospheric 1.2-litre petrols both come mated to a five-speed manual transmission, while the more potent 118bhp turbo has a six-speed gearbox. Everything gets auto start-stop as standard in the name of fuel efficiency.
Hyundai's SafetySense suite of driver aids now comes as standard on all but the most basic trim level, while even entry-level S models get an upgraded infotainment system.
Otherwise, the main differences are visual. This new i20 gains the cascading front grille first seen on the Kona SUV and i30 hatchback, redesigned rear bumper, and new look tail lights.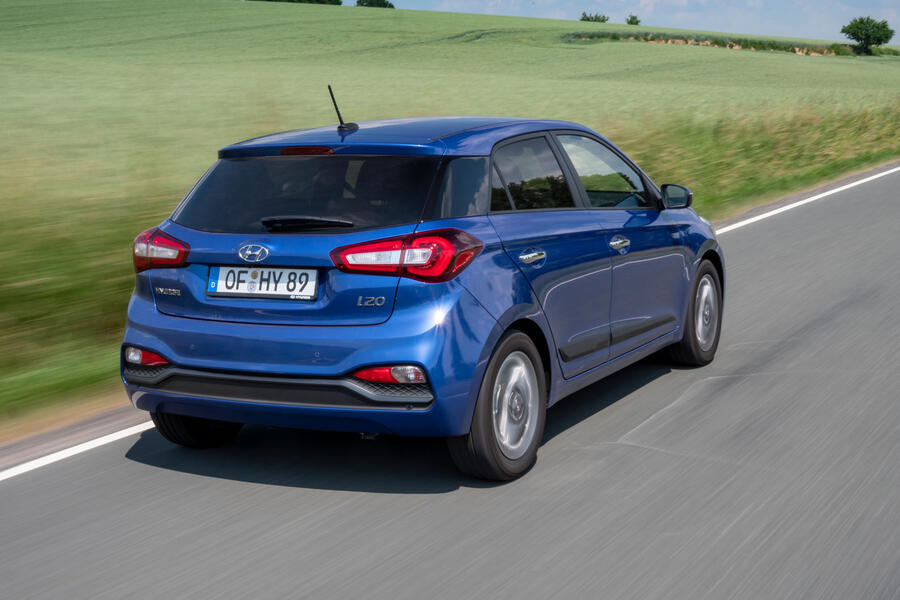 What's it like?
Subtly different from the old one, but different enough to keep pace with rival superminis - just about. At launch, the UK will miss out on an optional two-tone black roof that does a better job of disguising the window pillars.
Interior materials are mostly unchanged, and so are still outclassed by the Volkswagen Polo, but the 7.0in touchscreen infotainment system is a major improvement over the basic smartphone dock and dot matrix radio display found on the outgoing car.
Shortcut buttons for jumping between functions are less distracting than handing all duties over to the touchscreen. It comes with Android Auto and Apple CarPlay, although sat-nav is reserved for Premium Nav and Premium Nav SE-spec cars.
SE models and up also get lane keep assist and forward collision avoidance safety aids. The former isn't nearly as nagging or aggressive as we've experienced in superminis from other manufacturers, and so much less likely to be turned off by irritated drivers.
The outgoing i20 came in five-door, three-door and Active variants, but the latter two sell in lower numbers in the UK and Hyundai has yet to confirm if we'll get either. We've focused on the five-door model here, in 118bhp, 6-speed manual and 98bhp, 7-speed automatic varieties.
The seven-speed automatic transmission is smooth for the most part, even if it can get a bit juddery with sudden throttle inputs. The gear lever can be knocked into Sport for manual shifts, but the i20 doesn't warrant a more exuberant driving style.
That's because the driving experience is largely unchanged, being perfectly capable of getting you from A to B without any drama - but also without much excitement.
Hyundai says is has tweaked the steering for a more direct feel and improved on-centre response, which makes the i20 slightly heavier on turn-in, but that's not enough to transform its handling to a level that rivals the Ford Fiesta. It's the kind of change you'd only notice by driving back-to-back with the outgoing car.
Speed bumps are absorbed well, and the flat tarmac of the German autobahn posed no problems, but sharper ridges are still felt in the cabin - which doesn't bode well for Britain's pothole-scarred roads.
Switching to the manual model, its 1.0-litre turbo engine has a narrow power band that encourages early upshifts. There's enough oomph for overtaking, and the shifter itself is reasonably precise, but as before it's still just a bit too easy to select third when you actually wanted first.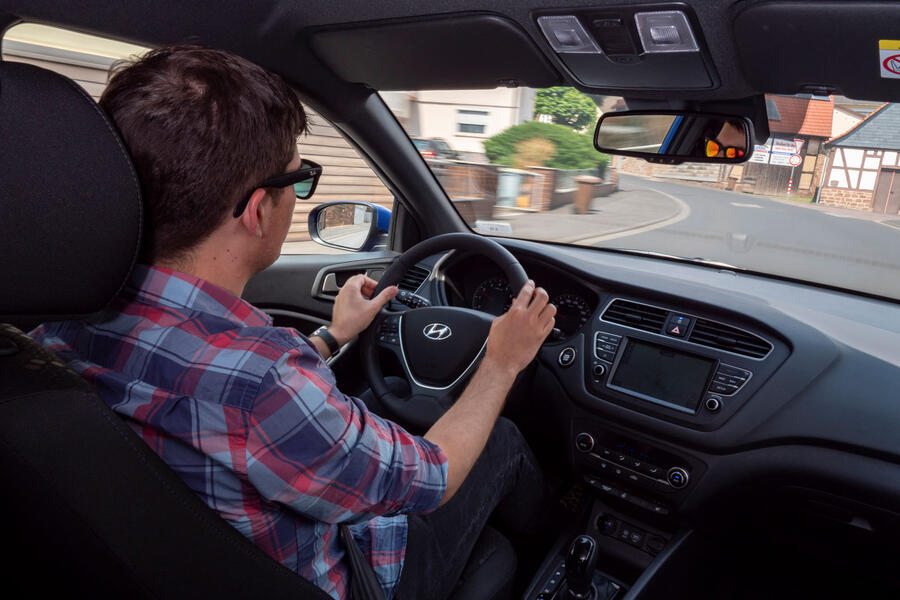 Should I buy one?
If you're after a compact car that still provides enough space for adults to sit in the back row, and still has a sizeable boot, the i20 absolutely fits the bill - it's just that rivals have made more progress in the time since it first arrived.
More equipment inside the cabin and safety systems as standard are both welcome inclusions, but the competition offers a similar spec with superior refinement for not much more money.
The i20 also does little to excite you on the road. Yes, it's still spacious and practical, but so are the Seat Ibiza and Volkswagen Polo - and they both have superior dynamics that make them a more fun, more comfortable drive overall.
Hyundai i20 1.0 T-GDi 120 PS 6MT Premium Nav specification
Where Frankfurt, Germany Price £13,995 (est) On sale now Engine 998cc 3-cyl turbocharged petrol Power118bhp at 6000rpm Torque 171lb ft at 1500-4000rpm Gearbox 6-spd manual Kerb weight 1218kg Top speed 118mph 0-62mph 10.2sec Fuel economy 54.3mpg CO2 114g/km Rivals Ford Fiesta, Seat Ibiza, Volkswagen Polo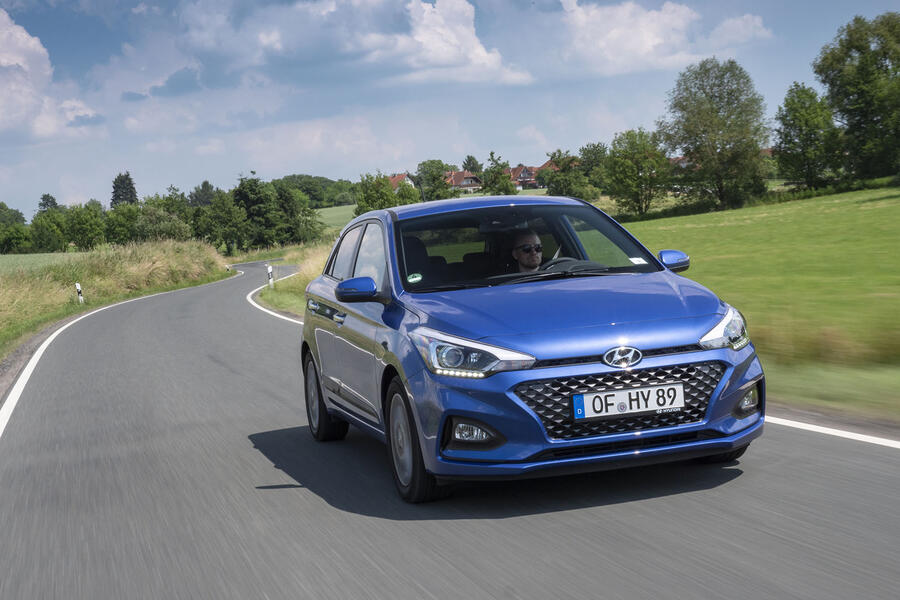 Tweet Widget
Facebook Like
Google Plus One
Nguồn: www.autocar.co.uk