Tweet Widget
Facebook Like
Google Plus One
The new Honda Civic 1.6i DTEC EX
The 1.6i DTEC is the first diesel engine in the latest generation Civic range
The 1.6-litre turbodiesel from the old Civic has been revised. It still offers 118bhp and 221lb ft, but now has a claimed fuel economy of more than 80mpg
Our test car was delivered in top-spec EX trim, with leather seats, LED headlights, keyless entry, a sunroof and a 465-watt sound system with 11 speakers
Interior detail of the Honda Civic
We couldn"t match claimed fuel economy, but did approach 65mpg at a steady 70mph
Honda Civic detail
Honda Civic detail
Honda Civic detail
Honda Civic detail
Honda Civic detail
Close
Our Verdict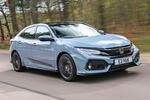 Honda's 10th-generation Civic hatchback goes global — but is that good news?
First Drive Honda Civic 1.6i DTEC EX 2018 UK review

The latest generation Civic gains a diesel engine – which promises warm hatch fun and big gains in fuel economy. Can this Ford Focus rival deliver?

First Drive Honda Civic long-term review: living with a 1.0 VTEC SR

The tenth generation Honda Civic ditches its space race styling but is that enough to help it make a contender in a congested segment?
What is it?
It's the first diesel Civic of this generation, and simultaneously presents as a warm-ish hatch and a fuel-sipping economy warrior. It could be both, though that would be some trick to pull off.
Honda offered a 1.6-litre turbodiesel in the previous Civic – this same all-aluminium engine, in fact – though 'comprehensive revisions' have seen the pistons strengthened and the cylinder head lightened for this application, and there are now lower-friction cylinder bores.
It means while power and torque remain unchanged, at 118bhp and 221lb ft, the claimed fuel economy has risen a fraction to more than 80mpg, with carbon dioxide emissions of 93g/km. Emissions of nitrogen oxides have been reduced, too, which Honda says is largely down to lower combustion temperatures and the fitment of a new NOx storage converter.
It's an engine that joins 1.0, 1.5 and 2.0-litre turbocharged petrol siblings as the solitary oil-burner in the Civic line-up, though as far as the company is concerned, reports of diesel's demise have been greatly exaggerated. Honda confidently expects this new unit to be over-represented on the road, featuring in four out of every ten of the cars sold. 
We"ve previous sampled the 1.6 i-DTEC abroad, but this was our first chance to see how the changes fared on UK roads. Our test car was delivered in top-spec EX trim, with leather seats, LED headlights, keyless entry, a sunroof and a 465-watt sound system with 11 speakers. Cars in this spec also get Honda's Dynamic Damper Control system, which we'll come onto in a moment.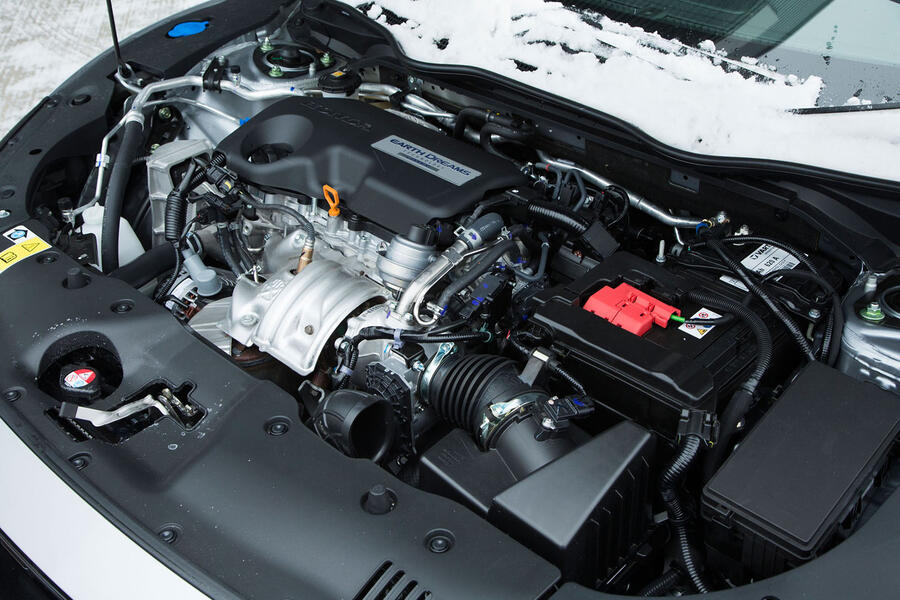 What's it like?
Pleasant enough. This engine is a little coarse at idle but smooths out nicely as the revs rise. And rise they will have to, because despite the aggressive styling, the 1.6i DTEC Civic is not blessed with a surfeit of power or, consequently, pace. That is reflected in a 0-62mph than only just ducks below ten seconds.
Driveability is generally very good, though, even if peak torque arrives only at 2000rpm – not particularly early for a modern turbocharged diesel engine – and there's a touch more lag than you might expect. If you're prepared to work the gearbox and keep the revs up, driving around those 'problems' can be reasonably satisfying, though that rather misses the point of a frugal diesel hatch, doesn't it?
Further to that, once on the move it's apparent that there's a baseline level of connection here that's some way ahead of many of this car's direct rivals. The stubby gearlever gives you a nicely positive throw that's short and tactile, and the seating position is low, placing the shoulders of even taller drivers only a little above the window line. It's enough to get you carving through corners with more commitment than might strictly be good for your average fuel economy.
The gentle contradiction that is the Honda Civic 1.6i DTEC is perhaps best illustrated by the buttons on the transmission tunnel, though. Above a green 'Econ' switch that dulls throttle response in the middle of the pedal's travel to save fuel is another button marked with a damper.
Pressing this button firms up the dampers to make an already taut, but by no means unyielding, chassis that little bit more firm. You'll need the right road to really enjoy the benefit of that, and in truth the standard setup is well judged for UK tarmac if you're pushing on, but again, it just seems a bit incongruous in an economy champion.
Which leads us on to that seemingly outrageous combined fuel economy claim – can a sizeable four-door hatch really get close to 80.7mpg? In short, no, not this time, though you'll approach 65mpg at a steady 70mph, and you'll do so with decent isolation from wind noise. With a 46-litre fuel tank, that's enough for a touring range of around 650 miles.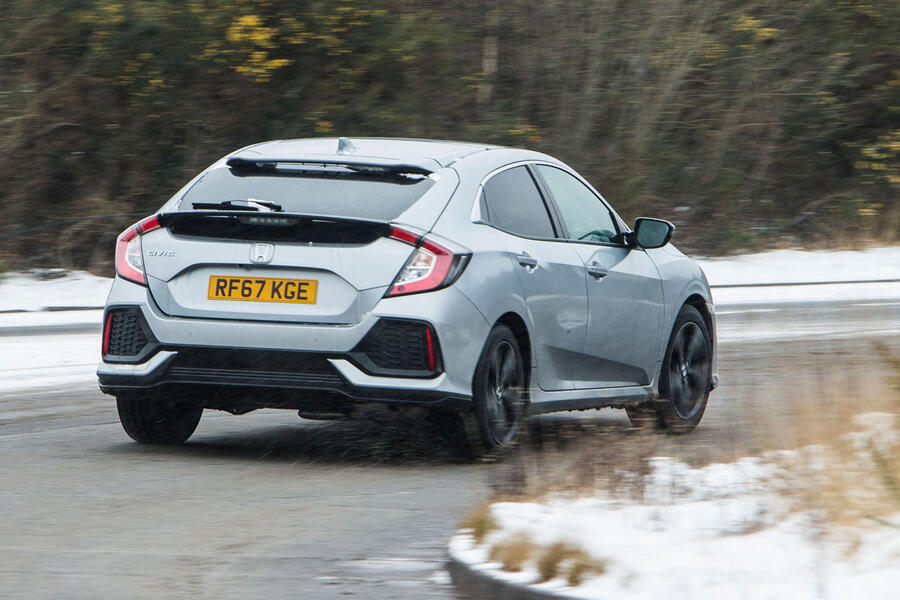 Should I buy one?
There's little wrong with this diesel engine and the fuel economy it offers really is laudable for a car of the Civic's generous proportions. 
It's a strange package, though. This car can be pleasing to drive on the right road, but if that's what you want then why not have the three-cylinder petrol version? Perhaps instead of offering a firmer damper setting for this DTEC model, Honda might have done better to soften the suspension and enhance the car's ability as a frugal and refined cruiser.
Ultimately, unless you cover enough miles for that additional efficiency to make a meaningful difference, it's the petrol engine we'd lean towards. It's that bit more refined, and more enjoyable, too.
Honda Civic 1.6i DTEC EX
Location Northamptonshire On sale Now Price £23,615 Engine 4 cyls, 1597cc, turbocharged, diesel Power 118bhp at 4000rpm Torque221lb ft at 2000rpm Gearbox 6-spd manual Kerb weight 1301kg 0-62mph 10.5sec Top speed 125mph Economy 80.7mpg (combined) CO2 93g/km, 20% Rivals Seat Leon 1.6 TDI SE Technology, Ford Focus 1.5 TDCi 120 Titanium X
Tweet Widget
Facebook Like
Google Plus One
Nguồn: www.autocar.co.uk