Tweet Widget
Facebook Like
Google Plus One
Our Verdict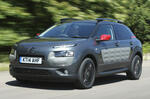 Gallic quirkiness meets pragmatism in the new crossover hatchback
First Drive Citroën C4 Cactus 2018 UK review

Citroën's family hatchback has grown up – and lost a bit of its charm in the process. Can its hydraulic suspension and new seats make up for that?

First Drive 2016 Citroën C4 Cactus Rip Curl 1.2 Puretech S&S 110 Review

Citroën has teamed up with surf brand Rip Curl for this special edition Cactus. Will buyers be stoked, or is it a wipeout? We find out on UK roads
What is it?
Usually when a car is described as "grown-up" or "mature", it's intended as something of a compliment; a way of emphasising a vehicle's distinct sense of purpose, well-roundedness or refinement.
But in the case of the latest Citroën C4 Cactus, driven here for the first time on UK roads, those sorts of adjectives - although relatively accurate - do the car a bit of a disservice. 
You see, the original C4 Cactus, launched back in 2014, was always a bit of an oddball - certainly in the way it looked. The wacky design stood out, turned heads and added a bit of verve into a segment of the car market that at times could be rather dreary.
That mould-breaking aesthetic contributed to Citroën selling around 30,000 of the things in the UK after it first rocked up on the scene.
This new model, though, billed by Citroën as a "mid-life product evolution", loses some of the original's visual charm, favouring a more reserved and - you guessed it - grown-up look.
The prominent Airbumps that originally divided opinion have been moved to a more discreet location, and the abundance of black plastic cladding that gave it its rufty-tufty, off-road-style appeal has been reduced in favour of a cleaner, arguably more premium image.
It's not that it looks bad – it doesn't – it's just that it"s lost a bit of the charm that made its predecessor unique and likeable.
But we're not just here to discuss looks: we're here to find out how the C4 Cactus deals with the UK's notoriously battered roads - especially now it has Citroën's 'Progressive Hydraulic Cushions' suspension and Advanced Comfort seats.
We're driving the top-of-the range Puretech 130 Flair edition here, which pairs a turbocharged, 128bhp three-cylinder petrol engine with a six-speed manual transmission to send its power to the front wheels.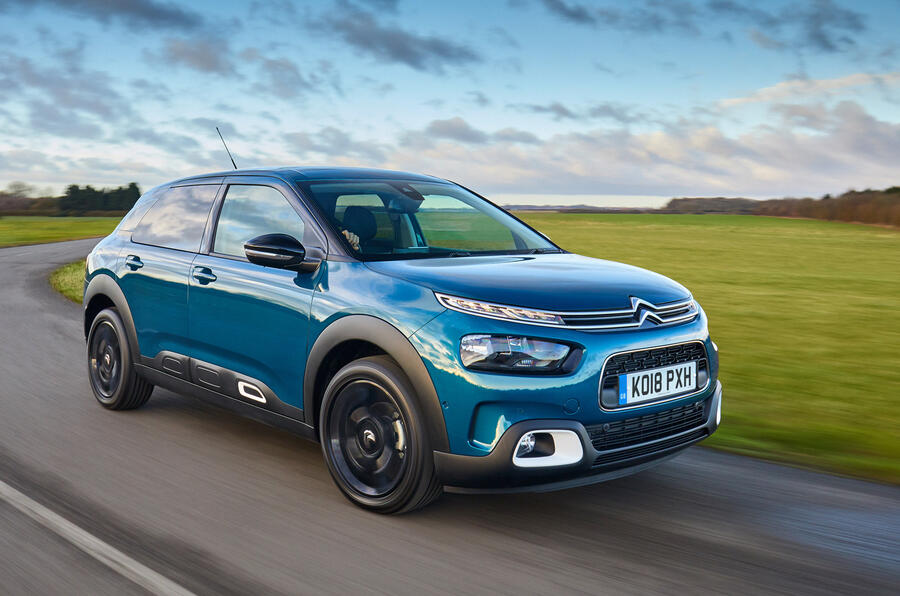 What's it like?
That engine is one of the C4 Cactus' most likeable features. Its 170lb ft of torque is available from just 1750rpm courtesy of its turbocharger, meaning there's a good deal of low-down shove to get you up to speed in a timely manner.
There's an endearing three-cylinder soundtrack that accompanies any bursts of acceleration, too, which doesn't become aurally unpleasant as you reach the upper climbs of the rev-band. Overall, it's a refined and characterful powerplant that's barely audible once you've settled down to a cruise.
This is a good thing, because cruising is where the C4 Cactus is most in its element. Citroën wasted no time in conveying the idea that this is a car developed with comfort in mind, and the driving experience is largely in line with that goal. The Advanced Comfort seats are akin to a well-cushioned armchair in that they're large, flat and very soft. Then there's the trick new suspension.
It works by adding a pair of hydraulic stops on each suspension unit, replacing the mechanical bump stops that are usually found alongside the standard springs and shock absorbers. Where the mechanical stops normally absorb and then return energy created during a large impact as rebound, the hydraulic stops instead absorb and then dissipate this energy as heat, theoretically making for a less jarring ride.
It sounds impressive, and for the most part it works well. Around town and on the motorway, the Citroën soaks most imperfections in the road up without breaking a sweat, while its ride remains composed.
Fast, bumpier country roads can undo this a touch, though, with that softer, more forgiving set-up giving way to vertical body travel over undulations and lean through corners. Added to overly light, vague steering and a woolly, imprecise manual gearchange, the C4 Cactus isn't a car that wows with its dynamic abilities, but then that was never really part of its remit.
The interior, meanwhile, is a bit of a mixed bag. You can tell that a good deal of emphasis has been placed on making the cabin look trendy, with its minimalistic layout and glovebox design that's reminiscent of an old-school portmanteau - although a closer look will reveal plenty of scratchy plastics that don"t match the best cars in this class.
While its panoramic glass roof might make the cabin feel light and airy, those in the back will find head room is severely impeded by it.
Rear leg room isn't great, either, owing to those chunkier front seats.
Should I buy one?
If you're after a family hatchback that's involving to drive, you'd be better off with a Volkswagen Golf or Ford Focus. Dynamic excitement just isn't what the C4 Cactus is about.
If, however, you want something that can waft you around town or up the motorway in comfort, then the C4 Cactus is at least worth a test drive. With prices starting at £17,965 for the most basic model, it's reasonably well-priced too.
You'd be wise to go for the lower-powered Puretech 110 engine, though; not only is it £800 cheaper than the Puretech 130, a quick test drive revealed the difference in performance is negligible. 
Citroën C4 Cactus Puretech 130 Flair
Price £20,665 Engine Three-cylinder, 1199cc, turbocharged, petrol Power 128bhp at 5500rpm Torque 170lb ft at 1750rpm Gearbox 6-spd manual Kerb weight 1045kg 0-62mph 8.7sec Top speed 117mph Economy 58.9mpg CO2, tax band 110g/km, 21% Rivals Peugeot 308, VW Golf, Ford Focus
Tweet Widget
Facebook Like
Google Plus One
Nguồn: www.autocar.co.uk